RECIPE:
Irresistible Appetizer Snack: Vegetable Pakora


The perfect appetizer to serve with drinks or tea for those who need to entertain guests at a moment's notice. Chef Sanjay Patel shows you how to make it.
---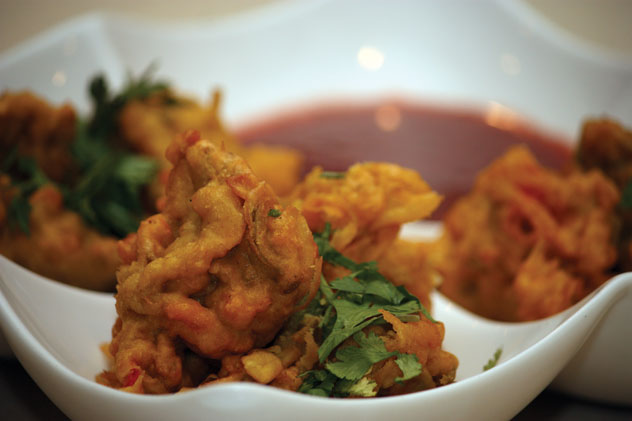 (Above): Vegetable Pakora [Photo: SILICONEER]

---
Ingredients:

1 carrot (peel, cut into thick julienne)

8 French beans (string, cut into 1½" pieces)

1 potato (peel, cut into thick julienne)

¼ head of cabbage (cut into thick julienne)

1½ cups chickpea flour (besan)

¾ tsp red chili powder

¼ tsp ginger garlic paste

¾ tsp carom seeds (ajwain)

2 tsp hot oil

salt to taste

½ - ¾ cup water

cooking oil for deep frying

absorbing paper (for draining extra oil)

corriander leaves for garnishing

curry leaves, kasoori methi (optional)

Method:

In a bowl, add the chickpea flour with salt, chili powder, ginger garlic paste, carom seeds and hot oil. Add the thick julienne mixed vegetables to this mixture and mix.

Add little water and mix well so it coats the vegetables. Do not add too much water.

Heat enough oil for deep frying in a heavy bottomed frying pan. It should be piping hot. Do the sizzle test. (Drop a little chickpea batter into the hot oil, if it sizzles and comes to the surface of the pan, then the oil is ready for deep frying).

Carefully drop the chickpea flour coated julienne vegetables into the hot oil. Reduce heat to medium and deep fry till they turn golden brown. Use a ladle to turn them so that they cook all over.

Once the color is golden brown, remove on to absorbent paper. Garnish with corriander leaves. Serve as evening snack over a hot cup of masala chai or drinks.

Use curry leaves or kasoori methi if you have them or else it can be omitted.