CULTURE:
A Magical Journey: Xpressions Yatra


Xpressions, a Bay Area-based performing arts school took the audience to a magnificent journey of India's rich culture through a spectrum of dances at its annual show, May 20, writes Geetha Arun.

---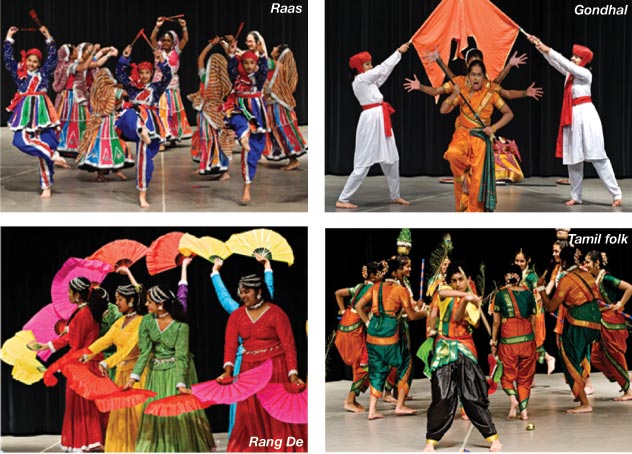 (Above): Kids to adults of all ages perform at the Xpressions Yatra show, May 20. [PHOTOS: Sri Vidya Eashwar | Xpressions]
---
Every year, Srividya Eashwar, the artistic director of Xpressions presents Yatra - the odyssey of its students by displaying their spectrum of dances. To its students, Yatra is an opportunity to share their learning with family and friends; to the audience, it is the time to enjoy the fruits of their children and loved-ones hardwork and dedication for dance.

Yatra was inaugurated in the traditional style with an invocation dance to Lord Ganesha, the remover of obstacles. The journey started with Kerala and Xpressions' ladies team presented an award-winning Kaikottikali (folk dance performed by clapping and moving in circles around the rational Onam lamp and flower rangoli). Groups of dancers displayed a variety of award-winning dances from Gujarat in well-known styles such as Raas and Garba as well as tribal dance with baskets and sticks. Tamil Nadu dances included temple, rural and tribal dances such as Korathiattam, Karagattam, Kollattam and gave a complete tour of the state's rich heritage. Rajasthan was represented by the Ghoomar dance and the Bhangra dance took the audience to Punjab. Next stop was Karnataka with the Kolata dance followed by Gondhal from Maharashtra.

Complementing the folk dances were two semi-classical pieces, the first one was on Lord Shiva, set to a modern composition. Xpressions' adult students danced to a magnificent choreography, which incorporated both the tandava and the laasya styles. The second dance, Dashavatar (depicting the ten incarnations of Lord Vishnu) was a testament to Srividya's creative genius as a team of young dancers mesmerized the audience switching from one avatar to another.

---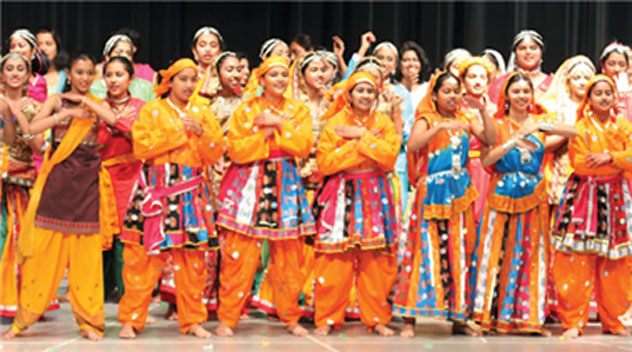 (Above): Kids to adults of all ages perform at the Xpressions Yatra show, May 20. [PHOTOS: Sri Vidya Eashwar | Xpressions]
---
The Bollywood numbers demonstrated the diversity of dance-styles taught at Xpressions. A note-worthy dance was Chaiya Chaiya from the film "Dil se." In this award-winning dance, set in a rural Indian railway station, Srividya demonstrated her creativity in set creation. Teenage dancers fluttering gracefully like butterflies in their whimsical colors dancing to Rang De contrasted the folk Chaiya Chaiya and demonstrated different adaptations of the Bollywood theme.

Xpression's mission is to teach and spread India's cultural heritage using semi-classical and folk dances. And the ninth annual show emphasized this message as the dancers dazzled the audience with a variety of dances, enhanced by authentic props and sets. It was a feast for the eyes and ears and an educational and enriching experience.