EXHIBIT:
No Gas, Please: Electric Vehicle Show


It was educating and fun as I got to learn about all that is happening in the world of electric vehicles, both by automakers and enthusiasts. The show offered a look at every possible mode of transport that was converted to electric. This was definitely a Sunday afternoon well spent, writes seventh-grader Vansh A. Gupta.
---
(Above): Vansh and his brother, Janam, explore the electric-powered 'rickshaw.' [Photo: Amar D. Gupta | Siliconeer]

---
On a warm Sunday afternoon, Sept. 23, we headed south on a short drive to Cupertino. We entered the De Anza College grounds and I thought, here we go again, another event in the Flint Center!

Suddenly, my eyes lit up! There was a whole parking lot filled with cars, seemed like a car show of some sort.

---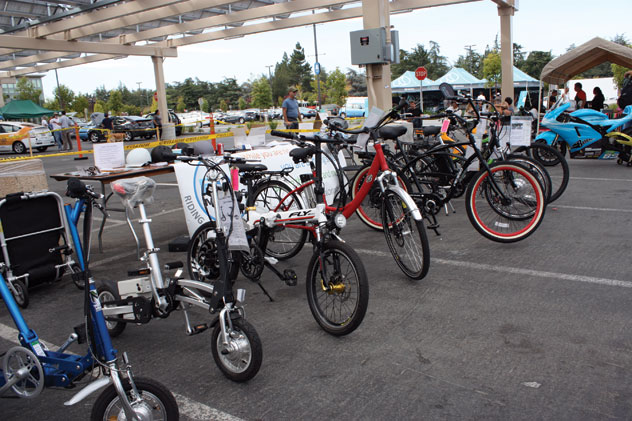 (Above): A variety of bikes converted to electric power, these are some of many modes of transport that we saw were converted to electric power. [Photo: Amar D. Gupta | Siliconeer]

---
As we neared the event area, I sort of figured out, it was a car show, but not the typical car show, this looked different.

As we entered the event area, it became evident this was a show of only electric vehicles.

---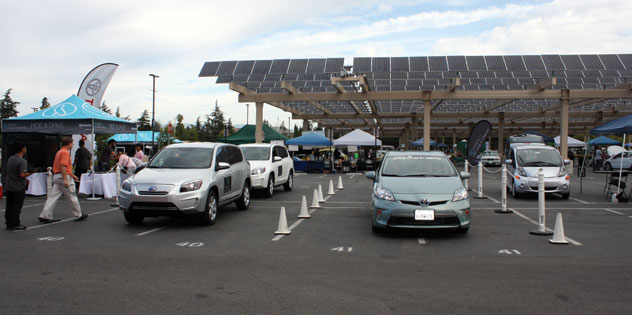 (Above): The Toyota test drive area at the EV show in Cupertino, Calif. [Photo: Amar D. Gupta | Siliconeer]

---
I knew of some automakers that made electric vehicles and as expected they were there in full force, showing off their vehicles, but what really made this whole experience interesting was all the other vehicles that were there.

Along with the usual bandwagon of Toyota, Ford, Chevy, Nissan and Honda, now there were new entrants like BMW and expensive ones like Tesla.

---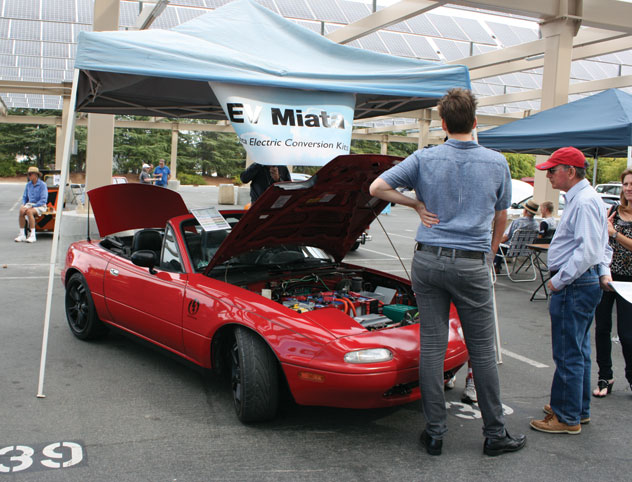 (Above): A converted Mazda Miata. [Photo: Amar D. Gupta | Siliconeer]

---
Further down were amazing machineries such as a regular bike converted to an electric bike. Also the robot that had roller skates and a cart attached to it, reminded me of the rickshaws in Kolkata, India.

I wanted to ride an electric bike but I guess I wasn't old enough! We moved on.

There were older model and classic cars, now converted to electric by passionate owners who beamed as they showed off their creations.

Seeing all the electric cars was fun, but what was really cool was to be able to actually ride in them. I rode in two very different vehicles, the family-friendly Toyota Rav4 EV and the adrenalin-pumping, jaw-dropping Tesla Roadster.

---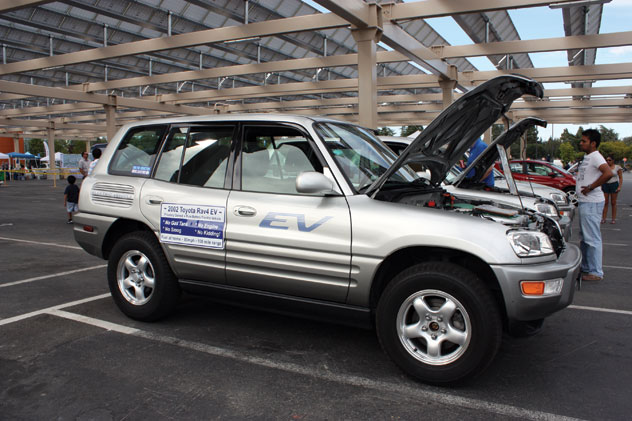 (Above): The old Toyota Rav4 EV. [Photo: Amar D. Gupta | Siliconeer]

---
The Toyota Rav4 EV was nice, comfortable and from the discussions I overheard, sounded like a good buy if you are in the market for an all-electric small SUV. But the Tesla Roadster was something way ahead of today's times, straight out of a Tron Legacy setting!

My test ride car's generous driver took me out on a short spin over the Freeway. Though it was a short ride, but here are some observations – Speed: it was as agile as a leopard. Sounded like BART at times, I mean, it was so well muffled, one could hardly guess the speed they were actually riding on.

---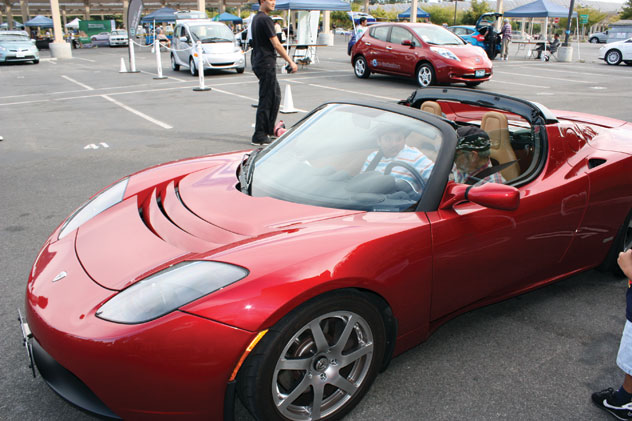 (Above): Vansh taking a test ride in the Tesla Roadster. [Photo: Amar D. Gupta | Siliconeer]

---
At first glance, the exterior looked sporty and modern but in the inside gets even better. The car is so low it felt like a go-kart. The seats are comfortable and there is a feel of traveling ahead in time as we look at the innovative and hi-tech dash.

According to various claims, Tesla goes about 200-240 miles per charge but that depends on the driving speeds.

---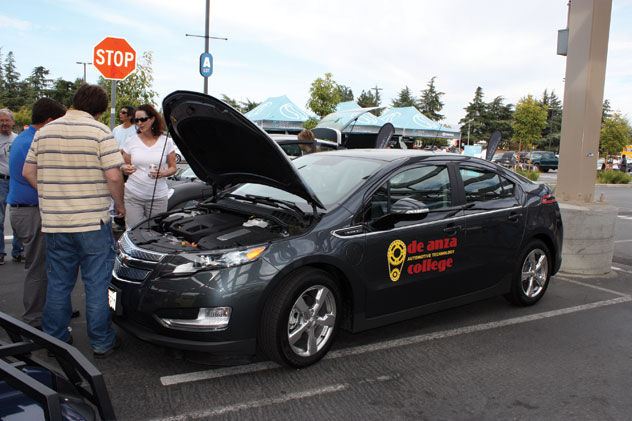 (Above): Vansh taking a test ride in the Tesla Roadster. [Photo: Amar D. Gupta | Siliconeer]

---
So, here we are, already in a world where these electric vehicles exist in all shapes, sizes and tastes, all one needs to do is probably improve on the range and reduce the price, and in no time gas-run vehicles could well become a thing of the past.

Wouldn't freedom from gas pump shocks actually be nice?