CONFERENCE:
A Bouquet of Splendor: Incredible India Road Show


A road show was held in San Francisco to promote tourism in India. Indian Minister of State for Tourism Sultan Ahmed and other state tourism authorities along with tour operators from India showcased various travel options in India to tour operators here in U.S. Siliconeer was there and presents this report.

---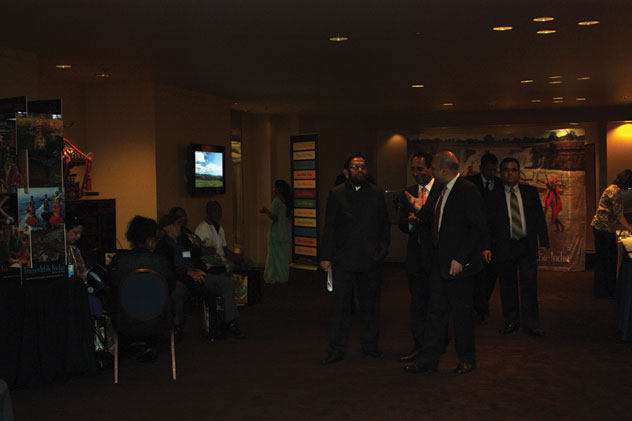 (Above): Indian Minister of State for Tourism Sultan Ahmed (l) with the San Francisco Consul General of India N. Parthasarathi (2nd from l) and Uttank Joshi assistant director of India Tourism Los Angeles office (r) and other state tourism officials at the Incredible India road show at Hotel Nikko, in San Francisco, Sep. 11. [Photo: Amar D. Gupta | Siliconeer]
---
India, today, is a transformed tourist destination competing to give the best to its visitors. As a principal destination for business travelers and tourists, India has established a firm place in world tourism.

The Incredible India Road Show at Hotel Nikko in San Francisco, Sep. 11, aimed to provide a glimpse of the varied and attractive tourism products as well as the cultural, spiritual and travel experiences that India offers as a tourist destination.

A delegation led by Sultan Ahmed, Minister of State for Tourism, Government of India, and consisting of state tourism ministers, senior officials of the Ministry of Tourism and the state tourism authorities of Jammu & Kashmir, Maharashtra, Punjab and West Bengal along with around 35 leading Indian Tour Operators, hotels and airlines showcased various tourism destinations and products of India, giving the U.S. travel fraternity and the media an opportunity to meet members of the Indian travel industry and enhance their knowledge of India as a tourist destination.

---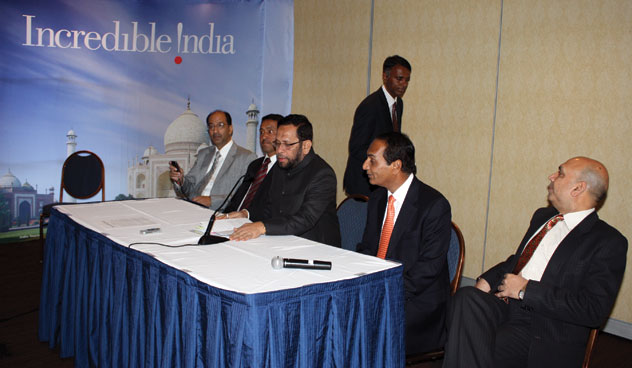 (Above): India's Minister of State for Tourism Sultan Ahmed talks with the media at Hotel Nikko, San Francisco, Sep. 11. Also seen are San Francisco's Indian Consul General N. Parthasarathi (2nd from r), and other state tourism ministers and officials. [Photo: Amar D. Gupta | Siliconeer]
---
Consul General of India, San Francisco, N. Parthasarathi, officials from the Indian consulate in San Francisco, and India Tourism officials from Los Angeles and New York were also present and spoke on a variety of topics related to government services for visiting travelers.

The gala event featured an exhibition on various Indian destinations, one-on-one discussions between tour operators, a media briefing with the ministers, the consul general and state officials, and a dinner presentation of India's various offerings as a tourist destination.

India is a country with many exquisite locations, a diverse culture with colorful festivals, and a rich variety of traditional arts and crafts, food and customs.

---
(Above): The elaborate dinner that treated the guests to flavors of India. [Photo: Amar D. Gupta | Siliconeer]
---
Being an ancient civilization, the country is endowed with heritage sites of great historical value and aesthetic beauty. In addition, being a vast country India has a range of landscapes -- deserts and rivers, forests and mountains, plateaus and plains -- that make India a favored destination for the discerning traveler.

Recently, Indian tourism has seen the introduction of many new areas, such as golf tourism, cruise tourism, adventure tourism, and medical tourism, among others.

People are getting more conscious about their health, and there is growing interest in the Indian Ayurveda treatment and yoga. There is also interest in visiting spiritual sites. For example, the Buddhist Circuit is very popular with visitors. Rural tourism also evokes interest, as it gives a glimpse of Indian rural life -- its activities, traditions, handicrafts and food.

The United States is a very important market for India and ranks highest as a contributor of tourist traffic to India.

According to the Office of Travel and Tourism Industries under the Department of Commerce, U.S. outbound travel was 58.7 million.

---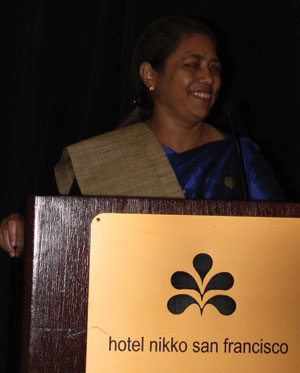 (Left): India Tourism director of Los Angeles office Annabella Arya talking to guests at the banquet. [Photo: Amar D. Gupta | Siliconeer]
---
India ranked 11th in Top Destinations of U.S. Residents Traveling Abroad (Outbound) with 946,000 in 2011 compared to 770,000 in 2010, showing a growth of 23%. (Source: U.S. Department of Commerce, ITA, Office of Travel and Tourism Industries, July 2012).

The Indian Ministry of Tourism compiles monthly estimates of Foreign Tourist Arrivals (FTAs) and Foreign Exchange Earnings (FEE) from tourism on the basis of data received from major airports.

Foreign Tourist Arrivals in India in 2011 were 6.29 million with a growth of 8.9%, as compared to the FTAs of 5.78 million during the year 2010.

The growth rate of 8.9% in 2011 was better than UNWTO's estimated growth rate of 4.4% for the world in 2011.

Foreign Tourist Arrivals in India during January-July 2012 was 3.76 million with a growth rate of 6.6% over the corresponding period of 2010.

The foreign exchange earnings from the tourism sector in 2011 was $16,564 million with a growth of 16.7 %, as compared to 2010.

The Ministry of Tourism has set an aim to increase India's share in International Tourist Arrival from 0.6% to 1% by the year 2016.

All the initiatives being taken in the tourism sector are aimed towards providing visitors with a world-class experience that differentiates itself as a spiritually enhancing, culturally enriching, physically invigorating and mentally rejuvenating experience.

Improvements in accessibility and infrastructure, well-trained human resources, diversification of the tourism product and an integrated marketing campaign under the banner 'Incredible India' have helped India achieve an unprecedented travel growth, in terms of both volume and value.