POLITICS:
Big Ticket Changes: Manmohan Springs Back Reforms


The Congress-led United Progressive Alliance (UPA) government headed by Prime Minister Manmohan Singh has announced much-delayed economic reforms essential to boost India's sagging national income growth rates, writes Siddharth Srivastava.

---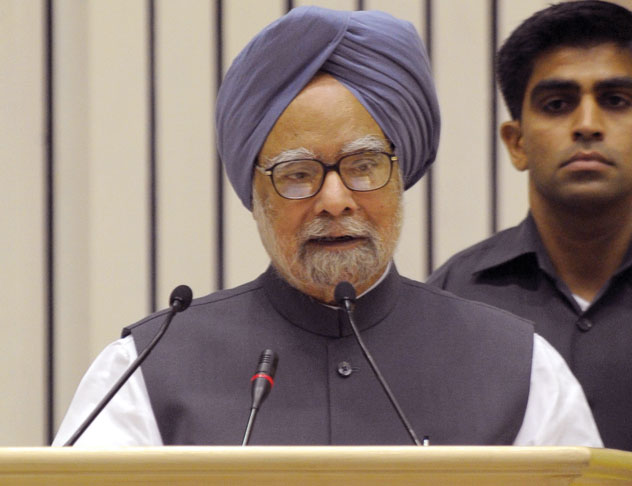 (Above): Indian Prime Minister Manmohan Singh addressing the International Academic Conference on Economic Growth and Changes of Corporate Environment in Asia, in New Delhi, Sept. 22. [Photo: Press Information Bureau]
---
Indian Prime Minister Manmohan Singh, under severe attack due to a policy paralysis in the government, indecision, lack of governance and corruption scandals, has finally asserted himself, pushing through big ticket changes in India's organized retail and aviation sectors to attract much needed foreign direct investment or FDI.

A big hike in diesel prices seeks to address rising fuel subsidy and skewed consumption for power generation and in the automotive sector that has resulted in huge and rapidly rising import bills, draining foreign exchange reserves.

Opening multi-brand retail allows big players such as Walmart and Tesco to set up shop in Indian cities and establish backend linkages that will benefit farmers. Investments in infrastructure such as storage and refrigeration facilities and high tech transportation will cut down on the enormous waste in farm produce. The consumer will also benefit due to lower prices.

India's loss making airlines, meanwhile, are in dire need of capital infusion, with at least one major player, Kingfisher Airlines, on the verge of shut down.

Unlike in the recent past, it seems unlikely that Congress-government is going to roll back reforms under pressure from coalition partners, especially the Trinamool Congress, led by West Bengal Chief Minister Mamata Banerjee, who fears India's unorganized retail segment that employs millions will be hurt due to the changes.

Singh has personally backed the reforms and is in no mood to budge. Aware of a massive backlash from high inspiration middle class in India, the UPA government knows that it desperately needs to put the economy back in shape. General elections are due in India in 2014.

Indications are that regional parties such as the Samajwadi Party and the Bahujan Samaj Party will prop the numbers for the Congress in Parliament should the need arise. These outfits may not like the Congress, but are united in their deep dislike of the main Opposition, the Bharatiya Janata Party (BJP) and would not like to offer it any early opportunity to come back to power.

There is no doubt that Singh will reap a fair amount of personal dividend from the latest moves, re-establishing his reformist credentials and possibly, legacy that was undermined in his second tenure as Prime Minister of India.

---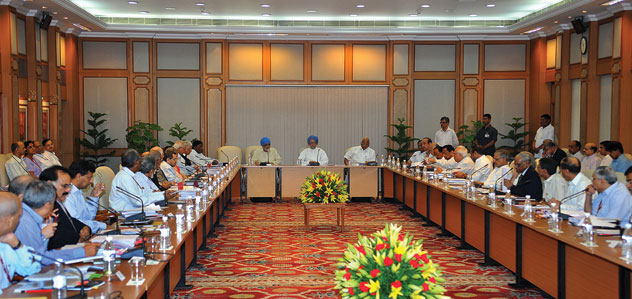 (Above): Prime Minister Manmohan Singh chairing the Full Planning Commission meeting, in New Delhi, Sept. 15. [Photo: Press Information Bureau]
---
It was in the early 90s that Singh, as the then finance minister, initiated India's economic liberalization process that unleashed high GDP growth and unshackled industry from what was referred as License Permit Raj due to government controls. In his first tenure as Prime Minister, Manmohan Singh pushed through the Indo-U.S. nuclear deal, even threatening to resign in the process.

However, doubts continue to linger over the extent of political dividend that the Congress party, led by the all-powerful Sonia Gandhi, will derive from the economic changes. The UPA government cannot escape from the charges of massive corruption, crony capitalism and losses to the exchequer due to the telecom spectrum scam earlier and coal blocks allocation more recently.

But, as matters stand, parties opposed to the Congress are also in disarray. There is enough to suggest windfall gains in telecom when the BJP under Prime Minister Atal Behari Vajpayee, was in power.

The BJP continues to be a house divided with several leaders such as Narender Modi, Sushma Swaraj and Arun Jaitley fancying their chances to be future Prime Ministers. Then, there is the overall suspicion about BJP's Hindutva agenda seeped in ideology of majority Hindu rule.

Modi's stature, despite a clean image and good development record as Chief Minister of Gujarat, has been dented a bit by recent court judgments that have indicted top BJP functionaries for orchestrating attacks on Muslims in 2002.

A third front, without the Congress or the BJP, is a possibility, though past experiments have collapsed under the weight of individual egos and ambitions. Quite a few of the regional satraps such as Mulayam Singh Yadav, Mamata Banerjee, Mayawati and Jayalalithaa are known to be whimsical and unpredictable.

Indeed, it is difficult to predict India's political landscape two years from now. With Gandhi party scion Rahul Gandhi yet to find his political bearings, the Congress could stick to Manmohan Singh, 80, as its Prime Ministerial candidate, given his redeemed reformist stature, should he remain healthy.

Manmohan has been accused of being weak, an underachiever and looking away as his party men or ministers belonging to coalition partners such as the DMK indulged in organized loot.

However, there is no hint Manmohan Singh could have gained personally from these scams. This is unlike the Bofors scandal in the 80s where it was strongly suspected that the Gandhi family benefited when Rajiv Gandhi was Prime Minister of India. The Congress was voted out of power.

Maybe, the BJP could then spring octogenarian L.K. Advani, supremely fit for his age, against Manmohan Singh. That would set up an interesting contest in the world's largest democracy where majority of the population is under 35 years of age.