COMMUNITY:
Music, Fashion & Charity: DesiHungama 2012


South Asians, some old "Junoon" band fans, along with their often restless kids, all made their presence felt at DesiHungama 2012, a gala show to mark Eid, Aug. 25, at Chandni Restaurant in Newark, Calif., writes Ras H. Siddiqui.

---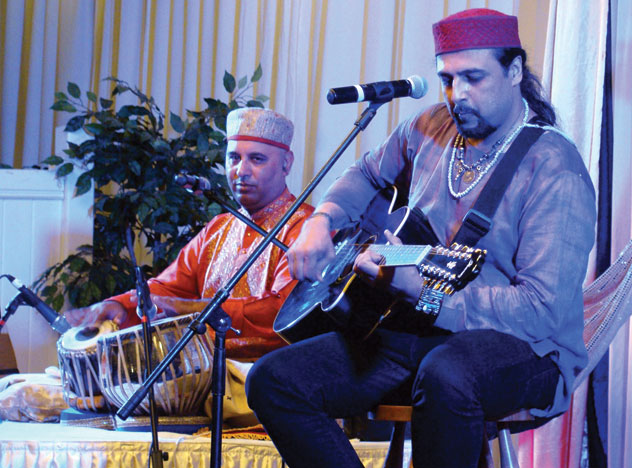 (Above): Salman Ahmad (r) and Samir Chatterjee performing at DesiHungama 2012 in Newark, Calif. [Photo: Ras H. Siddiqui]
---
The event brought the very worthy cause of Salman & Samina Global Wellness Initiative (SSGWI) (http://ssgwi.org) complete with Sufi rock music and glittering South Asian fashion to San Francisco Bay Area for the first time.

DesiHungama 2012 was organized by Rizwan Elahie along with his wife and co-producer, Zilehuma. Creative director and choreographer Farah Ghatala and catwalk choreographer Pooja Kaur added finishing touches to the event, a joint Indian-Pakistani effort.

Emcee for the evening was Ausaf Masud. Dr. Samina Ahmed introduced SSGWI with a short speech and an audio-visual presentation of the work of this New York-registered organization.

---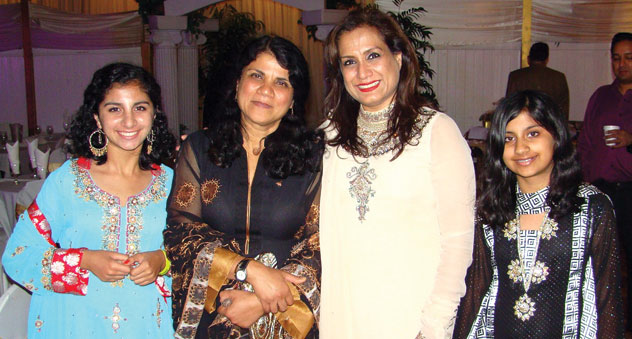 (Above): Samina Ahmad (3rd from l) with a friend and some youngsters at the show. [Photo: Ras H. Siddiqui]
---
SSGWI believes in the "Apni Madad Aap" (Self Help assistance through peace, jobs and education) and is currently zeroed in on two main projects of which one is a school in Mansehra, and the other, a village in Sindh province of Pakistan, Suleman Mallah. Villages in the province impacted by recent floods and acute poverty certainly need outside help.

Samina said that she believed in the Nike slogan "Just Do It!" She herself pursued medicine as a career and worked at hospitals in both Lahore and Karachi. On the challenges faced by doctors there Samina said, "I think that God was just making me stronger day by day."

"Having two children in the same hospital bed and making decisions on which one to save first was not an easy choice to make," she said, adding that her husband Salman's success with the Junoon band became a plus when they decided to concurrently try and help the community.

---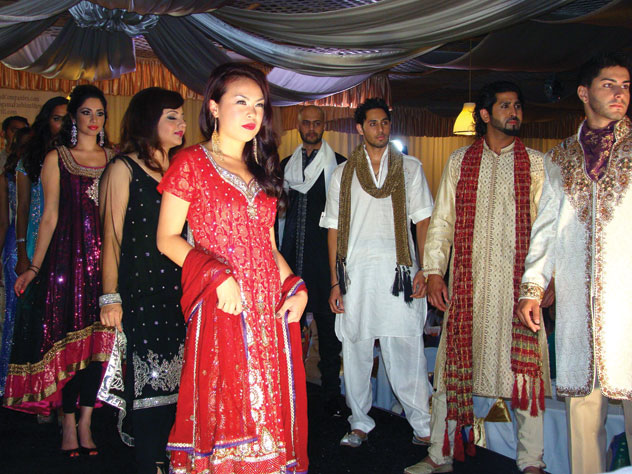 (Above): Models during the fashion show at DesiHungama 2012 in Newark, Calif. [Photo: Ras H. Siddiqui]
---
She said that Salman and she have also used art and culture to promote inter-faith dialog after they moved to the United States in 2002. She said that in post-9/11 America, they have tried to improve the image of the community here.  She added that SSGWI, started in 2008, uses the acronym "ART" or "Aman-Rozi-Taleem" (Peace-Jobs-Education).

The entertainment segment of the evening was kicked off by Chinu Shera and Aminder Singh dancing to the beats of "Mashallah, Mashallah" from the Bollywood flick Ek Tha Tiger starring Salman Khan and Katrina Kaif.

This was followed by a fashion show featuring local designers Ambreen Zehra, Maria Shah and Sonali. A round of cheers for all models is in order for a job well done. The stage lighting, sound and catwalk co-ordination was also carried out in a professional manner.

Salman Ahmad with his guitar came to the stage along with Samir Chatterjee on tabla to close the formal show.

---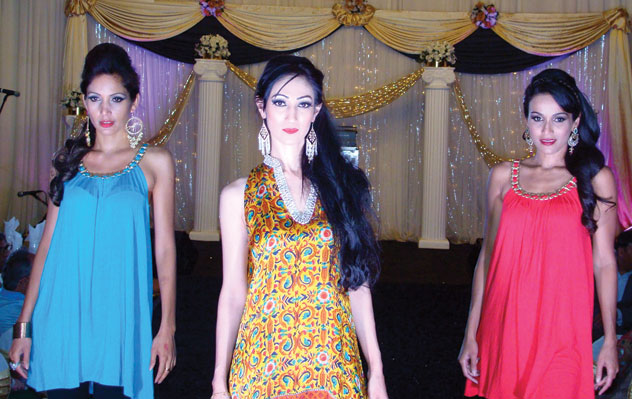 (Above): Models during the fashion show at DesiHungama 2012 in Newark, Calif. [Photo: Ras H. Siddiqui]
---
Salman, who is soon to star in a Bollywood film, has also been invited to India to perform at Indian Prime Minister Manmohan Singh's birthday. He praised the message of the film Ek Tha Tiger for promoting better understanding and peace between India and Pakistan.

Salman and Samir, both fine musicians, presented a fine bouquet of songs including old Junoon favorites like "Sayonee," "Yaaron Yehi Dosti Hai," "Bulleya," "Jazba-e-Junoon," a wonderful medley of "Saeen" and an encore presentation of the Punjabi hit "Yaar Bina."

And finally, one has to acknowledge Rizwan Elahi for this very stylish Eid celebration.