EDITORIAL: Paving India's Milky Way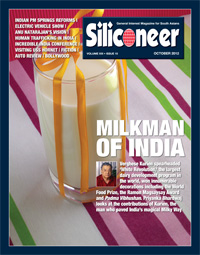 Verghese Kurien, widely hailed as the 'Milkman of India,' who spearheaded the 'White Revolution,' the largest dairy development program in the world, won innumerable decorations including the World Food Prize, the Ramon Magsaysay Award, the Wateler Peace Prize, and Padma Vibhushan (India's second highest civilian honor), to name a few.

Kurien set an excellent example for replication when he combined the cooperative energies of the state to form the Gujarat Cooperative Milk Marketing Federation, successfully creating the household dairy products brand — 'Amul.' The firm pioneered the concept of deriving baby milk powder from buffalo rather than cow's milk and currently has more than 3.03 million farmers contributing milk to it.

He was a genius in helping dairy cooperatives transition into financially viable units of a regular industry and establishing pre-eminence of the rural milkman or farmer over the middle man, besides introducing new dairy and veterinary technologies.
He passed away last month.

Priyanka Bhardwaj looks back at the contributions of Kurien, the man who paved India's magical Milky Way.

The Congress-led UPA government headed by Prime Minister Manmohan Singh has announced much-delayed economic reforms essential to boost India's sagging national income growth rates.

Singh, under severe attack due to a policy paralysis in the government, indecision and corruption scandals, has finally asserted himself, pushing through big ticket changes in India's insurance, organized retail and aviation sectors to attract much needed foreign direct investment or FDI, writes Siddharth Srivastava.

It was educating and fun as he got to learn about all that is happening in the world of electric vehicles, both by automakers and enthusiasts. The show offered a look at every possible mode of transport that was converted to electric.

Wouldn't it be nice to get away from the shock of today's rising gas prices, wonders seventh-grader Vansh A. Gupta.

Anu Natarajan is running to be elected Mayor of Fremont this November. At a recent fund raiser in Fremont, Anu explained why she was running and how she can make a difference in the community.

Speaking on a variety of issues, from police response to burglaries, to potholes in Fremont's roads, to the building of the new downtown and BART extension, and much more, Anu brought the Indian American community up to speed with what was at stake and why every vote counts, particularly the Indian American vote that plays a major role in the victory of an Indian American candidate.

Siliconeer presents a profile of Anu Natarajan.

New America Media's Viji Sundaram talked with Urmi Basu, founder and trustee of Kolkata-based New Light shelter program for prostitutes and their children, while Basu was on a brief visit to California on a trip that came ahead of the U.S. broadcast of the PBS documentary Half the Sky: Turning Oppression into Opportunity for Women Worldwide, which features the work of the activist.