TRAVEL:
A Mammoth Legacy: USS Hornet, Alameda, California


The USS Hornet, docked on the waters of Alameda, Calif., is a monument that demands respect and admiration, writes our travel editor Al Auger.

---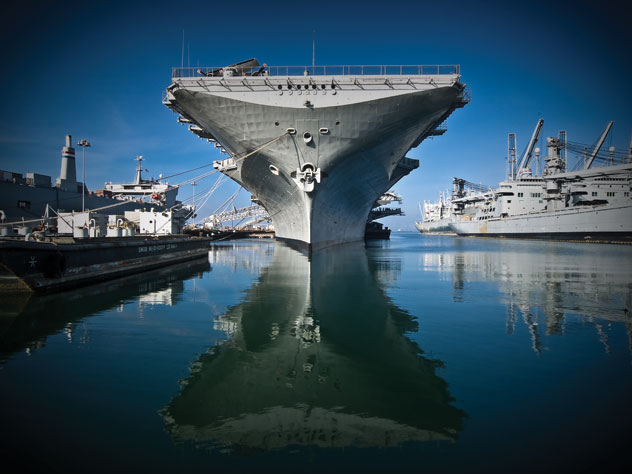 (Above): The USS Hornet docked in Alameda, Calif. [Photo: Leifr | 2012 Shutterstock.com]

---
It had to be the most terrifying moment in my life. We were heading to a rocking and rolling USS Hornet aircraft carrier. The sea was seething, heaving from side to side. The pilot was gallantly trying to match its movements as we drew closer and closer. "Wheels down," he exclaimed. They touched down in perfect symmetry with the rolling deck.

"OMG," my brain sent a text to my dry mouth.

Well, in full disclosure, I have to confess I was seated before a landing simulator screen on board the USS Hornet Museum docked at Alameda Point, the former Alameda Naval Air Station. The video, far more exciting than words can fully express, was from an on-board camera during a real landing. In addition to a feeling of complete relief, I walked away with an even larger respect for the pilots who fly on-and-off these itinerant landing strips.

---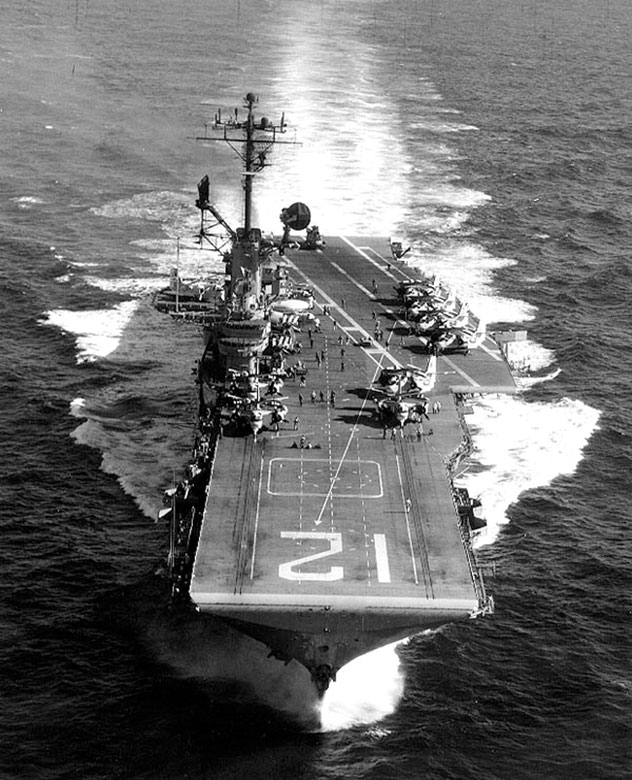 (Above): The U.S. Navy aircraft carrier USS Hornet (CVS-12) underway on 9 August 1968, shortly before her final Seventh Fleet deployment from 30 September 1968 to 12 May 1969 to the Western Pacific and Vietnam. On deck are various aircraft of Carrier Anti-Submarine Air Group 57 (CVSG-57). [Photo: Wikimedia Commons]

---
By today's standards, the famous World War II warrior is considered somewhat on the small side. But, as you approach from dock, the ship looms large and intimidating. The Hornet, today, is still a living and breathing monument to its heroic past. The Aircraft Carrier Hornet Foundation has created one of the most expansive hands-on program for children and adults to share I've seen. More on that later.

First, we must acknowledge the Hornet, a CV-12 class carrier, was a formidable and important weapon in bringing the war in the Pacific to its end, albeit a late entry. Built at Newport News, the Hornet was launched August 30, 1943, it left Pearl Harbor on March 15, 1944; the USS Hornet didn't tie-up to a pier until 18-months later. In its initial battle during the battles for Marianas Islands, the USS Hornet recorded 3,000 sorties flying off its deck in the struggle for Saipan. The famed Hornet flight group, VF-2, would down 233 Japanese aircraft. On February 16, 1945 the Hornet conducted the first carrier strike on Tokyo destroying or disabling a number of important facilities, lifting the curtain for the final act of World War II.

---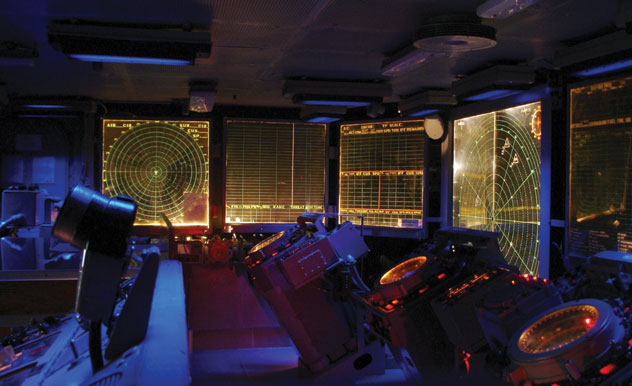 (Above): The Combat Information Center of USS Hornet, in dim light. [Peter Thoeny | Wikimedia Commons]

---
Other famous engagements included the Battle of the Philippine Sea, the Bonnins Islands of Iwo Jima, New Guinea, Leyte Gulf, Formosa, Luzon, Saigon, Cam Rahn Bay in French Indo-China and Hong Kong. All of this overwhelming history - and more - can be found at www.uss-hornet.org.

After 18-months at sea, the Hornet's box scored stands as one of the most effective of the Pacific War zone. The USS Hornet was, and remains, one of the most famous, revered and honored warrior from World War II.

On July 16, 1946, President Truman honored eight of the aircraft carriers and their crew for the decisive role they played in bringing the war to a justified end. The Presidential Unit Citation was accepted by Admiral Marc A. Mitscher, then commander of the Eight Fleet. Among those honored were 22 naval heroes who commanded or manned the warrior flattops. But, covered with glory, honors and reverence for its valiant history in war, the USS Hornet did not simply "fade away."

In 1969, the Hornet was reactivated and selected by the Navy Department as the Prime Recovery Ship (PRS) for Apollo 11, the first moon landing in history. On July 24, 1969, with President Richard Nixon, Admiral John S. McCain (CINCPAC) and other dignitaries aboard, the USS Hornet recovered the spacecraft Columbia with astronauts Neil Armstrong, Buzz Aldrin and Michael Collins. The Hornet and its crew repeated another perfect recovery, this time of Apollo 12, America's second moon landing. Aboard the spacecraft Yankee Clipper were an all-Navy astronaut crew of Pete Conrad, Alan Bean and Dick Gordon.

---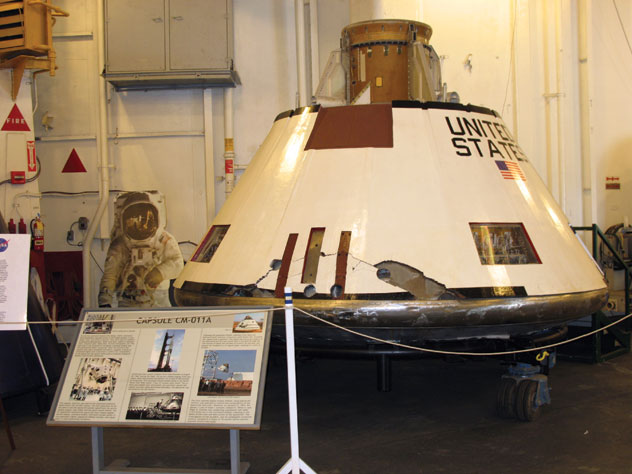 (Above): Apollo Command Module CM-011A, in the Apollo program exhibit on USS Hornet in Alameda, Calif. This command module was used in an unmanned test flight, after which it was recovered by USS Hornet. The spacesuited figure to the left is approximately life-sized. [Wikimedia Commons]

---
WHEN YOU GET THERE

Discounted General Admission Deal Coupons are available (at Web sites such as Groupon, etc.) and are only valid for general admission to the museum during regular museum hours.

HOURS: Monday-Sunday - Open at 10 a.m., gates close at 4 p.m., museum closes at 5 p.m. Closed Thanksgiving, Christmas and New Year's; closes at 3 p.m. on Christmas Eve day.

ADMISSION: Adults, $16-Groups, $13.00; Seniors (65+), $13.00-Groups, $11.00; Military w/I.D., $13.00-Groups, $11.00; Students w/I.D., $13.00-Groups, $11.00; Youth (5-17), $7.00-Groups, $6; Children (4-under) w/paying adult, Free; Museum members, Free.

LOCATION & INFORMATION:
Located at the far west end of Alameda at 707 Hornet Ave., Pier 3, Alameda, CA 94501. For full information on events, hours, rates, the ship, complement, graphics, etc., go to uss–hornet.org; email, info@uss–hornet.org.

It is suggested you board early, for there is so much to see and do, it might be simpler to plan a two-day tour. First, there is the physical size of the aboveboard Island, the Navigation Bridge, the Flight Deck, leaving a labyrinth of passageways and bulkheads in the massive Hangar Deck, the Second Deck and below still to be toured. Everywhere you go in this memorable world of history are beautifully restored artifacts from WWII and contemporary military mementoes. Five jet fighters, cockpit sections of other models, three propeller aircraft, four helicopters and Apollo equipment and memorabilia.

As our docent led our group through the cavernous interior and described what we were seeing and experiencing, it became clear this was a city populated at the height of the war with upwards of 4,000 officers, pilots and enlisted personnel, living and socializing in an environment never before imagined. Every necessary service was considered: A surgery facility, dental facility, laundry, bake shop, print shop and, of course, a brig. Living quarters, for both officers and enlisted, was a small priority to the business of war. Enlisted men slept cheek by jowl on three-tiered beds hung from the overhead. Officers and CPOs had their individual wards and meal amenities.

The children who were present during our tour were a moving theatre of entertainment by themselves. Standing beneath these huge and menacing tools of war, wide-eyed, it all seemed beyond their capacity to absorb all they stood for. I imagined their parents had a long and interesting future of explanations and education before them. Exactly what such a collection of dramatic and meaningful objects were assembled to do. But the Foundation has even bigger plans to explain and demonstrate their obvious love of the USS Hornet and all it stands for.

They have put together such a vast menu of group events for both children and their family, school and youth groups; events like a Family Overnight Experience, kid's birthday party, etc., there simply isn't sufficient space to describe them all. How about renting the ship for a corporate get-together, or a luncheon, maybe an onboard wedding. Some of the special events include simulated aircraft carrier operations, Big Band dances, a Halloween Monster Bash and much more. And the beat goes on; all this and more can be discovered on their Web site.

An interesting sidebar was my discussion with our volunteer docent, a 24-year Naval veteran. Sharing my limited Naval experience with this knowledgeable ex-Chief-Petty-Officer was a treat. We agreed the "real" chain of command on any ship, size or intent notwithstanding, was in the hands of the CPOs, usually a Bos'n Mate. Any officer worth his salt, if you will, relied heavily on those seasoned veterans' wisdom and leadership abilities.

There is so much to the story of the USS Hornet, both its history and today as a monument to all the fighting ships and men of World War II. To go beyond these inadequate words, I can only suggest you check it out on uss – hornet . org and trip over to Alameda Point for one of the most engaging and fulfilling experiences you could ever have.