BOLLYWOOD | Film Review
Well-crafted Entertainer: OMG Oh My God!


Directed by: Umesh Shukla
Produced by: Ashvini Yardi, Akshay Kumar and Paresh Rawal.
Starring: Paresh Rawal, Mithun Chakraborty, Akshay Kumar, Mahesh Manjrekar, Govind Namdeo, Sonakshi Sinha, Poonam Jhawer, Nikhil Ratnaparkhi, Tisca Chopra, Murli Sharma, Nidhi Subbaiah and Arun Bali.
Music by: Himesh Reshammiya

Reviewed by: Joginder Tuteja
Rating: *** (Good)

---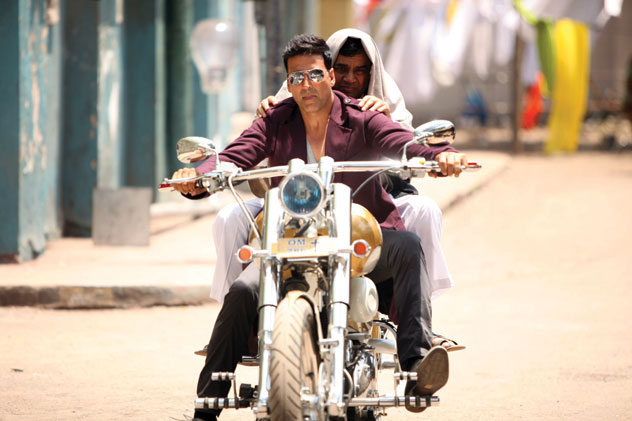 (Above): Akshay Kumar and Paresh Rawal in "OMG Oh My God!"

---
Though it flirts with a complicated subject where everything from God, religion, faith and worship is challenged, this Umesh Shukla-film never loses its focus throughout the duration of the film. After all, a film like this was always walking a tight rope, what with more chances of a viewer going against it than for it. However one has to credit the way it is spun together as well as convincingly enacted that instead of feeling offended, you end up getting into an introspective mode. Now that's quite a deal for a film that could just have gone into a preachy zone in a matter of minutes.

The context is straight forward. Kanjibhai (Paresh Rawal) challenges the 'act of God' when his shop gets destroyed in an earthquake. His fight it not centered on the absence or presence of faith in God or the lack of it, aastik vs. naastik, or the right vs. wrong. All he wants is someone to pay for what went wrong on his life. He doesn't mind whether it's the insurance company or God; someone had to get the wrong in his life, right. No wonder, and ironically, it is none less than God himself (in this case Akshay Kumar) who guides him in this journey, where he battles it out in the court of law.

---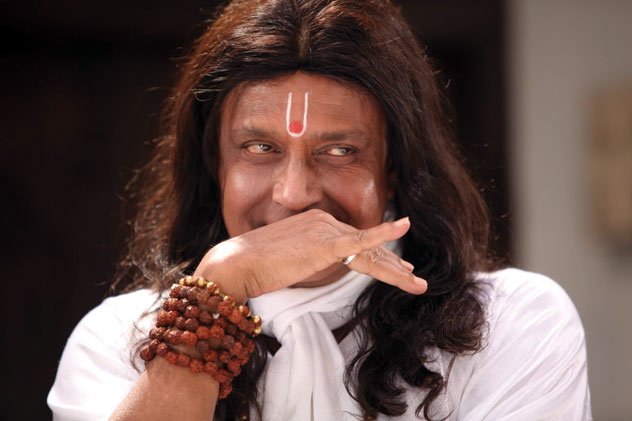 (Above): Mithun Chakraborty in "OMG Oh My God!"

---
From the very outset, it is well established that the film would take a light-hearted approach. Whether it is Paresh Rawal's 'business' of selling God's idols (and then ridiculing the very concept of it) or the logic he shares with family and friends (Nikhil Ratnaparkhi) about various (wrongful) practices being followed in the name of God, he gets it bang on. While the start is just right, what with the Prabhudeva-Sonakshi Sinha song Govinda thrown in as well, the film picks up pace when Paresh Rawal takes his case to Court.

What follows from here, takes the film a different level altogether, what with introduction of God men of different shapes, sizes and virtues (Mithun Chakraborty, Govind Namdeo, Poonam Jhawer), the notices being received by them and the lawyer (Mahesh Manjrekar) coming into picture. Thankfully, director Umesh Shukla doesn't let things out of hands at this crucial juncture either as he makes his central protagonist reason it all out instead of just coming up with plain accusations. Of course not all logic being shared acts as an eye opener of sorts but it does send you thinking all over again.

---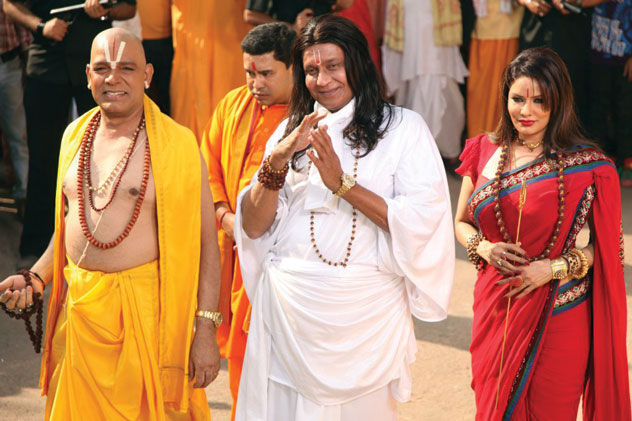 (Above): Mithun Chakraborty (2nd from r) with Poonam Jhawer (r) and others in "OMG Oh My God!"

---
Gallons of milk being thrown into the drain, commercialization of religious spots where extra money is paid for shorter queues, donation boxes being kept at every nook and corner, a stone being considered as God and a temple coming their in no time, scare factor about God being thrust down a man's throat - there is this and a lot more which is spoken about in not so subtle tone, though without trying to be offensive. No wonder, the film turns out to be one that comes with quite a few messages but without turning preachy.

What turns out to be a tad abrupt though are a few spots in the narrative. Public sympathy turning 'for' instead of 'against' Paresh seems a little too quick. His turning out to be their maseeha has a filmy feel to it. A couple of arguments, especially the one shared with Tisca Chopra during her chat show, aren't fleshed out to the fullest. (Spoilers ahead) His subsequent winning of the case isn't very convincing, even though fair evidences are shared. And most importantly, the finale when he is projected as an alternate God comes out of nowhere. That idea is good but execution patchy.

In the middle of this all, Akshay Kumar too plays an interesting cameo where his presence can be felt right from the sequence leading to the interval point and then the entire second half. While he is graceful as God, what is commendable is the fact that despite being a co-producer of the film, he lets Paresh Rawal hold center-stage without trying to take over the proceedings. In comparison, even Mithun Chakraborty has a good screen time and is impressive with his mannerisms that are controlled, yet highly effective. Govind Namdeo is good as usual though Poonam doesn't have any role to play at all.

---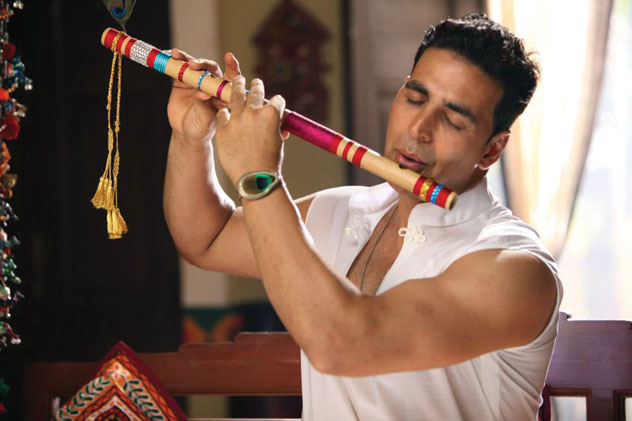 (Above): Akshay Kumar in "OMG Oh My God!"

---
The man who plays the biggest role though is, expectedly, Paresh Rawal. Whether it is his arguments in the Court or at the chat show (with Tisca Chopra) or with God himself, he is superb. Watch out for his never-say-die attitude in the most adverse situations or you will actually start praying for him. He never tries to project himself as someone overconfident who feels pride in taking on the case of God; instead he simply challenges the various beliefs and practices coming in due to commercialization of religion.

OMG-Oh My God turns out to be an engaging film that (thankfully) doesn't suffer from the first half-second half syndrome. It maintains good pace right through the narrative and keeps the viewer interested in knowing what would happen next. While strong performances compensate for the play-like setting of the film due to set pieces all around, what one takes home are quite a few points to ponder that are thrown in. Watch the film, it just might change the way you look at religion.