COVER STORY:
Milkman of India: Verghese Kurien (1921-2012)


Verghese Kurien, widely hailed as the 'Milkman of India,' who spearheaded the 'White Revolution,' the largest dairy development program in the world, won innumerable decorations including the World Food Prize, the Ramon Magsaysay Award, the Wateler Peace Prize, and Padma Vibhushan (India's second highest civilian honor), to name a few. He passed away last month.

Priyanka Bhardwaj looks back at the contributions of Kurien, the man who paved India's magical Milky Way.

---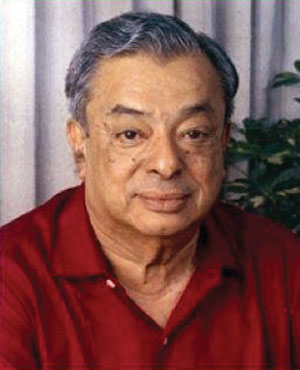 "India's place in the sun would come from partnership between wisdom of its rural people and skill of its professionals."

– Verghese Kurien (r).

---
Amul's enduring success can be gauged from its turnover of Rs.80,054 million (2009-10) when other brands like Nestle and Britannia Industries grossed Rs.48,008 million and Rs.34,246 million respectively. India's dairy market space is primarily divided into these three dairy product firms.

Kurien set an excellent example for replication when he combined the cooperative energies of the state to form the Gujarat Cooperative Milk Marketing Federation, successfully creating the household dairy products brand — 'Amul.' The firm pioneered the concept of deriving baby milk powder from buffalo rather than cow's milk and currently has more than 3.03 million farmers contributing milk to it.

He was a genius in helping dairy cooperatives transition into financially viable units of a regular industry and establishing pre-eminence of the rural milkman or farmer over the middle man, besides introducing new dairy and veterinary technologies.

Verghese Kurien passed away last month.

These remarkable feats convinced the then Prime Minister of India, Lal Bahadur Shastri, to repose trust in Kurien's leadership role and thus the foundation of the National Dairy Development Board or NDDB was laid in 1965 that launched 'Operation Flood' or milk revolution.

In due course of time a pioneering initiative called Institute of Rural Management was added to the dairy-complex of Anand in Gujarat, that went on to become the full-fledged milk capital of the country.

Adept as he was in cutting through political and bureaucratic clutter, he set up 30 institutions and the dairy revolution was replicated in edible oils.

---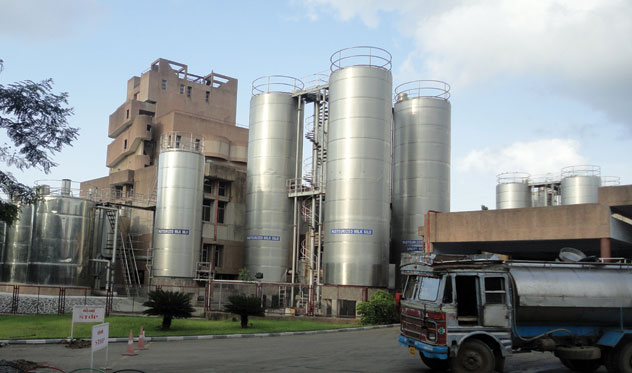 (Above): A view of the Amul dairy complex in Anand, Gujarat. [Photo: The Better India]

---
A newly independent country that was taking its first hesitant steps found a new sense of self-sufficiency and self-reliance with democratic moorings and sans-bureaucratic firewalls and found itself flooded with milk, garner the top global position in the world as the largest producer of milk, with a contribution of more than 17 percent.

A peek into Kurien's early life enlightens us about his Syrian Christian heritage though he was to adopt atheism at a later age.

Born on November 26, 1921 the trained engineer found employment in a government creamer at Anand in Gujarat in 1949.

The district of Kaira lay along Bombay-Ahmedabad route and had tasted Mahatma Gandhi's Satyagraha movement by attempting to break away from manipulative grip of Polson, the procurer of milk for Bombay Milk Scheme, by means of a democratic cooperative movement.

Tribhuvandas Patel, the Satyagrahi chairman of Kaira District Cooperative Milk Producers Union Limited, formed for the surrounding villages, recruited Kurien to manage his cooperative experiments and the famous 'Anand Pattern.'

Implementation of the pattern resulted in villages acting as autonomous cooperatives, vesting ownership and control over procurement, processing and marketing of milk on to the farmers, served with a new and advanced dairy plant.

This magical experiment became a template for copy in various measures in other parts of the country, and the nationwide 'Operation Flood' that lasted for 26 years from 1970 to 1996, established liquid milk supply, resettled urban cattle and improved livestock.

More than 72,000 milk cooperatives find genesis in the Gujarat movement.

While sowing seeds of empowerment and organization among the hitherto marginalized and women population sections and in far flung areas of the state, the dairy cooperative notion of Gujarat also buttressed the quality of honesty in each farmer-contributor who was paid per the measure of fat content of milk.

Kurien's marvelous milk journey that led poor farmers to prosperity by managing cooperatives on their own steam rather than relying on state apparatuses is well encapsulated in a brilliant documentary, Manthan (churning of the milk ocean) by acclaimed filmmaker Shyam Benegal.

---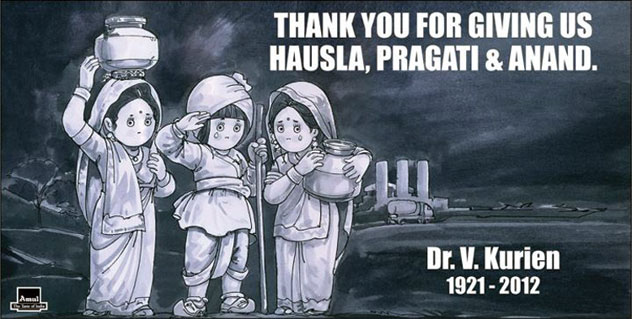 (Above): As much as Kurien believed in a good product, he paid equal attention to good advertising and thus the iconic Amul advertising series was set in motion. [Courtesy: Amul]

---
Another of his foresights that set this 'milkman' apart from his contemporaries was his idea of an integrated communication model to educate farmers and propagate cooperative movements and dairying achievements revolving around farmer stories to as wide an audience as possible.

As much as he believed in a good product, he paid equal attention to good advertising and thus the iconic Amul advertising series was set in motion.

His skills as a social entrepreneur that changed the terrain of dairy production of India from a milk deficient into an exporting one, forms compelling proof of the country's indigenous might for many harp on relying on imported technology and systems to upgrade the country.

---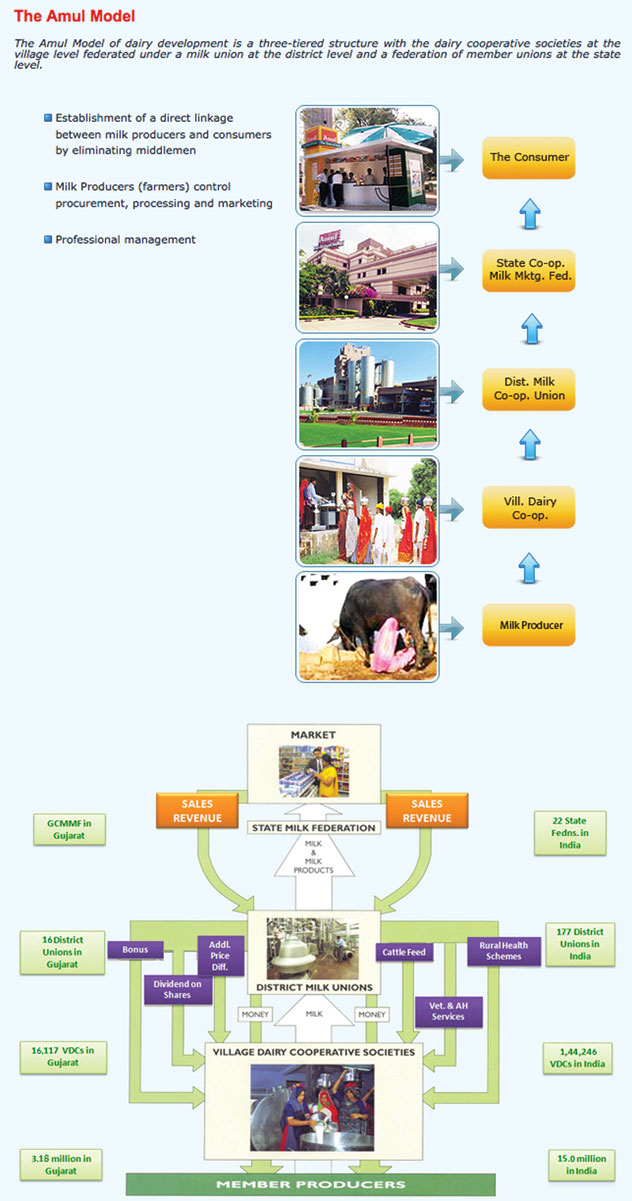 (Above): A graphical representation of Amul's model. [Courtesy: Amul]

---
Though in later years Kurien faced detractors over power struggle still it does not take away the fact that he touched generations with his raising the country's milk procurement from 20 million metric tons annually in 1960s to 122 million metric tons in 2011 and conceptualizing the brand 'Amul' and thereby encouraging Indian households to increase their consumption of milk.

Kurien is survived by his wife Molly, daughter Nirmala and grandson Siddhartha.

---

Priyanka Bhardwaj is a reporter with Siliconeer. She is based in New Delhi.