PROFILE:
A Voice for Progress: Anu Natarajan Running for Fremont Mayor


Siliconeer profiles Anu Natarajan, who is running for the office of Fremont's Mayor this November. A fund raiser held for her campaign at attorney Mahesh Bajoria's residence in Fremont, Calif., collected about $10,000 and was well attended by members of the Indian American community.

---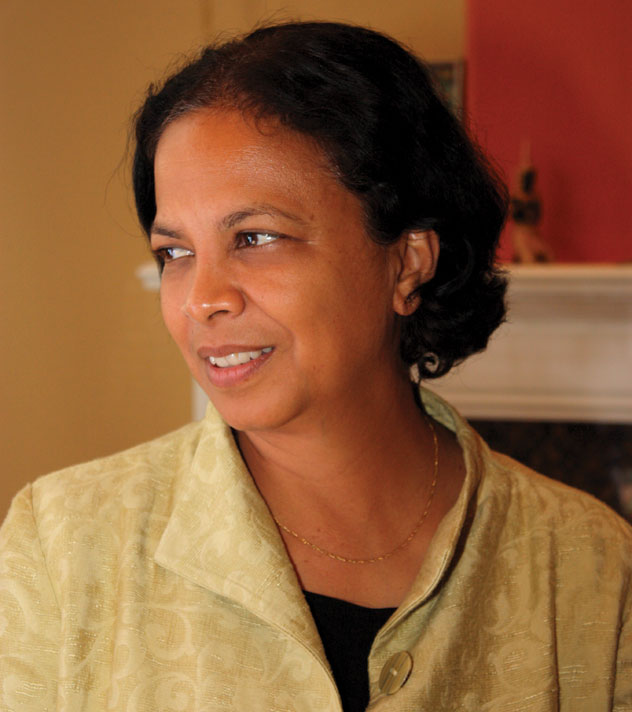 (Above): Anu Natarajan [Photo: Amar D. Gupta | Siliconeer]
---
Fremont Vice Mayor Anu Natarajan is running for election to be Fremont's Mayor this November. At a recent fund raiser in Fremont, Anu explained why she was running and how she can make a difference in the community. Speaking on a variety of issues, from police response to burglaries, to potholes in Fremont's roads, to the building of the new downtown and BART extension, and much more, Anu brought the Indian American community up to speed with what was at stake and why every vote counts, particularly the Indian American vote that plays a major role in the victory of an Indian American candidate.

An experienced city planner and architect, Anu has used her wide-ranging skills to advocate for Fremont neighborhoods on the city council. She has the vision to help realize Fremont's promising future by making Fremont a hub for green technology, and the best place in the Bay Area for families to live and work and for children to go to school.

---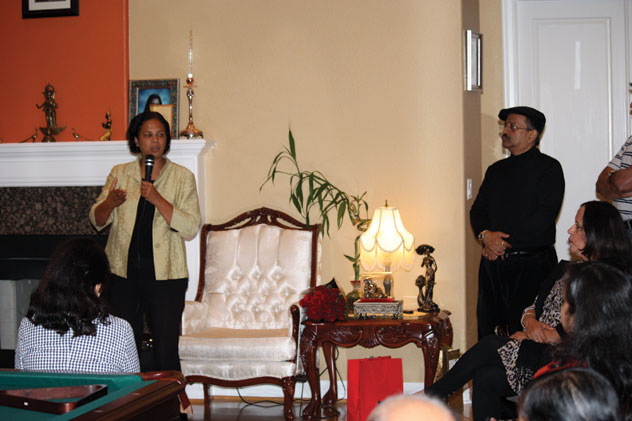 (Above): Anu Natarajan speaks at a fund raiser at the home of Sudha & Mahesh Bajoria (r), in Fremont, Calif., Sept. 26. [Photo: Amar D. Gupta | Siliconeer]
Interested readers can get more information on Anu's campaign at www.anu4fremont.com
---
Anu has been an independent voice on the city council, asking the tough questions on behalf of Fremont's residents and analyzing the merits of each issue before casting her vote. At times she has been the sole vote in opposition to projects she thought were not best for the city and its residents. Anu believes that principled leadership in government is based on consensus-building and community engagement.

During her tenure on the Fremont City Council, Anu has utilized her extensive experience as a city planner to facilitate the general plan process, working through dozens of public meetings to build Fremont's future towards sustainable and long-term economic growth over the next 20 years – a city where people can live and work at well-paying jobs, a city with better restaurant and retail opportunities, an interconnected community with walk able neighborhoods, and a community that provides the best environment for our children, including great schools, parks, bicycle trails, and other recreational activities.

---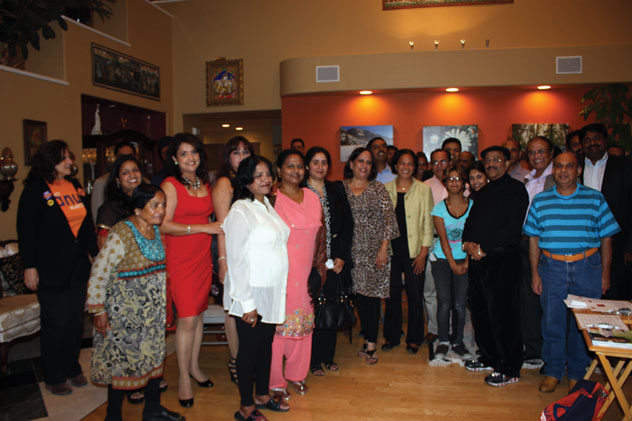 (Above): The Indian American community stands in support of Anu Natarajan at a fund raiser in Fremont, Calif. [Photo: Amar D. Gupta | Siliconeer]
---
While on the council, Anu facilitated the continued progress of several major infrastructure projects in Fremont—most notably, the BART extension to Warm Springs. She worked with leaders to create shovel-ready projects that helped garner millions of dollars in federal stimulus funding to Fremont businesses and neighborhoods. During her tenure on the Fremont City Council, Fremont has laid the foundation to become a major hub of green technology with over 30 businesses.

Anu represents Fremont on a variety of regional boards, including, the Alameda County Waste Management Authority (Stopwaste.org), Alameda County Recycling Board, Silicon Valley Rapid Transit Corridor, Urban Land Institute's Technical Advisory Panel, SPUR San Jose Board, Smart Growth America National Advisory Panel and BART Warm Springs Extension Policy Advisory Board. Because of Anu's involvement, the city of Fremont has received additional project funding, such as recycling grants. Most importantly, Anu's work on the regional boards ensures that Fremont residents have influence on regional projects that impact our city's neighborhoods.

---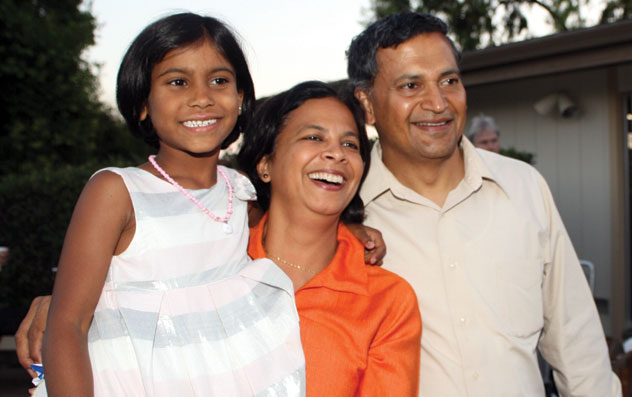 (Above): Anu and her husband, Sundaram, with their 9-year-old daughter, Pranali.
---
In 2006, Anu served as the event chairperson for Celebrate Fremont, an event geared toward enhancing the quality of life in the Fremont community by celebrating the past, present, and future of Fremont. As the event chairperson, Anu marshaled hundreds of volunteers and brought businesses and community members together to commemorate Fremont's 50th Anniversary and celebrate our civic pride.

Anu earned a Bachelor of Arts degree in Architecture and a Masters degree in Urban Design and Planning from the University of Washington. Her professional experience includes working as an architect, public agency planner, and as an urban planning consultant to cities throughout the Bay Area and internationally. She currently leads the "Reviving California" initiative of the American Leadership Forum – Silicon Valley, which aims to promote civic engagement and civility in political discourse.