AUTO REVIEW:
Safe, Roomy, Tech: 2013 Ford Taurus

If you know someone who just has to have the latest in technology, and also happens to be in the market for a new car, it might be fun to take that friend for a test drive in the 2013 Ford Taurus, writes our automotive editor Sally Miller Wyatt.

---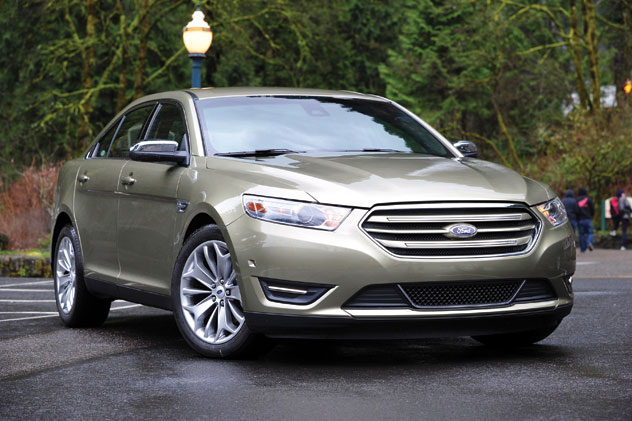 (Above): Exterior view of the 2013 Ford Taurus.

---
The 2013 Taurus models get a host of upgrades on what is Ford's flagship sedan, and the most notable among them its MyFordTouch, which replaces many of the buttons, knobs and dials we are all so familiar with on most cars' dashboards. Instead what we have here are clear and brightly colored LED screens and steering wheel-mounted toggles. These screens can be personalized to display the kind of information that matters most to each driver, and you can even do this personalizing by voice command. That means you're keeping your eyes on the road, which is where they should be.
MyFordTouch is actually powered by an updated version of Ford's SYNC system, which combines voice control for vehicle functions, enabled Bluetooth devices, MP3 players and other external media.
---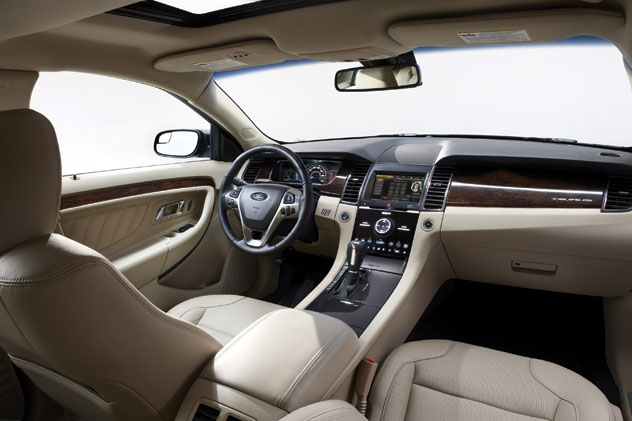 (Above): Interior view of the 2013 Ford Taurus.

---
Gadget-nuts are going to love setting this all up. The car also has Intelligent Access with push-button start, allowing the driver to get into the car and start the engine simply by having the key fob in hand.
Also on board is a rear-view camera which helps you see what's behind you when backing up, and Perimeter Alarm. This is activated when you put the car in reverse; it sounds a warning if objects -- cars, kids on skateboards, pedestrians -- are approaching.
Also new for the 2013 Ford Taurus models is better fuel economy, offering at least 31 mpg for highway driving, delivered from a spunky 2.0-liter Ecoboost V-6 engine. If you didn't know differently, you would certainly think there was a V8 under the hood here, when pressed at hard acceleration. With the Ecoboost feature, you can accelerate hard, and not feel guilty about that, either.
The Ford Taurus is a large sedan, and while your techno-geek buddy may be fawning over the high-tech dashboard, I'm grinning over all the leg, hip, head and shoulder room here. With all this generous space, the kids won't be fussing and fighting each other for elbow room. And the large trunk can hold all their stuff, plus groceries and all those other trappings of family life.
As you slip behind the wheel, please take note of the multi-contour seats. They have Active Motion, which is a 'Taurus-only' feature. These special seats help cut down on fatigue for driver and front passenger, with a soft rolling massage. What commuter wouldn't appreciate knowing that awaits as they head out into bumper-to-bumper traffic?
---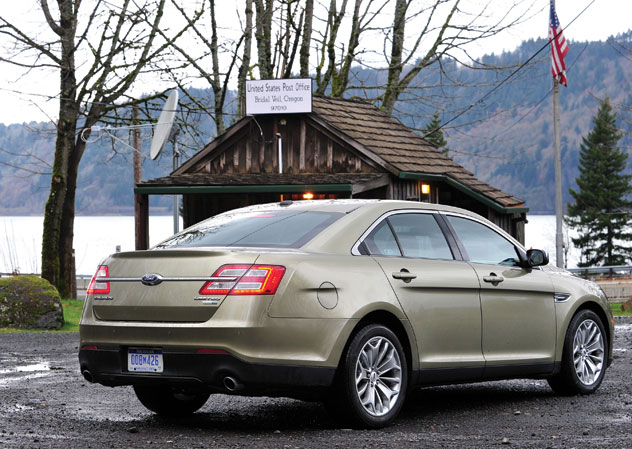 (Above): Exterior view of the 2013 Ford Taurus.

---
Another nice-to-have feature is a rear window power sunshade that can fold down at the touch of a button, helping to reduce temperatures in the car on sunny, hot days. That is a bonus for those of us who know what a Solano County summer can be like.
Behind the wheel, you'll find good visibility and that colorful LED-display dashboard. As you set out, you'll notice improved driving dynamics. Designers have added "torque vectoring control," which uses a slight bit of braking force on the inside front wheel when you accelerate through a corner. It gives the driver a sense that the car is more maneuverable and yet in tight control.
Safety features are impressive, and have earned the car a 'Top Safety Pick' from the Insurance Institute for Highway Safety.
Overall, we were very impressed with the feature- and safety-packed 2013 Ford Taurus, for all its family-friendly room and technology enhancements.