Individually, Modi defeated his closet rival from the Congress, Seweta Bhatt, wife of suspended police office Sanjeev Bhatt, by more than 86,000 votes in Maninagar constituency.
That he would return as the Chief Minister of the state was a forgone conclusion as his ten year tenure ensured an uninterrupted supply of enabling provisions and peaceful environment for high economic growth for industry and agriculture that propelled him as a worthy contender to lead the state and rubbished all chances of anti-incumbency.
And for the first time Modi's zeal was seen in his attempts to shed off the controversial image of "merchant of death," a name given to him in 2007 by none other than Congress supremo Sonia Gandhi for his alleged abetment of sectarian violence that took place at Godhra in 2002.
Attempts to woo minorities comprised "sadbhavana" fasts and use of Irfan Pathan, a Muslim cricketer, to campaign in last leg of political canvassing falling short of fielding a single Muslim candidate perhaps to keep peace with the Hindutva camp.
Still it would not be fair to say that the non-Muslim or even Muslim votes went in favor of Modi because of such antics but for the fact that the Gujaratis were ready to put the past behind them in pursuit of the much needed good governance, progress and development that he helped usher in the state.
Modi himself concedes, "The people of my state know what is good and bad for them. They have risen above caste and religious politics to vote for development. In this, they have set a precedent for the rest of the country to follow."
Similar sentiments echo in statements emanating from industry that was quite vocal in criticizing Modi in the aftermath of Godhra carnage.
Acknowledging Modi's victory, Deepak Parekh, chairman of the country's leading financial firm, HDFC remarks, "It is a vote for development. It is a vote for growth. It is a vote for better governance, improvement in quality of life, transparency and integrity. In most states you will find anti-incumbency at work but not in Gujarat. Modi must be doing something right. The BJP cannot overlook him now."
The head of Biocon, Kiran Mazumdar-Shaw even suggested that, "Modi's win should perhaps encourage the media and USA to buy into Modi's delivery of promises…also considering his prospects in Delhi."
Interestingly, such has been the 'Modi factor' in BJP's win that a routine state election was closely watched by the national media and people living outside the state and voices are being heard along lines of Modi's rising individual stature and charisma developing to the potential to lead the nation from the Prime Minister's seat in 2014 General Elections.
For the record, his work-achievement profile reads way better than that of the central ruling United Progressive Alliance government's lack of unity, policy paralysis and involvement in graft cases amounting to multibillions of dollars in industries ranging from mining to telecommunications.
With the country's population fed up with empty promises and no growth oriented agenda of incumbent government there are possibilities that Modi might win their favor to replicate the success story of Gujarat at the national scale.
Modi's behavior too betrays his understanding of his popularity ratings which may translate into something more big in the future as his recent tweet on a popular micro-blogging site reads: "No need of looking behind...FORWARD!.... We want infinite energy, infinite courage, infinite patience..."
Again while addressing his Gujarati supporters, who were chanting "Delhi, Delhi, Delhi," he declared in Hindi (national language) instead of Gujarati, "Be it Assam, Kerala, J&K or any other state, this victory is for all those who want to see India do better. Development of Gujarat benefits India as well. When farmers in the state benefit, their produce fill the belly of a hungry person somewhere in India. When an industry is set up here, it provides employment opportunity to a jobless person somewhere in my country. Young people from other states of India come to Gujarat to take up employment without fear."
That he enjoys party cadre support and is the largest mass leader is not lost upon the BJP but then there are problems in his being nominated as National Democratic Alliance's 2014 Prime Minister candidate.
First, his equations with President of BJP, Nitin Gadkari are quite strenuous and he is doubted for a recent 'oust-Gadkari' campaign when anti-corruption crusader turned politician Arvind Kejriwal and his team found gross financial irregularities in Gadkari's firm.
Though lower level BJP leaders, Smriti Irani and Tarun Vijay, have made clear their support for Modi for the PM-post, senior leaders like Arun Jaitley and Sushma Swaraj remain circumspect.
---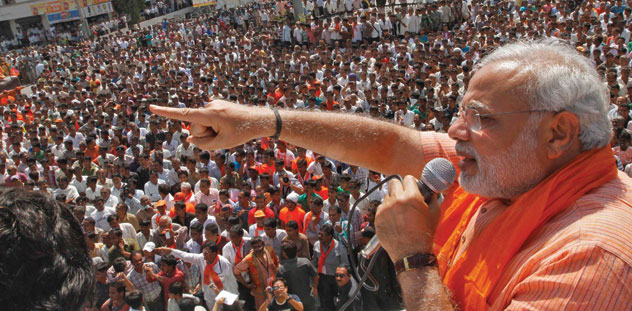 (Above): 
Gujarat Chief Minister Narendra Modi addresses his supporters during an election rally ahead of the state assembly elections at Dokar village in Gujarat, Oct. 11, 2012. [Reuters]
---
Political analysts however do not rule out the possibility of BJP using whatever it has, a popular mass leader like Modi, to move center stage come 2014.
Still the hype around Modi cannot wish away the internal problems as the party suffers from ego and power struggles and its relations with the RSS too have been patchy of late as the party would not like to forsake its pro-business and practical stand and which means sending wrong signals to the middle classes and industry voting sections that are undeniably the prime beneficiaries of liberalization.
Then there are other BJP political leaders like Shivraj Singh Chauhan and Raman Singh who are most likely to bid to become three-time Chief Ministers of Madhya Pradesh and Chhatisgarh respectively in 2013.
Also with Madhya Pradesh having 29 seats in Parliament, 3 more than Gujarat, and Chauhan's non-controversial and secular image Modi's sheen stands a chance of losing its luster.
Speaking of external dynamics, Modi has far too contending allies who would not mind using secular lexicon to keep Modi out of NDA's PM candidacy.
NDA's primary constituent, Janata Dal (United)'s Nitish Kumar, Chief Minister of Bihar, whose development work in his state is also unparalleled, was reticent over Modi's win which is of course clear discomfort over Modi's rising stature.
Neeraj Kumar, chief spokesman of JD (U), has already revealed his party's intentions, "We respect people's mandate in Gujarat. As far as prime ministerial candidate is concerned, we have made the qualification criteria very clear. The candidate should have secular credentials."
In the past Naveen Patnaik of Orissa had left NDA due to Modi and there is also no love lost with Telugu Desam Party's Chandrababu Naidu in Andhra Pradesh.
Modi's party may have understood by now how alliances are significant as it lost to Congress in Himachal Pradesh when it decided to go alone but won in Punjab where it combined forces with the Akali Dal.
So while Modi will be expected to answer the communal question that a liberal India bothers to ask time and again it would also be imperative for him to come up with sure shot winning formulas for non-Gujarati urban and rural voters.
The upcoming assembly elections in Madhya Pradesh, Chhatisgarh, Delhi and Karnataka will test out Modi's true mettle and make a case for his journey from Gujarat to New Delhi.