OBITUARY:
India Weeps for Sitar Virtuoso: Pandit Ravi Shankar (1920-2012)

The demise of Pandit Ravi Shankar on December 11 added to the long list of extraordinary Indian personalities lost in 2012, who had dazzled the world with their rare and unparalleled contribution to art and culture, writes Priyanka Bhardwaj.
---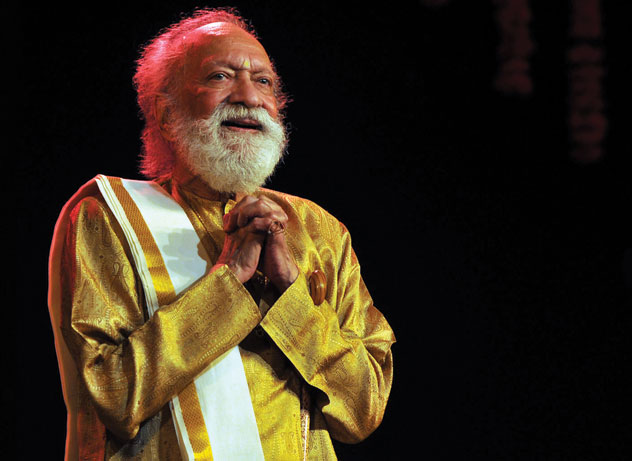 (Above): 
Sitar maestro Pandit Ravi Shankar [AFP | Getty Images]
---
Till the age of 92 this virtuoso of sitar, a plucked stringed instrument, composed wonderful, delicate and sophisticated music for his audience that only grew younger with time, a testimony to his brilliant blending of the contemporary with timeless ragas (for the uninitiated raga meaning color or beauty is a scientific, precise, subtle and aesthetic melodic form with its own peculiar ascending and descending movement consisting of either a full seven note octave, or a series of six or five notes or a combination of any of these, with subtle differences in order of notes that differentiate one raga from another).
Born on April 7, 1920 in an exceptionally gifted Bengali Brahmin family, Robindro Shankar Chowdhury as he was originally named was the youngest of four brothers.
Few know that Shankar's journey in the world of art started as a dancer in his elder brother, Uday Shakar's troupe that toured USA and Europe in 1930s which was when he learnt French, Western classical music and jazz and met his guru Baba Allaudin Khan.
A former chief musician of a princely court, Allaudin Khan took the young boy under his wings and passed on to him, his vast knowledge of the instrument and musical tradition of Nawabi (Indian princely) court and Tawaif (courtesan).
Years of riyaz (practice) under a strict and austere gurukul style tutelage bore fruit as Shankar went on to fuse the duality of medium and message with his fine exploration of depth and delicacy of bhava (emotion or feeling) and swarupa (movement) of each raga that transported his listeners into a universe of uninhibited ananda (happiness) and later liberation.
He would make full use of the ancient Hindu spiritual or ascetic musical, Carnatic rhythms and Hindustani folksy tradition that he combined with Muslim traditions and referred to his musical path as one of the love of God similar to the Sufi pursuit of devotional trance.
Immediately after his rigorous training Shankar was roped in to compose for the Apu Trilogy — Pather Panchali, Aparajito and Apur Sansar, by film maestro Satyajit Ray.
---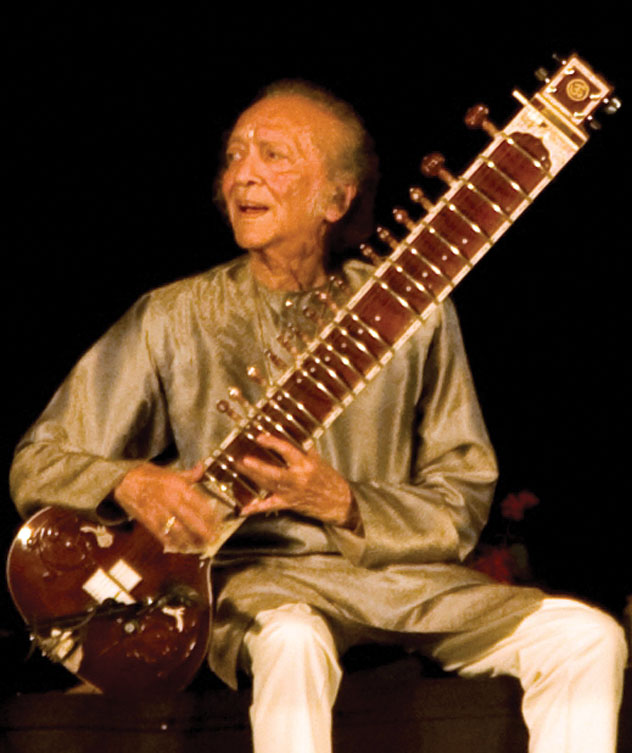 (Above): 
Sitar maestro Pandit Ravi Shankar [Alexandra Ignatenko | Wikimedia Commons]
---
It is sheer magic being evoked on screen in instances when Durga and Apu, the protagonists, run through kaash (flowers) filled expanse towards a speeding train or when Durga's mother bursts into tears on her death.
Other films that were decorated by Shankar's scores include Debi, Jalsaghar, Neecha Nagar, Dharti Ke Lal, Anuradha, Meera and Kabuliwala and not to forget Sir Richard Attenborough-directed film Gandhi for which he was nominated for the Oscar.
His first public performance was in 1939, a jugalbandi (duet of two solo musicians) with Ali Akbar Khan (tabla genius) and then in 1944 he moved to Mumbai where he briefly associated with the Indian People's Theatre Association to compose the tune for Saare Jahan Se Achcha.
However, the landmark year was 1952 when Yehudi Menuhin's invitation could not be taken up due to domestic pressures but soon thereafter Shankar left his job as music director at All India Radio for the shores of America where he first took to teaching and then performing for small audiences which graduated into large packed concerts.
New York was a perfect choice for him as the sitar was all along relegated to the background in India and his records fetched much international acclaim, which also enabled him to start a music school in Mumbai.
Many U.S., Canadian and European films and ballets were embellished with his scintillating music and among his world famous concerts were Concert for Bangladesh, Monterey Pop Festivals and The Woodstock Festivals.
Shankar was prolific and he played the sitar, wrote and taught music.
His boundless energy, intelligence, charisma and creativity brought about for the first time in history a successful hybridization of eastern and western cultures and he innovated music and used new technologies without tampering with authenticity of ragas.
His collaborations with the Beatles rock star George Harrison, Philip Grass on the chamber music album called Passages and the great pianist Menuhin awakened the West to an India as the land of renunciation and peace.
He preferred unconventional rhythmic novelties, a marked distinction from other sitar exponents and repeated jugalbandi styles and was known to introduce a series of new ragas that include Tilak Shyam, Nat Bhairav and Bairagi.
Acclaim is a sure shot follower of work of such top notch level and he won the Silver Bear Extraordinary Prize of the Jury at the 1957 Berlin International Film Festival for his musical compositions in movie Kabuliwala, followed by Sangeet Natak Akademi Award for 1962, a Fellow of the Academy for 1975, and India's three highest national civil honors, Padma Bhushan, in 1967, Padma Vibhushan, in 1981, and Bharat Ratna in 1999 besides far too many prizes, doctorates and accolades that can possibly be mentioned in an article.
Apart from the three Grammy Awards, a posthumous one for lifetime achievement, the UNESCO International Music Council also decorated him and he also has to his honor Ramon Magsaysay Award in 1992, Polar Music Prize in 1998, Knight Commander of the Order of the British Empire by Elizabeth II for his "services to music" and the American Academy of Arts and Letters and the Praemium Imperiale for music from the Japan Art Association.
Shankar gave lessons in Indian classical music to the legendary American jazz saxophonist John Coltrane who christened him Ravi Coltrane and called him his son and also the Beatles star George Harrison with whom he collaborated.
His life and times are detailed in the three books he authored, My Music, My Life and Raga Mala (edited by Harrison who gave him the title of 'Godfather of world music').
A cursory peek into Shankar's personal life reveals his proclivity to yield to free love which perhaps could have acted as an inspiration for him to experiment with music and or vice versa if one were to go by some critics.
---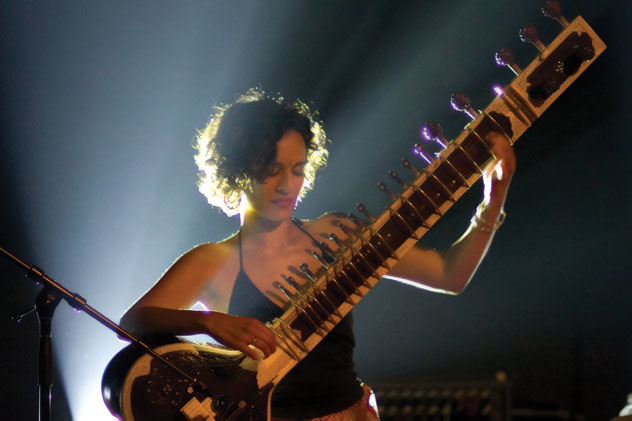 (Above): 
Anoushka Shankar at Global Rhythm 15th Anniversary Party, Aug. 2007. [Audrey Sel | Wikimedia Commons]
---
He shared his life with many partners or wives starting with his guru's daughter Annapurna Devi whom he married in 1941 and had a son named Shubhendra Shankar, born a year later.

A relationship with the dancer Kamala Shastri was followed by an affair with Sue Jones, an American concert producer which resulted in birth of his first daughter, Norah Jones in 1979, who has gone on to win several Grammy Awards in 2003 all of her own.

However, marital stability came to the wandering soul only when Sukanya Rajan entered his life and became his second wife after having borne him a second supremely gifted daughter Anoushka in 1981 and she has stayed by his side till he last breathed in Encinitas, Calif.

As luck would have it, Anoushka was personally tutored by her illustrious father who perhaps had some sense of the future, of her wanting to follow his footsteps.

Now, given her own proficiency in the art, Aoushka's role would be extremely significant in celebrating and carrying forward the rich legacy of her father and in delighting and inspiring the world with her sense of style, interpretation and improvisation.

In 2013 Grammy Awards the father-daughter duo have been nominated for Best World Music Album.

Shankar is survived by Sukanya, his wife of 23 years, their daughter Anoushka Shankar Wright and her husband Joe Wright, Norah Jones, another daughter from Sue Jones, three grand-children and four great-grand-children.