RECIPE:
Delectable and Fiery: Goat Curry

For those who savor non-vegetarian dishes, here's a recipe that will fire your taste buds. Chef Sanjay Patel shows how to make it.

---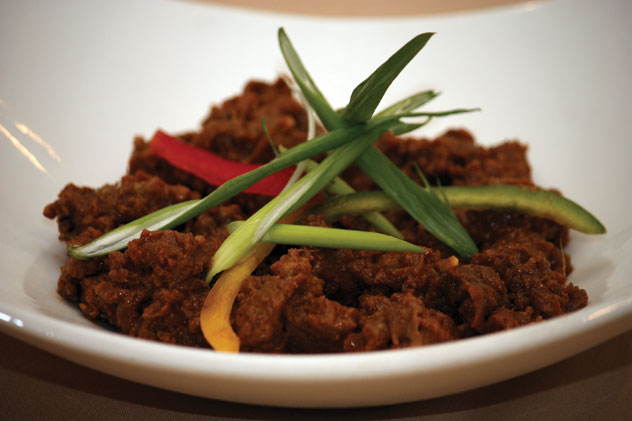 (Above): Goat Curry [Photo: Siliconeer]

---
Ingredients:
1 tsp each of turmeric, fennel seeds, garam masala, anaar dana (dried pomegranate)
2 tsp coriander seeds
5 cloves garlic
1 onion, peeled & chopped
2 medium tomatoes, chopped
1 tbsp grated fresh ginger
½ tsp salt
1 tbsp ground fresh coriander roots
1 tsp fenugreek leaves
1 tsp chilli powder
1 kg goat meat (on the bone) cut into large chunks
3 tbsp coconut oil
1 tsp cumin seeds
1 tsp nigella
2 cups water or chicken stock
2 tbsp tomato paste
2 large red chillies, seeded and roughly chopped
½ cup grape tomatoes
1 cup coriander leaves
Method:
Add turmeric, fennel seeds, garam masala, anaar dana and coriander seeds in a mortar and pound with the pestle until relatively fine. Add the ground spices, garlic, onion, tomatoes, ginger, salt, coriander roots, fenugreek leaves and chilli powder into a food processor. Process until a paste forms.
Place the chopped goat meat in a plastic bag with the spice paste, twist the top closed and squish it with your hand to coat the meat with the spices. Set aside in the fridge for at least two hours to marinate, preferably overnight.
Heat 2 tbsp coconut oil in a pan over medium heat and add cumin and nigella seeds. Stir with a wooden spoon until the seeds begin to pop then drop in the goat meat along with all of the marinade. Cook, stirring often, for 10 minutes. Add water and tomato paste and bring it to a boil. Reduce to a very low simmer, cover and cook until the meat is tender, about 1½ hours.
In the final half hour, heat the remaining 1 tbsp coconut oil in a small frying pan over low heat, add chopped red chilli and grape tomatoes. Toss the pan, or stir, as they cook for 5-8 minutes until soft. Mix this through the meat curry in the last fifteen minutes.
Stir through the coriander leaves before serving. Serve with rice.