BOLLYWOOD | Film Review
Full 'Paisa Vasool': Dabangg 2


Directed by: Arbaaz Khan
Produced by: Arbaaz Khan and Malaika Arora Khan
Starring: Salman Khan, Sonakshi Sinha, Prakash Raj, Arbaaz Khan and Vinod Khanna
Music by: Sajid-Wajid
Review by: Joginder Tuteja
Rating: ***1/2 (Good)
---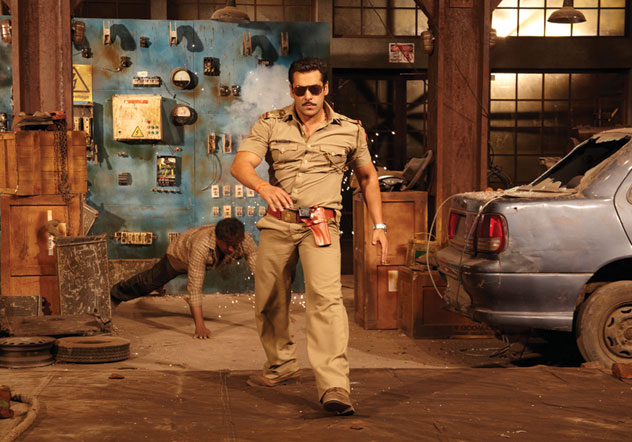 (Above): Salman Khan in "Dabangg 2."
---
Allow me to begin with a statement that could be considered bold by many — Dabangg 2 is a better film than Dabangg. Yes, it's true and not a small task to be achieved.
Arbaaz Khan has managed to do just that with complete involvement of Salman Khan while ensuring that the core essence of the brand and the character is retained. Yes, in the process it is also quite obvious that from the storyline perspective there are neither any surprises in store nor any major conflicts offered. However if at all there was a film that had to be titled "The Chronicles of Chulbul Pandey," Dabangg 2 would definitely fit the bill.
The film stands on two pillars — Salman Khan's star power and Arbaaz Khan's presentation. With the absence of either of the two, the film wouldn't have been half as entertaining as it eventually turned out to be. However, there is no scare quotient around this as the combined power results in a quick-fire entertainer that doesn't have a single dull moment in its two hours. So much so, that when Chulbul Pandey is not busy taking on Prakash Raj (who anyways doesn't come across as a true blue villain at all, but more about that), he takes center-stage as a family man, something that turns out to be immensely enjoyable.
---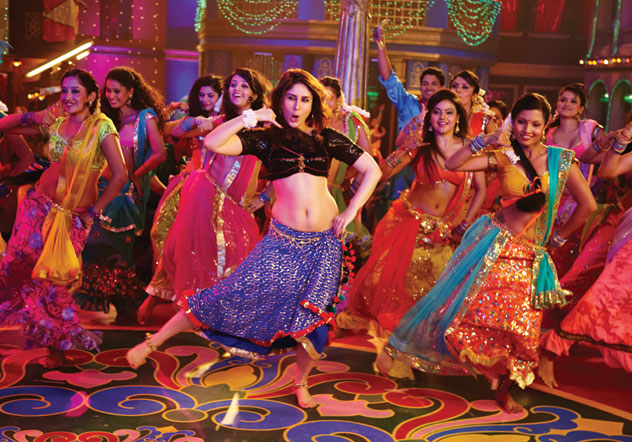 (Above): Kareena Kapoor Khan in "Dabangg 2."
---
This is mostly evident in how the relationship between Salman Khan and Vinod Khanna emerges. Frankly, a little more saccharine, a softer tone of conversation and more subtle wit and their scenes could well have played out of a Sooraj Barjatya film!
It can be comfortably stated that when Pandeyji is not beating the pulp out of villains, he has his best moments with his on-screen dad. Not that he doesn't go around wooing his wife (Sonakshi Sinha) all over again even at home. Entirely domesticated and at ease with her extended family, Sonakshi comes and goes but makes her presence felt in those short scenes.
On the other hand Arbaaz keeps it short and simple for his part in the film as an actor. He gets four-five scenes for himself and leaves a very good impact at least twice; one when he reaches out to Salman and asks for a job (heartfelt) and secondly when he finally reunites with his wife (played by Mahie Gill, in an ultra short part).
---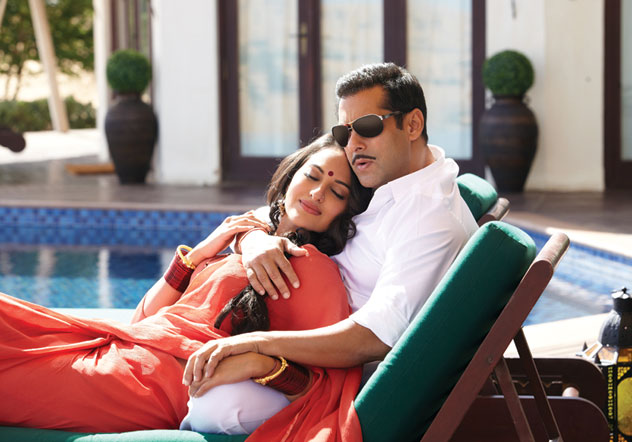 (Above): Salman Khan and Sonakshi Sinha in "Dabangg 2."
---
However, as expected, the man who keeps the entire show running with no interruption or hindrance whatsoever is Salman Khan. Right from the opening credits where the escapades of Chulbul Pandey from Dabangg are flashed, to the way he goes about cracking jokes with his team of policemen, to the camaraderie that he shares with his senior (Manoj Pahwa), to the wit that he brings in practically every conversation, to the way he goes around reacting to the most life threatening situations (courtesy Deepak Dobriyal and Nikiten Dhir) as a mere joke, he doesn't allow the tempo to slow down.
Meanwhile, it is apparent that Dabangg 2 was relying on a very weak script. In fact one wonders whether the makers actually realized that from the beginning and hence concentrated entirely on Salman and the presentation. The core conflict between Salman and Prakash Raj (not as effective as a Singham or a Wanted) hardly holds much heat. Moreover, the whole film comes across as a mere episode that Chulbul Pandey would have battled in a fortnight's time and gotten over with.
It is all so easy, convenient and simple that you almost feel if Chulbul too was missing a much better conflict, let alone the opponent.
---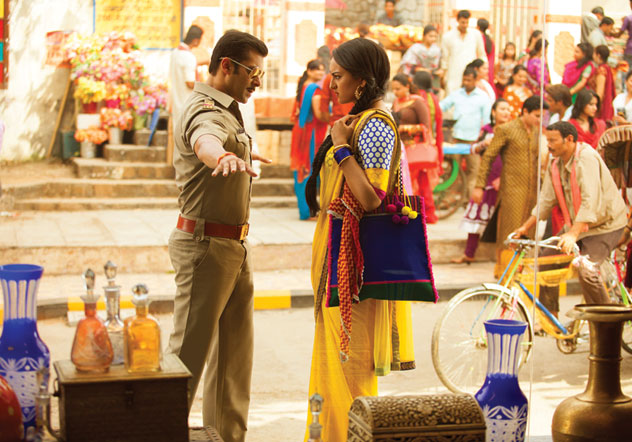 (Above): Salman Khan and Sonakshi Sinha in "Dabangg 2."
---
This is where Arbaaz's genius steps in — along with his technicians and dialog writer, he makes sure that not even five minutes go by where something interesting is not happening on screen. He brings out a masala bhelpuri that has everything from action, emotion, dance, drama and humor, as a result of which, as a viewer, you don't get a single moment to divert your attention to checking your mobile phone.
Meanwhile his crew does full justice to the genre with music, cinematography, action, sound design, background score and some rapid editing, making Dabangg 2 an engaged watch.
It would be unfair to say that Dabangg 2 is primarily for Salman Khan fans. As a complete package, it works for a larger section of audience. What works most in the film's favor is it's rapid pace that results in it passing by in a jiffy. An all out entertainer that makes you look more into the character (of Chulbul Pandey) than the real storyline (which hardly exists), Dabangg 2 is a huge winner.