(Above): Congressman Ami Bera was sworn in as the U.S. Representative for California's 7th Congressional district.
---
Congressman Ami Bera was recently sworn in as the U.S. representative for California's 7th Congressional district.
Bera's parents emigrated to the U.S. from India in the 1950s with very little but the dream of a better life. Bera grew up believing America was a land of opportunity, where if one worked hard and played by the rules, one could reach his full potential.
Bera was also recently named to the House Committees on Foreign Affairs and Science, Space and Technology.
"I am honored to have been named to the House Foreign Affairs Committee," he said. "In an increasingly complex global landscape, relationships with other nations have tangible effects here at home and we need strategic thinking to guide our foreign policy in the 21st century."
Congressman Ami Bera represents Sacramento County in the 113th Congress. A lifelong Californian and first generation American, Bera is a medical doctor and the only Indian American currently serving in Congress. He and his wife Janine live in Elk Grove, Calif. with their 15-year-old daughter, Sydra.
---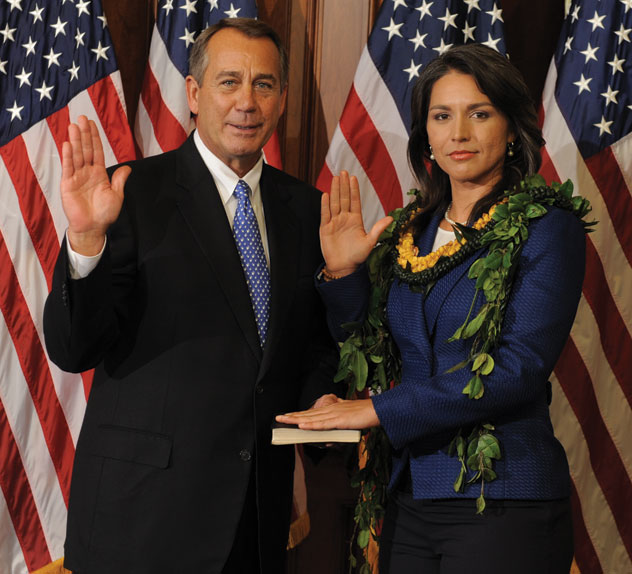 (Above): Speaker John Boehner holds the "Bhagavad Gita" during Congresswoman Tulsi Gabbard's inauguration.
---
The Hindu American Foundation welcomed the inauguration of Congresswoman Tulsi Gabbard (D-HI), the first Hindu elected to the U.S. House of Representatives. Gabbard took her oath on the Bhagavad Gita, a sacred Hindu text, as she joined the 113th Congressional class. Gabbard said the copy she chose for her swearing in ceremony was one which she read nearly every day while serving as an officer in the Hawaii National Guard during the Iraq War as well as during her tenure as a State Representative and Honolulu City Councilwoman.
"My Gita has been a tremendous source of inner peace and strength through many tough challenges in life, including being in the midst of death and turmoil while serving our country in the Middle East," said Congresswoman Gabbard.
"It's exciting that this session we will have the opportunity to work with the first and only Hindu in Congress," said Jay Kansara, HAF associate director of government affairs. "We are confident that Congresswoman Gabbard will join many of her colleagues in prioritizing the curbing of human rights violations against minority Hindu communities globally as well as rigorously upholding religious liberty and promoting religious pluralism right here at home."