The year 2012 would go down as one that saw the hit-flop ratio improve by a big margin. There was hardly any major box office disappointment and even those much-hyped biggies that were not quite well received by critics as well as audience went on to fetch decent numbers at least, due to aggressive marketing and promotion.
However, the ones that came trumps from all quarters had everything going for them as they set new benchmarks for movies to follow. This is evident from the fact that 2012 has emerged as the year when each of the top five grossers ended up entering the 100-crore club.
All collections mentioned are net domestic revenues in India.
Ek Tha Tiger (199-crores)
The Salman Khan starrer was perhaps not the best of the stories told in the year gone by. However, it was the most approved of them all. After a fantastic opening on Eid, it went on to create records for weeks in successions. One record after another was broken as the film took the biggest opening ever in the history of Bollywood. Later, it was also the fastest to cross the 100-crore mark.
For Yash Raj Films, this love story with elements of thrills and action turned out to be their biggest ever. They would regret the fact that the film came precariously close to the 202-crore benchmark set by Aamir Khan's 3 Idiots. As for Kabir Khan, he has entered the big league with the film's blockbuster success.
On the other hand Katrina Kaif, who was waiting to gain an entry into the 100-crore club, finally made a huge jump and almost came close to a double century.
As for Salman, he continues to rule.
---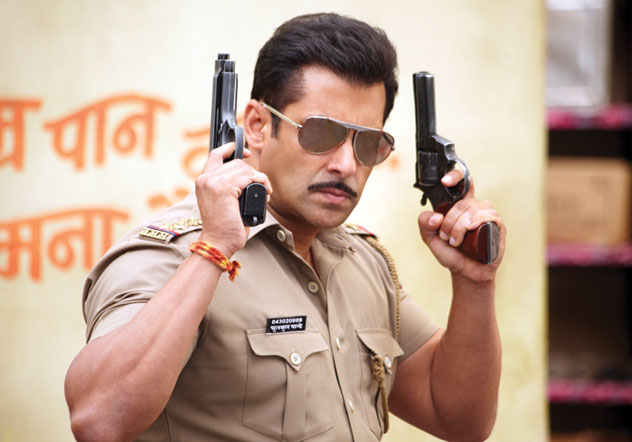 (Above): Salman Khan in "Dabangg 2."
---
Dabangg 2 (Over 150-crores Expected)
Salman Khan continued to compete with himself with Dabangg 2, he has now managed to earn five super-successes in a row to his credit. The film broke opening three days record of Ek Tha Tiger and has also raced past the 100-crore mark. It was always a gamble for the sequel to arrive when the original was so well etched in audience's mind. In that aspect, Arbaaz Khan had a task in hand as he had to adhere to Salman's superstardom, the sequel factor, and make his mark as a director.
However, he managed to do that in style and though detractors were not too kind on the film, the audience felt otherwise.
Dabangg 2 was all set to cross the 100-crore mark but the speed at which it has done so reaffirms that it has been accepted well. With a 'superhit' tag, Dabangg 2 is all set to cross Dabangg collections of 145-crores. While 160-crores is just an estimate, the coming weeks would decide the distance it covers.
---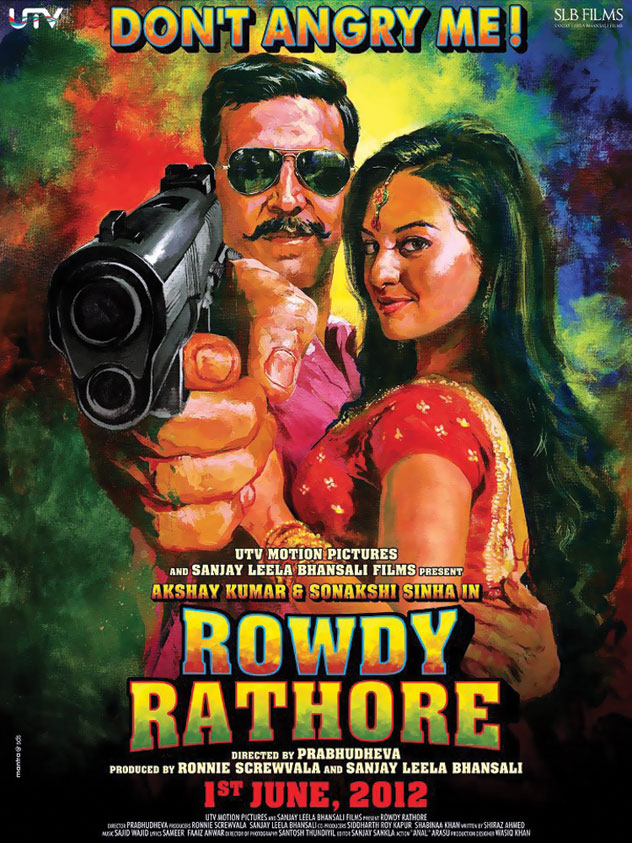 (Above): Akshay Kumar and Sonakshi Sinha in "Rowdy Rathore."
---
Rowdy Rathore (135-crores)
Akshay Kumar roared big time in 2012 as Rowdy Rathore turned out to be a blockbuster. The film was hot on its announcement, turned hotter during it's making and was the hottest of the season as it hit the screens in the scorching summer of June. The film took the best opening weekend ever of Akshay's career and enjoyed one of the best word-of-mouth publicity in the weeks to follow. That resulted in steady collections for this Prabhudheva-directed affair with 135-crores coming in its coffers.
For Akshay, this was his second straight success in a row after Housefull 2 (which too entered the 100-crore club). With the film's super success, he consolidated his position in Bollywood as a top superstar who could be trusted to deliver the goods. Also, for someone who releases an average of four films a year, Rowdy Rathore was a reaffirmation of the fact that despite quantity, Akshay was still consistent enough to bring in the audience, month after month.
---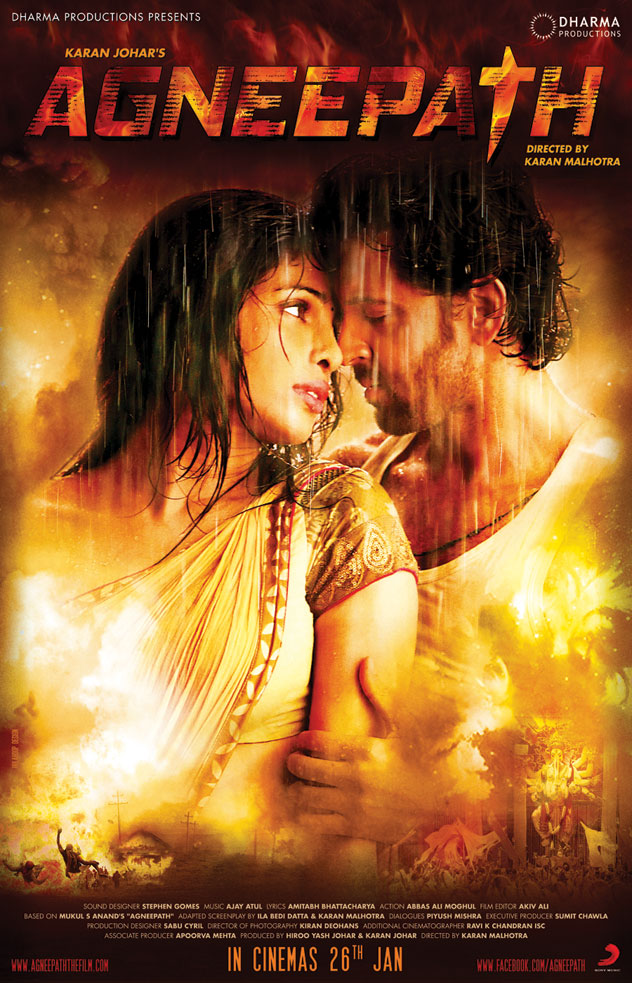 (Above): Priyanka Chopra and Hrithik Roshan in "Agneepath."
---
Agneepath took a record start on its release and despite gruesome violence and several hard hitting scenes, it managed to find its audience across multiplexes as well as single screens and that too across varied age groups. For Hrithik Roshan, the film went a great deal ahead in re-establishing his superstardom after a rather subtle Zindagi Naa Milegi Dobara. Agneepath gave him an opportunity to reach out to a wider audience.
For Karan Johar, the film was an emotional decision as he wanted his father's dream project to find widespread popularity, and that too theatrically. With debutant director Karan Malhotra doing the needful in his 'almost different' version of the original Amitabh-starrer Agneepath, everything was won over, be it the box office, the audience, or the acclaim that it fetched.
---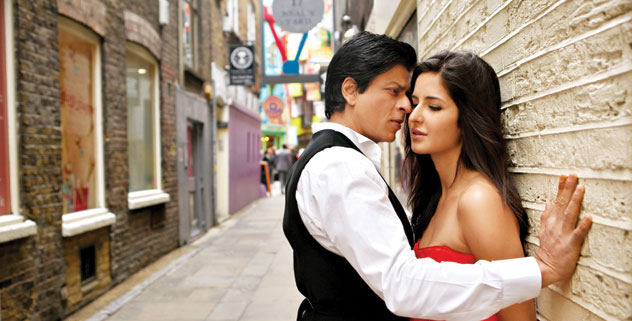 (Above): Shah Rukh Khan and Katrina Kaif in "Jab Tak Hai Jaan."
---
Jab Tak Hai Jaan (122-crores)
Not many cheered the overall content that this Yash Chopra-Shahrukh Khan film had to offer. However it wasn't rejected by the audience either which means despite massive expectations that one had from the film to be covering a much greater distance, it didn't turn out to be the case and just stayed steady. To the film's credit though is the fact that it released alongside huge competition in the form of Son of Sardaar, which actually took a monstrous shape by the time Diwali came close. Still, despite the Ajay Devgn-starrer too topping the 100-crores milestone, Jab Tak Hai Jaan ended up earning 20% more than that.
At 122-crores, the film is now the highest grossing ever for Shahrukh Khan, hence eclipsing the 115-crores milestone set by him for Ra. One. Even for Katrina Kaif, the film ended up making it two in a row for her after Ek Tha Tiger. Though this love story couldn't cover a larger distance, its run at the box office was still good enough to keep Barfi! (115-crores) and Housefull 2 (105-crores) at bay.
Other biggies of the year include Barfi! (115-crores), Housefull 2 (105-crores), Son of Sardaar (105-crores), Bol Bachchan (102-crores), Talaash (94-crores) and OMG! Oh My God (82-crores).