One of the changes I have noticed was we used to get nutritious Western lunch after the program. However with time we started getting Indian food for lunch. The point I wish to make is with time, senior centers in San Francisco Bay Area have become a more welcoming place for Indian American seniors.
Following the success of Chhajju ka Chaubara, some seniors, including myself, took the initiative and started few more intellectual programs like Current Events, Friends on Same Wavelength and The Life Strategy.
The programs gained interest among seniors and our attendance rose. The programs became popular and got recognition by the media, government and semi-government agencies. The most important thing is that all the programs served the vivid interest of seniors well.
The Indo American Community Service Center, Santa Clara, was merged with India Community Center with better facilities to continue its programs. We were given a bigger place with more facilities at Cupertino, Calif. It served seniors from Palo Alto, Cupertino, Mountain View, Sunnyvale, Saratoga, Santa Clara, and San Jose.
The India Community Center runs Senior Centers at Milpitas, Fremont and Cupertino along with other community services. The seniors are entertained at India Community Center with intellectual and entertainment programs, along with yoga sessions.
The program usually runs from 11 a.m. to 1 p.m. followed by lunch.
The Seniors Raas and Bollywood dance programs at ICC, Milpitas have also become very popular all over the Valley.
---
(Above): 
A senior instructor during a Yoga session.
---
India Community Center's Fremont unit, managed by one of the volunteers, Gurumukh Singh, offers several good activities like spiritual talk and devotional songs. I was particularly impressed with the presentation of old Hindi movie songs by Ram Ashanani and spiritual talk by Balram Sharma.
I was also invited by some of the Indian American Senior Centers run by individual volunteers or some of the Indian American community organizations. I talked to them about seniors health and happiness.
The INSAF runs senior programs twice a month at Senior Center, Lake Elizabeth, in Fremont, Calif., is doing very well. I was a guest speaker in one of their programs. The Indian American Seniors were taking part in the discussions regarding their common problems. Milpitas Mayor Jose Esteves also spoke on the facilities offered by City of Milpitas for the seniors. Several seniors presented a talk on spirituality, and on the problems faced by them. Surendra Dalal, president, and Krishnaswmi Narasimhan, secretary managed the event well.
The Gujarati Senior Mitramandal also runs seniors program at the Fremont Temple. Urmilaben Patel and Ramanbhai Desai run the program twice a month. It was a pleasure to watch the prayers chanted by seniors. The performance of a song originally composed by Rabindranath Tagore was very melodious.
Ramesh Patel runs Hundred Members Group at the Fremont Temple twice a month. He gives opportunities to seniors for presenting their talent. During my visit, Dr. Mahesh Raval, an upcoming writer and poet, presented ghazals and shayari. Pragnaben (of Dagalo fame) and Rajubhai Solanki also presented good musical items which were received well by all seniors. Antani, Pinakinbhai, Mankad, and Babubhai presented songs while one senior, Sharmaji talked on the significance of Raksha Bandhan. It was a very interesting program.
A Senior Center run by the Jain Center in Milpitas, Calif., was spiritually oriented. Almost all members talked on Jain's Pajushan Festival and its importance for the inner developments. The talks by Kishorebhai, Niruben, Mahendrabhai, Kokilaben, Dhaneshbhai and Pravinbhai were thought provoking. Dr. Lodha took a yoga session while Sailja Jain presented poems and shayari which were well received. Ramnikbhai Gohil and energetic youth Prarnaben managed the program well.
---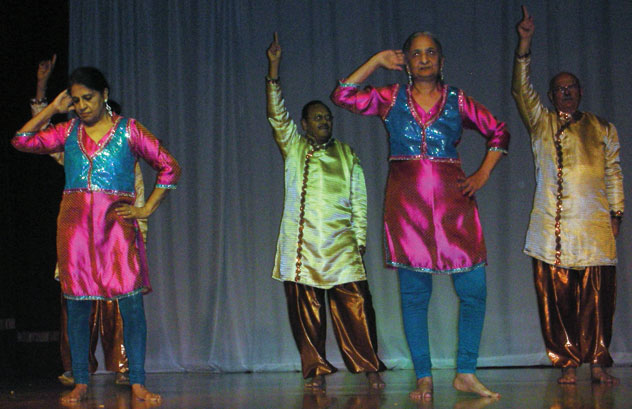 (Above): 
Seniors performing Bollywood Dance at the India Community Center in Milpitas, Calif.
---
Vanitaben Mahajan, Arun Phadwekar run a Senior Center in Saratoga, Calif., every Thursday. They invite guest speakers to talk on topics of interest to seniors. I was invited for taking on "How to remain happy and healthy by utilizing maximum time with healthy activities."
The Senior Center, affiliated to Bay Area Vaishnav Parivar in Milpitas, Calif., is managed by Manish Patel and Dipikaben.
Kalpanaben, a senior lady organized dance session for seniors based on songs of Gujarati poet Suresh Dalal. It was participated by almost all seniors. There was a yoga session by Mahendrabhai.
It is common practice that all senior centers serve lunch after program.  Some of the Senior Centers periodically arrange outings for seniors. 
My visit offered me a first-hand look at the lives of more than 800 seniors in the Bay Area and Silicon Valley. One thing I observed was that all senior centers are helping Indian American seniors pass their time very well i.e. in fellowship and entertainment.