SOCIETY:
The Retail FDI: Surviving India's Coalition Politics


India's Parliament recently voted in favor of opening the multi-brand retail sector to foreign direct investors such as Walmart. The passage marked a significant victory for the Congress-led government headed by Prime Minister Manmohan Singh. There are multiple views on the economics of big retail in India in terms of the impact on consumers, farmers and the next-door mom-and-pop stores, writes Siddharth Srivastava.

---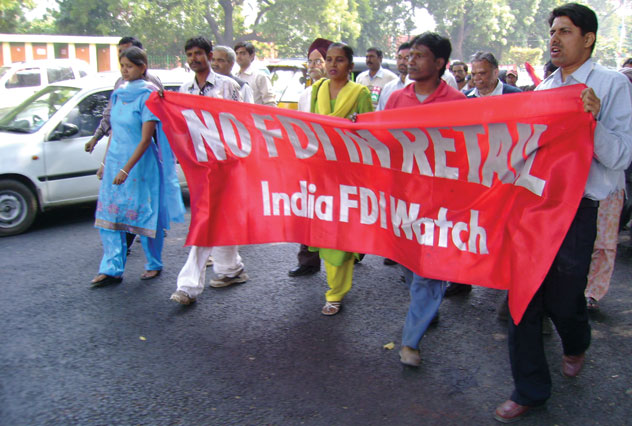 (Above): A rally against Foreign Direct Investment in India.
---
For a change, the country got to hear on TV political leaders debate an issue threadbare, instead of the repeated adjournments that have stymied healthy Parliamentary functioning over the recent months. While the FDI in retail issue is not an emotive subject in the country such as, for example, caste based reservations, it is important enough to be discussed in a clinical fashion.

The last few days presage the way coalition politics is going to be played out in the country in future. With no political outfit enjoying absolute majority in Parliament important decision making in the country will boil down to subtle management of allies, supporters, like-minded parties, independents, give and take negotiations, sometimes pure opportunism and some favors.

The Congress back room political managers clearly outmaneuvered the main Opposition, the Bharatiya Janata Party. The ruling party managed to harness the support of the two regional outfits the Samajwadi Party led by Mulayam Singh Yadav and the Bahujan Samaj Party helmed by Mayawati, both important players in India's most populous state, Uttar Pradesh.

Both Yadav and Mayawati are unpredictable satraps strongly driven by regional moorings and personal ambitions that extends to becoming Prime Minister of India themselves. While their stated public position is to oppose the "communal" BJP, the Congress could not hope for their support and numbers in Parliament without promising concessions such as slowing federal investigations against tax evasion allegations and corruption charges.

Yadav, whose son Akhilesh is the incumbent chief minister of Uttar Pradesh, will expect strong fiscal support from the federal government, debt write-offs and quick clearance of projects. Mayawati will extract sops for the dalits, considered the lowest caste in India, that are her main support base.
---
(Above): Amandeep Kaur always had dreams beyond her small village in India. She wanted to learn skills to become self-reliant. The Bharti Walmart training center opened the doors for Amandeep to do just that. [Photo: Walmart]
---
The combined backing of the SP and BSP in the Lok Sabha and Rajya Sabha (the lower and upper houses of Parliament) was enough ensure that foreign retail players will be allowed to operate in India.

The events also marked the effective sidelining of West Bengal's mercurial Mamata Banerjee and her party, Trinamool Congress, underlining the limitations of any one political outfit calling the absolute shots in India's developing political paradigm.

General elections are due in India in the summer of 2014 when all of the above mentioned political outfits and more, such as the Left parties, AIADMK, DMK, TDP will be fiercely pitted against each other.

With either national party Congress or BJP not expected to win a majority, even a few seats won by any regional party will win plenty of leverage in the power stakes, ministerial positions and more.
---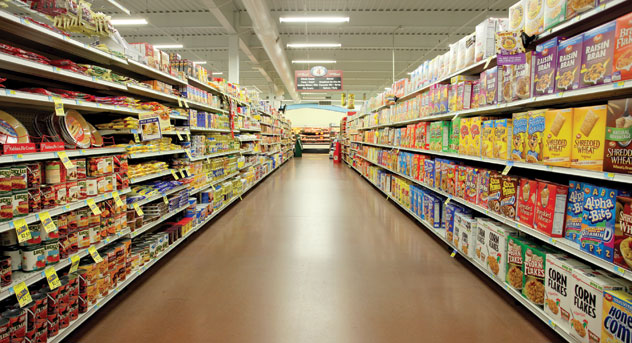 (Above): A retail chain store in the U.S.
---
By pushing through reforms in India's retail sector, the Congress under its party supremo Sonia Gandhi, has definitely scored as forward-looking and willing to bring about change, while at the same time sticking to huge funding, even if wasteful, of aam aadmi (common man) programs to garner social equity.

Such has not been the case with the BJP. The party under former Prime Minister Atal Behari Vajpayee prided itself as an outfit that set a positive agenda against the status quo approach under decades of Congress rule.

It won the party dividends. However, the BJP under its current disparate leadership is caught in a mesh of negativism by being anti-American, anti-atomic power and anti-economic reforms, aspects that ironically were promoted by Vajpayee as cornerstones of his and the party's thinking.

The BJP revolved its 2004 electoral campaign around 'India Shining' to highlight its pro-economic credentials. The party perhaps went a little overboard with its strategy that boomeranged by alienating the majority poor that had not reaped the benefits of growth. They voted Congress.

All, however, is not lost yet. The BJP needs to re-invent itself and rally around issues that find coherence with a highly aspirational Indian electorate, instead of self-destructing by being unnecessarily obstructionist.

The party has in its ranks leaders such as Narendra Modi that have delivered handsomely on growth and development in Gujarat.

Given his pro-industry credentials, it will not be a surprise if Modi does a turnaround on FDI in retail once the dust of immediate electoral politics settles down. Indian politics today is a simmering cauldron of national parties and regional outfits that have to learn how to co-exist with each other while protecting their electoral constituencies. Leaders who recognize the reality will be the ones that will gain pre-dominance and electoral success.