COMMUNITY:
Soaring to the Sky: BayVP Kite Fest


A riot of color was added to the blue skies of Silicon Valley as Bay Area Youth Vaishnav Pariwar hosted a kite festival in Fremont, writes Pravin Desai.
---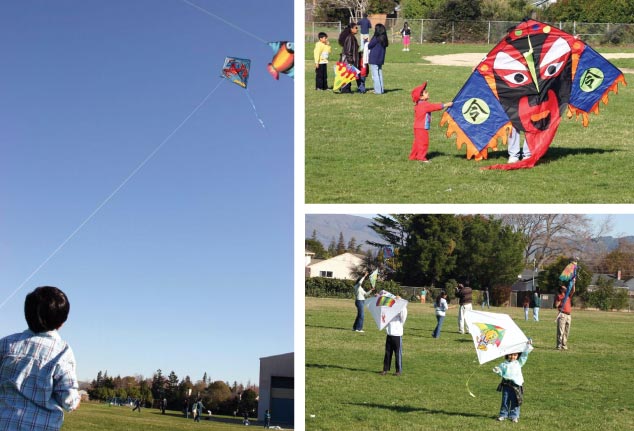 (Above, from left):A little kid wants to try his hand at flying a giant kite; Vinit, a young Bay Area kite enthusiast, trying his hand at flying a kite at the kite festival; and little kids with their family enjoying themselves at the BAYVP makar sankranti kite festival. [Pravin Desai photos]

---
Makara literally means Capricorn and sankranti is the day when the sun passes from on sign of the zodiac to the next. Throughout the year the sun passes through 12 constellations.

The festival of Makara Sankranti is celebrated throughout India, and especially in Gujarat and Maharashtra it is a festival of flying kites. Jan. 14 is the only feast in the Indian calendar which is not celebrated on a fixed day of the lunar month.

This is the day from which winter recedes, paving the way for summer. On this day as a symbol of friendship and faith people eat and offer til (sesame seeds) and jaggery or sugar sweet known as chikki or til gud and sweet khichda made of rice and lentils with sugar poured with ghee or butter.

The Bay Area Youth Vaishnav Parivar Jan. 14 recreated a kite festival of Gujarat. Kites of various hues, colors and sizes adorned the azure sky of Silicon Valley at the Centerville Junior High School in Fremont, Calif. Children of all ages with their family members got an opportunity to feel the thrill of the kite line in their fingers or the joy of observers.

The scale event involving over 250 various pariwar — families — started around midday with an explanation of the essence of the day by Dr. Divyang Patel.

Patel said that this day was the beginning of the end of a long winter with the return of the sun to the northern hemisphere, which is why it also called uttarayana in Gujarat. Patel's remarks were followed by a surya namaskar, or obeisance to the sun, which was demonstrated by BAYVP active board member couple Dilip Shah and his wife Sangeeta.

BAYVP's hard work was repaid manifold by the shrieks of joys of the kids and the beaming faces of their parents, who were particularly pleased to pass on a favorite cultural tradition to their children.

---

Pravin Desai is a freelance journalist and photographer based in the San Francisco Bay Area.
---