EDITORIAL:
Educating India's Children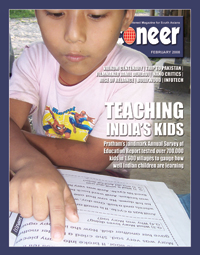 India's greatest public policy challenge is to ensure that its much bally-hooed prosperity is shared far more widely by its population in the future.

To that end, there can be no greater tool than universal education, and education of good quality. If that seems a daunting task, don't tell that to Pratham. This remarkable India-based nonprofit, which has a dynamic sister concern in the U.S., has shown what commitment and perseverance can do in tackling what could well be the battle for India's future soul.

Pratham takes a two-pronged approach. It directly supports schools which offer basic skills of writing, reading and arithmetic to Indian kids. It has also pioneered a pathbreaking annual survey.

Called the Annual Status of Education Survey—the acronym ASER echoes the Hindi word aser (impact)—the survey is a thorough look at not only how India's kids are educated, but also a comparative study of where it is headed.

The first ASER was conducted in 2005. In 2007, the survey covered more than 720,000 children, 16,000 villages and 13,200 schools across 567 of India's 602 districts.

ASER has created impact at two levels: First, by revealing that the task of ensuring access to public schools is nearly complete. Indeed, 98 percent of villages in India have a primary school within the radius of a kilometer. Second, by revealing that learning levels are low despite such high levels of enrolment, ASER is alerting policy makers and the public to address the larger issue of education quality.

Meanwhile its Read India program aims to teach every Indian child to read by 2010. In the first six months of the campaign, it has already impacted over 12 million kids.

Pratham volunteer Arvind Amin writes about Pratham and ASER in our cover story.

Indian author Vaikom Muhammad Basheer's life and work presents a fascinating study in both the vagaries of fortune as well as the captivating story of how his talent brought him fame despite circumstances of dire poverty.

Beloved by literary critics and the common man alike, the maverick author paid scant regard to grammar and syntax preferring rustic language and kept the British Raj fuming with his anti-establishment journal Ujjeevanam (Rejuvenation).

"Basheer used to say he was never sure about the Malayalam alphabet. This apparent inadequacy compelled him to invent an idiom closest to the everyday life of Malayalis which revolutionized the art of story-telling," says poet and critic K. Satchidanandan.

His early days were spent in dire poverty, and he is believed to have once used a copper citation he received for his role in the Independence movement to chase away a fox that sneaked into his house compound.

During those days, he was on the brink of starvation and worked as a newspaper seller, fortune teller, loom fitter, cook, hotel manager, accountant, fruit seller, sports goods agent, watchman, and cowherd.

His later years, though were spent in relative ease and comfort, as he lived in Beypore in Kozhikode district. His penchant for humor was never far from the surface in his writings, which combined it with pathos, love for fellow-beings and faith in the basic goodness of man.

This year is Basheer's birth centenary, and Siliconeer offers a tribute.

What's up with Pakistan? Well wishers of that South Asian state cannot but be worried. When its current ruler Gen. Pervez Musharraf came to power, notwithstanding the fact that he had staged a coup, the international community was willing to give him some slack for a number of reasons.

Firstly, Pakistan's recent tryst with democracy hasn't been much to write home about. Both former Prime Ministers Nawaz Sharif and the recently slain Benazir Bhutto administrations were rife with accusations of nepotism and corruption.

Secondly, Musharraf seemed to be a sober, moderate voice at a very fraught time when radical Islamic terrorists from Indonesia to Chechnya were threatening to blow up the world.

Despite his protestations of not wanting to stay a day longer (an old, spurious cliché if ever there was one), things started to look depressingly familiar as time passed.

Musharraf began using a much-used dictator's old bag of tricks to cement his control —going after political opponents and jurists who actually have the effrontery to act independently, muzzling the Urdu-language press, while leaving the English-language press relatively alone.

The results have been unambiguous, as Radhika Sainath found during a recent trip to Pakistan. The UC Berkeley law student, who was part of an eight-member fact-finding delegation to Pakistan, found deep mistrust and dislike for Musharraf across the political spectrum in Pakistan.

So what on earth is the U.S. doing propping up an unpopular dictator? That's exactly what angry Pakistanis are asking, Sainath found. This issue carries her report on her trip.