SUBCONTINENT:
The Battle for Democracy: A Trip to Pakistan


The U.S. can continue its history of backing autocrats or demand the restoration of the judiciary, free and fair elections, and an independent press in Pakistan, writes Radhika Sainath after a recent trip to Pakistan.
---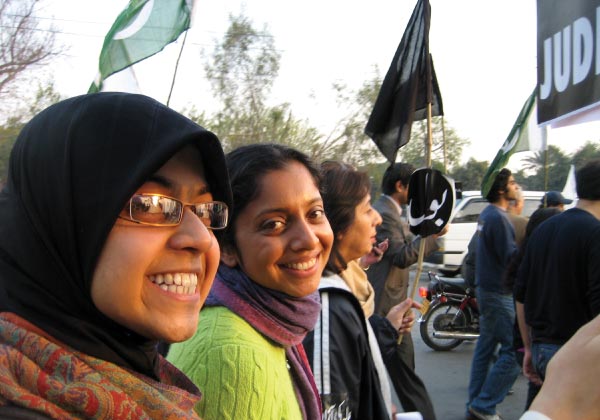 (Above): LUMS student Angbeen Mirza (l) and author Radhika Sainath at a lawyer's march in Lahore Jan. 6 demanding the restoration of the judiciary.

---
I left for Lahore, Pakistan on the morning of Sunday, Dec. 30—three days after the assassination of Benazir Bhutto. My parents were not pleased.

"You're going to Pakistan!" exclaimed the United Airways employee who checked me in at SFO. "Is it safe?" she asked. This was the question on everyone's tongues since that fateful evening when Benazir was killed not far from the spot where her father, Zulifikar Ali Bhutto, was hung by another military dictator 28 years before.

I had applied to be a member of a National Lawyers Guild delegation to Pakistan a few weeks after General Musharraf imposed a general state of emergency" Nov. 3. The Rule of Law project at the Lahore University of Management Sciences had invited us — four lawyers and four law students — to investigate the impact of the ongoing crisis in Pakistan. Over the course of twelve days we would interview over fifty judges, lawyers, journalists, political party representatives, elected officials, civil society members, activists and students in Karachi, Quetta, Peshawar, Islamabad and Lahore.
So I came.

New Year's Eve to Remember

The young Pakistani man sitting next to me on the last leg of my flight mumbled a few words in Urdu. Was he asking to borrow a pen? Wishing me Happy New Year? Just making polite chit-chat? "Sorry, I don't understand," I said. The flight was full of Pakistani men — workers returning home from Dubai. I was one of three or four women, probably the only American and undoubtedly the one Hindu. Upon seeing his puzzled look, I felt the urge to defend myself, to explain that I had a good reason for not knowing Urdu. But I kept my mouth shut and pretended to watch the rest of The Nanny Diaries.

As the plane entered Pakistani airspace I stressed about immigration. It was likely that our delegation would find that Musharraf's removal of Chief Justice Iftikhar Muhammed Chaudhry and 60 high court judges, imposition of emergency and clampdown on the press was bad for democracy. Would Immigration let me in if they suspected I was part of a fact-finding delegation? I had no family in Pakistan. What Indian-American in his/her right mind would journey to Pakistan now? ("Um, I'm just here to see the sights, sir.") Fortunately, the only problem I had at Immigration was figuring out whether to stand in the "Unaccompanied Ladies" line or the one for foreign passport holders.

Within a few minutes, my passport was stamped. I picked up my suitcase, walked out of the airport and looked around for my host, Angbeen Mirza, a LUMS law student working on the Rule of Law project. What if she forgot to pick me up, I fretted. We had added each other on Facebook before I left for Pakistan, but I had trouble finding her amongst the crowd of people waiting to greet their loved ones. "Radhika?" I heard a voice call out. "Angbeen?" I whispered, not sure if I had the right person. From her photograph, I had expected someone shorter. "You're taller than I expected," she said, handing me a warm shawl. I shook my head—despite the chilly weather, I was covered in a thin film of nervous sweat. It was 3 a.m. Jan. 1, 2008 and I had successfully made it to Pakistan.

---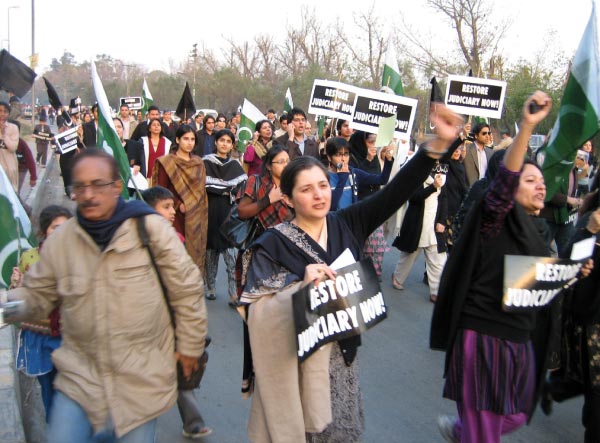 (Above): Protesters rally in Pakistan in demand of the restoration of an independent judiciary.
---
A Lahore Lawyer in Hiding

Although immigration officials never asked why I was coming to Pakistan, Angbeen's family, and many other Pakistanis I met during my two weeks in Pakistan did.

And I told them all a variation of the same thing: that I was inspired by their struggle. The images of lawyers dressed in black and white, of men and women who should be complacently enjoying their middle class lifestyles bloodied and beaten stirred something inside me. Lawyers! Lawyers at the forefront of a democracy movement? Fighting for something greater than themselves? Though I would soon be one, I could not square this notion with my perception of lawyers as a largely self-interested, elite class. How did mainstream Pakistanis, real Pakistanis feel about Musharraf's treatment of the judiciary and the clampdown on the press? Did they support the lawyer's movement?

Hamid Khan, a senior advocate and member of the Supreme Court Bar, was the first lawyer I met with. In the midst of rolling blackouts in his corner office at Cornelius, Lane and Mufti, Khan told me and the other delegates of the lawyer's movement about his decision to go into hiding on November 3, 2007.

It all started on March 9, 2007, when Musharraf summoned the Chief Justice of Pakistan Justice Iftikhar Muhammed Chaudhry to the Army House and asked him to resign, allegedly for "misuse of office." The real reason, Khan — and many others we spoke to — explained, was that the judiciary was increasingly checking the executive. The Supreme Court had recently annulled the sale of the Pakistan Steel Mills at grossly undervalued rates to an international consortium that included army generals. Justice Chaudhry had also ordered intelligence agencies to produce "disappeared" persons in court in a series of cases involving persons detained without charge.

But the chief justice defied Musharraf and refused to resign. Street protests erupted throughout Pakistan, led by lawyers and their bar organizations. Khan was one member of the chief justice's five-lawyer defense team. After months of street protests in the scorching heat, the Pakistani Supreme Court reinstated the chief justice July 20, 2007, declaring his suspension "illegal" and "unconstitutional."

But on Nov. 3, 2007, Khan received a text message that he should leave his office. Arrest was imminent. The Supreme Court would soon rule on a petition filed challenging Musharraf's ability to stand for elections. On that date, General Musharraf had imposed martial law in Pakistan, issuing a Provisional Constitutional Order and suspending fundamental rights. More than sixty sitting judges — over two-thirds of the Supreme Court — were removed. Three of the five other lawyers on the chief justice's defense team were under house arrest. Khan feared that he too would be arrested. So he decided not to go home, and instead took his wife's car to his brother's house. There, his son brought him a change of clothes, and also went into hiding. They both knew that the police often arrested sons to get to their fathers. And so Khan checked into hotels under different names. The police raided his house three times, but he successfully evaded arrest.

In Khan's opinion, Musharraf imposed this state of emergency because he feared that the Supreme Court would find that he was ineligible to stand for reelection as President. The Pakistani constitution does not permit a military officer, or indeed any person holding an "office of profit in the service of Pakistan," to seek the presidency.

Other lawyers and judges we spoke to in Lahore echoed this sentiment, also noting the U.S.'s role in supporting dictatorship. Justice Azmat Saeed of the Lahore High Court, who refused to take the PCO oath, told us that "Musharraf said to the U.S.A.,'I can't fight the war on terrorism with a free press and an independent judiciary.'" But the Justice reminded us that "you cannot fight terrorism with state terrorism."

---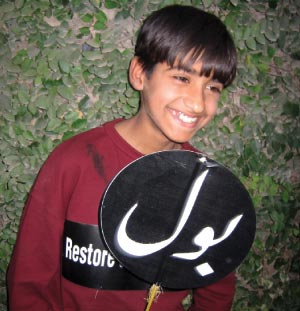 (Right): A Pakistani boy holding a placard at a lawyer's protest in Lahore Jan. 6.

---
Problems in Peshawar?

You're going to Peshawar? Don't tell them you're American," joked a medical school student from Karachi. "Don't tell them you're Indian either…or a woman for that matter. Good luck."

Anger at U.S. policy in Pakistan was particularly evident in Peshawar, the capital of the Northwest Frontier Province near Afghanistan. When the LUMS Rule of Law project coordinator Devin Theriot-Orr mentioned that we would be breaking into teams which would travel to other regions of Pakistan, I requested to go to Peshawar, for I had long been intrigued by the region. The NWFP is the land of the Pashtuns, a people known for their independence and their hospitality. The region was also the base for the U.S.-backed mujahideen during the Soviet invasion of Afghanistan, and after September 11, has been the focus of the U.S. "War on Terror" in Pakistan. This is also where the U.S. support for Musharraf's repressive government is most evident.

So after six days of meetings in Lahore, I and another American colleague flew to Peshawar. The NWFP was another country. Over cups of steaming green kava (not unlike the tea served in Chinese restaurants here in the U.S.), we spoke to advocates and a dismissed judge, a former senior minister affiliated with the Muttahida Majlis-e-Amal, an alliance of Islamic parties, a landlord, and a member of the dominant political party in NWFP, the Awami National Party, so avowedly secular that it opposed the initial creation of Pakistan.

One of the most interesting conversations I had was with Rahimullah Yusufzai, the resident editor for The News and correspondent to ABC News, Time Magazine and BBC. Yusufzai noted how the government was especially restricting the Urdu language media. In contrast, the English language media and international press have remained comparatively free. This concentration of restriction on the Urdu media conveys the appearance of an independent press to the outside world, while severely constraining press freedom in Pakistan. Indeed, Yusufzai noted that "English papers can get away with many things because few people read them."

Déjà Vu

Throughout Pakistan every individual I spoke to, from the left to the right, landlords to taxi drivers, Islamic fundamentalists to communists, expressed anger at U.S. policy in Pakistan, pointing out the contradiction in the rhetoric of promoting democracy and its support for a military dictator. "Today, I do not feel that Americans walking here would be safe in the streets of Peshawar," commented one interviewee.

Syed Mudasser Ameer, a barrister and a member of the executive committee of the Peshawar High Court Bar Association Action Committee, expressed a common view that "When we used to talk about America, it was just another word for freedom." But the United States' continued support for Musharraf has changed his views. "Now, we say it would be better if we were still ruled by Britain, because there would still be rule of law," stated Ameer.

A universal sentiment among our respondents was skepticism about the fairness of the upcoming Feb. 18 election. Without a free press to secure transparency, the election is extremely vulnerable to manipulation by the Pakistan Muslim League-Q, Musharraf's party, undermining the legitimacy of the democratic process and laying foundations for future instability and turmoil. People we interviewed discussed numerous pre-poll abuses as well as pre-existing structural problems which make free and fair elections unlikely, if not impossible. Despite this, the depths of popular discontent are such that Musharraf's party may lose even a rigged election.

But the question remains: Will the U.S. continue backing such an obviously undemocratic and unpopular government? The United States has been instrumental in preventing the emergence of an indigenous democracy and the rule of law in Pakistan. However, the lawyers' democracy movement is supported by the Pakistani people. And so, the choice is before us: continue our history of backing autocrats or demand the restoration of the judiciary, free and fair elections, and an independent press. The fate of Pakistani democracy is in part, in U.S. hands.

Sainath was part of an eight-member delegation of the New York-based National Lawyers Guild. The delegation recently released a report, "Defending Dictatorship," available on the Web at: http://nlg.org/pakistan/

---

Radhika Sainath is a student at the Boalt School of Law at the University of California at Berkeley. She recently traveled to Pakistan on a fact-finding mission as part of an eight-member delegation of the National Lawyers Guild.

---