AUTO REVIEW:
Elegant Sedan: 2008 Cadillac CTS


The 2008 Cadillac CTS is an elegant sedan with some classy and innovative touches, writes
Sally Miller Wyatt.
---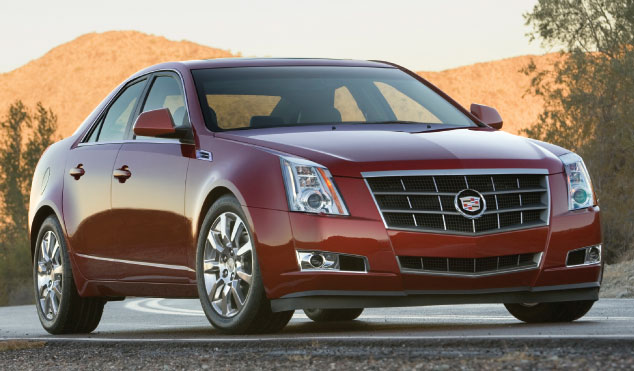 (Above): Exterior view of the 2008 Cadillac CTS.
---
The Cadillac brand has been enjoying a resurgence here in recent years, and the Cadillac CTS is capitalizing on the renewed attention the brand is receiving. All new for 2008, the CTS has design features intended to capture the attention of those looking for a sporty yet luxurious sedan.

When designers hit the drawing boards for the all-new CTS, they focused not only on a dramatic new design, but they added increased performance and many technological and safety features.

First among the enhancements is the Cadillac CTS' new 3.6-liter direct-injection V6 engine, which was available on our test car. It offers the seemingly impossible combination of fuel economy, lowered emissions and increased power, through a direct-injection technology. Direct injection is a "cousin to the system favored by the latest diesel engines," according to Cadillac press materials, which means it can deliver fuel more precisely to increase the efficiency of the engine's combustion. Less fuel is consumed, less emissions are created, and even more power is available with no loss of fuel efficiency. A 3.6-liter engine without direct-injection is also available.

---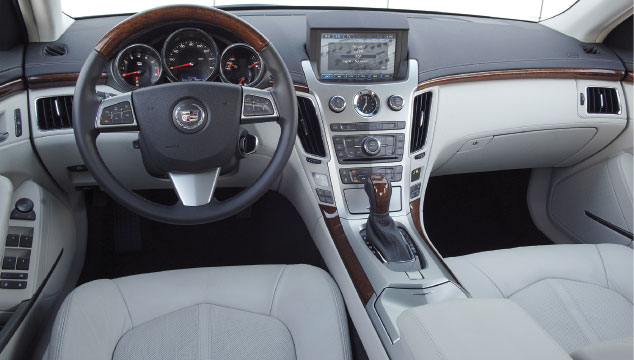 (Above): Interior views of the 2008 Cadillac CTS.
---
For the first time, all-wheel drive is available on a CTS as an option. Rear-wheel drive is standard. Buyers also have an option of selecting a six-speed manual or automatic transmission, which has been inherited from the CTS' siblings, the CTS-V, the XLR-V and the Escalade.

Exterior design features for the 2008 CTS include sculpted fenders and side air extenders, a "Sixteen" design on the textured front grille, and a lower profile. A double sunroof is available as an option, to open up the views for front and rear seat passengers.

Interior design features offer a "tailored" feel. Many of the surfaces here have been hand-cut, sewn and wrapped. The CTS also has some very classy and dramatic interior lighting, reminiscent of the indirect lighting you might use in your home. LED elements are tucked into recesses in the dashboard and door panels, to lend an indirect, soft lighting look. Other touches include metallic and chrome finishes here and there, and Sapele wood accents on the center console, instrument panel and door trim.

---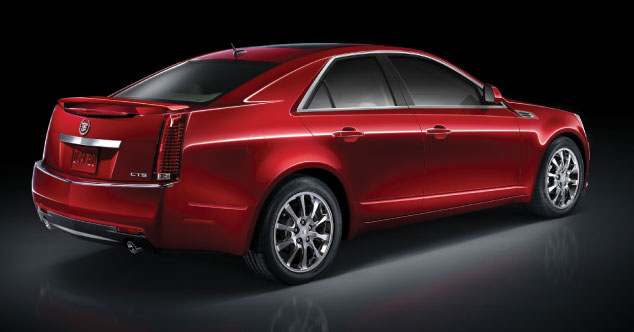 (Above): Exterior view of the 2008 Cadillac CTS.
---
Many elements of the CTS' construction were focused on minimizing exterior noise, to provide an ultra-quiet ride. Even at freeway speed, it's hard to hear any wind or road noise, even when making lane changes over those reflective bumps.


The CTS handles very well, thanks in part to the car's wider track. Acceleration is swift and responsive, without the slightest bit of hesitation.

Safety features include front and side impact air bags for the driver and front passenger, head curtain side air bags in the front and rear, All-Speed Traction Control, StabiliTrak Traction Control, anti-lock brakes, rain-sensing wipers, On-Star and XM Satellite Radio.

The Cadillac CTS has a large trunk that is easily accessed through a wide opening. The trunk lid folds back far enough so it won't pose a head-bumping problem.

There is plenty of leg room for the four outboard passengers. The rear middle seat probably won't be very popular, though, because much of the foot space here is taken up by the front seat console and a hump in the floor, and by a protrusive and stiff back cushion. There just isn't much room here for anything other than the dog or an infant seat.

The only other complaint might be leveled at the wide A pillar, which obstructs some forward visibility for the driver.

The 2008 Cadillac CTS is an elegant sedan that has been dressed with some classy and innovative touches. Having all-wheel drive as an option, and knowing the car is more fuel efficient and has lower emissions may prove to be a bonus for some shoppers, too.

---
Sally Miller Wyatt is a freelance writer who writes family-oriented auto reviews for newspapers, magazines and the Web.