CINEMA:
Infinite Optimist: Filmmaker Jamil Dehlavi


Indian-Pakistani-French filmmaker Jamil Dehlavi is used to struggling. He makes controversial films, often considered too liberal for Bollywood-Lollywood-fed South Asian audiences. Ras H. Siddiqui interviewed him recently.
---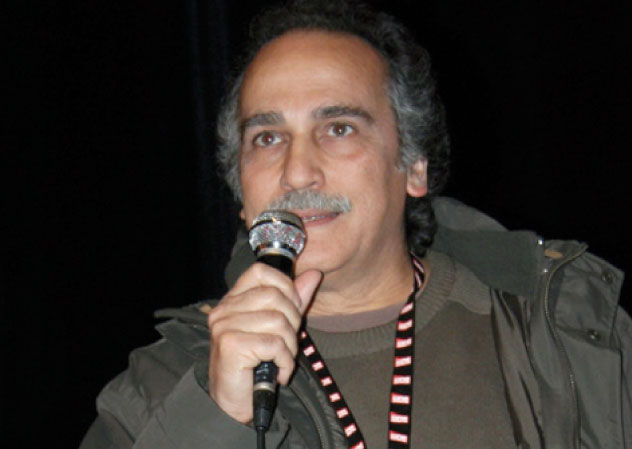 (Above): Filmmaker Jamil Dehlavi

---
Jamil Dehlavi, whose film "Infinite Justice" recently opened in Britain, is an Indian-Pakistani-French filmmaker currently commuting between Paris and London, more or less as a way of life.

"Infinite Justice is the story of two men caught in the most dramatic conflict of our times, the war on terror," he told Siliconeer during an interview. "Arnold Silverman is a Jewish American investigative journalist who is tracking the financial network of Al-Qa'eda. He has a personal cause. His sister worked on the 99th floor of the World Trade Center and her body was never found."

He was born in Kolkata to an Indian father and French mother. The family moved to Pakistan after 1947 where his father worked in the Pakistan Foreign Service, giving young Jamil an opportunity to travel to various foreign locations, specifically in Europe. This also gave him a chance to learn several languages and to become exposed to the international world of art and cinema. Dehlavi studied at Oxford, pursued law and was called to the Bar at Lincoln's Inn in London. He later made his way to New York where he spent three years studying film at Columbia University, obtaining a Master of Fine Arts in film directing. He also made his first film while he was there, fell in love with this line of work, and has never looked back since. In this interview we discussed his past career plus his current and future expectations.

The Guitarist and Towers of Silence were the first short films that you made in the years 1973 and 1975. But it was The Blood of Hussain in 1980-81 that brought you much recognition or even notoriety. I believe that you even starred in it. Was The Blood of Hussain a vehicle to address the idea of martyrdom or an attempt to defy the Zia dictatorship in Pakistan? Or was that just the viewer's imagination getting carried away?

The Blood of Hussain was an abstract essay on tyranny, a fictional account of a military dictatorship and the revolutionary movement against it. I recast the martyrdom of Imam Hussain, Prophet Mohammed's grandson, in the context of modern Pakistan. The film was finished a fortnight before General Zia came to power and for that sin of political clairvoyance, I was forced to leave Pakistan and live in exile for ten years. This film has been described as prophetic and I can't help thinking how relevant it still is today.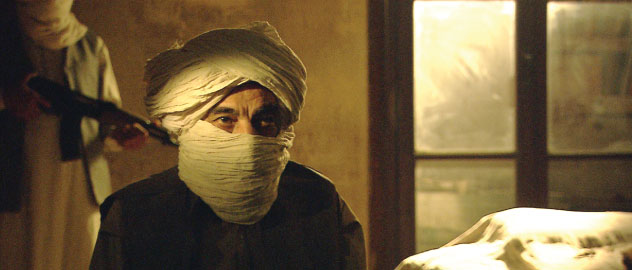 (Above): A scene from "Infinite Justice."
---
Your next movie Born of Fire did not generate too much press that we are aware of. But now we come to Immaculate Conception in the year 1992. How did that film affect your career? The story was quite bizarre. Symbolically what was the child whose beginnings occurred at a shrine of eunuchs in Karachi really supposed to represent?

Born of Fire does not appear to have been seen by many Pakistanis, although the subject matter is relevant to them as the film explores Islamic mythology. However, it was commercially successful internationally and was released all over the United States.

Immaculate Conception is a film I am very fond of. It opened up a side of Karachi I was unfamiliar with. As for the child at the shrine, audiences sometimes read more symbolism into a film than the filmmaker intended. Some people have even interpreted it as the birth of the nation when it is actually just a poor innocent child born of deception. Immaculate Conception was intended to portray the cultural clash between East and West showing each other's prejudices and fantasies about the other, and their mutual exploitation.

Now we come to Jinnah which has to be your most famous film amongst the South Asian audiences. When was the Jinnah project started and when was the movie officially released outside of Pakistan? Was this film also your greatest challenge?

The Jinnah movie was the most complicated film I have ever made and it turned out to be a real tragedy. The controversy generated resulted in the Pakistan government withdrawing their funding. My company was obliged to complete the shoot to avoid its collapse. The executive producer refused to acknowledge the expenditure I incurred on behalf of the production. This dispute was temporarily resolved when a group of American Pakistanis agreed to finance completion of the film and guaranteed to reimburse me in installments.

I then took the film to New York where I completed the editing but my last payment due on delivery was never made. I began legal proceedings and won my case against the executive producer's company in the High Court of England but his company went into liquidation. I have been approaching the group of American Pakistanis who had guaranteed payment, but so far nothing has been forthcoming. It's a sad state of affairs when such prominent Pakistanis should be so petty as to avoid honouring their commitments. Unfortunately all those who controlled the film at various stages thought they had become film producers overnight. As a result Jinnah never secured a proper international release and is sitting on a shelf somewhere collecting dust.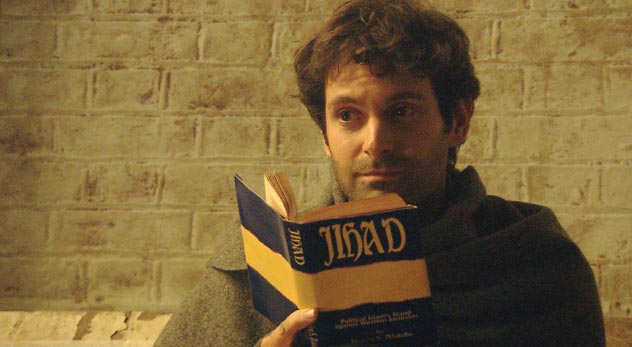 (Above): A scene from "Infinite Justice."
---
There was a lot of controversy regarding the choice of Christopher Lee playing the role of Jinnah in the movie. How did that decision come about? And as a follow up, the choice of Shashi Kapoor who played the narrator/angel of sorts in that movie. Was that your attempt to market Jinnah to Indian audiences?

As my primary audience was Pakistani, it was absolutely necessary to find an actor who looked like Jinnah. I felt that Christopher Lee had a strong resemblance to Jinnah with the gravitas to pull off the role. There was objection from all quarters because of his background as Dracula. However, I stood by my decision and he proved to be worthy of my choice. The critics have praised his performance and he himself claims publicly that it is his best work.

I cast Shashi Kapoor because he was right for the part. I was determined not to make a conventional bio-pic and invented a device whereby an angel takes Jinnah back through his past, challenging him along the way. I thought Shashi Kapoor made an interesting angel.

And now after such a long time we finally get to see Infinite Justice, your latest movie. We have heard that the storyline has derived inspiration from Daniel Pearl's tragic experience. The 2007 release of A Mighty Heart and its sad performance at the box office in spite of Angelina Jolie's featured role must be cause of concern for you. Should we even be making a comparison of the two movies?

Infinite Justice and A Mighty Heart are two very different films and it's unfortunate that comparisons will inevitably be made. I began my project in 2002, long before the spate of post 9/11 films were conceived. Unfortunately, two financiers who came on board let me down at the last minute and I decided to produce it myself with a little help from American Express. Of course I lost all my credit cards in the process! The shooting took a long time because I kept running out of money and the film was finally completed in 2006. Without Hollywood muscle behind me it has not been easy to release my film.

Infinite Justice has done well at film festivals. It has recently been released commercially in the U.K. market. What are your plans for its release in the United States?

Infinite Justice has won seven awards at international film festivals and has been released in the U.K. I'm in search of a U.S. distributor and hope to find one soon.

Infinite Justice is an interesting title. What message is it trying to convey?

Following the Sept 11 attacks on the World Trade Center and the Pentagon, the Department of Defense designated the military response as Operation Infinite Justice. Muslim groups protested on the basis that their faith teaches that Allah is the only one that could dispense "infinite justice." Operation Infinite Justice was changed to Operation Enduring Freedom.

My objective in making this film was to explore this so-called terrorism.

If I were to summarize the message of my film, it would be in the words of Kamal, one of the characters in the film: "If you want to make peace, don't talk to your friends, talk to your enemies."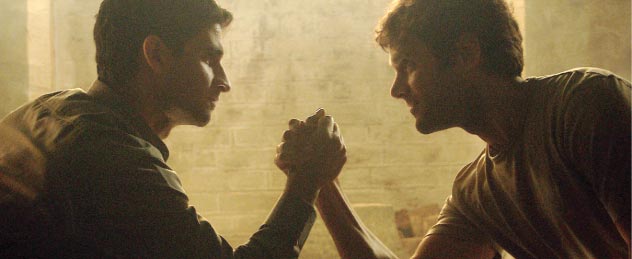 (Above): A scene from "Infinite Justice."
---
Is there another movie project that you already have in mind?

I'm just starting a new film entitled Godforsaken. It's a supernatural thriller about a fallen angel who is trying to regain his wings.

(Another interesting tidbit for readers here is that I was able to connect with Dehlavi through a Karachi Grammar School alumni network (thanks to Amin), a school which we attended about a decade apart.) How do you remember your days at Karachi Grammar School?

I spent some very formative years in Karachi as a child. Karachi Grammar School was one of the many schools I attended. I'm not sure whether it was the school that influenced me or the city and its people which helped stamp my identity as a Pakistani. However far I travel, Karachi will always remain my home town.

• • •
To conclude, it can be said that Jamil Dehlavi is being "Infinitely Optimistic" with his latest release. But that would not be out of character for him as his track record to date has shown. He is used to struggling; making controversial films, which are often considered far too liberal for mainstream Bollywood-Lollywood-fed South Asian audiences. He has made more of a cinematic impact in Europe and sometime soon he may duplicate that achievement in America.

---

Ras Hafiz Siddiqui is a South Asian American writer who lives in Sacramento, Calif.

---