COMMUNITY:
A Rainbow of Sympathizers: Bangla Benefit


Multiculturalism ruled the evening as a rainbow community of races and national origins banded together in Sacramento to raise funds to help cyclone victims of Bangladesh. Ras H. Siddiqui was there.
---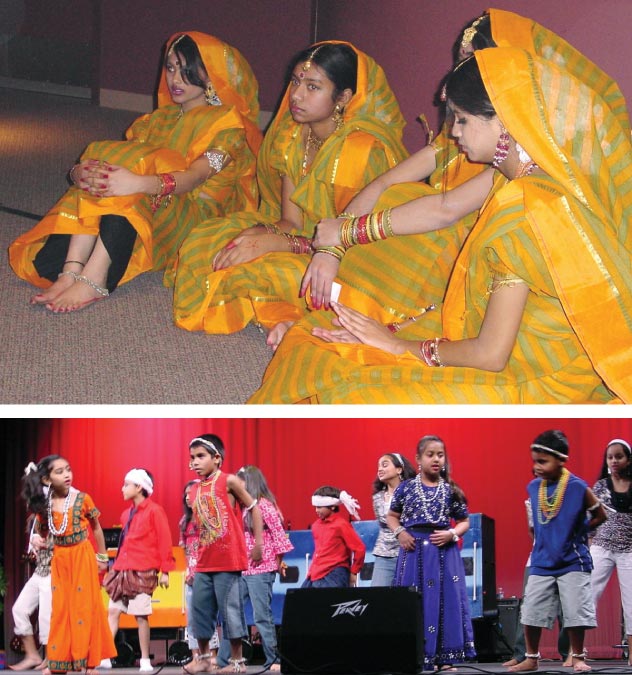 (Above, from top): Performers take a break at the benefit concert for Bangladeshi cyclone victims in Sacramento, Calif.; the performance of children was as lively as it was heartwarming. [Ras H. Siddiqui photos]

---
Agami, a U.S.-based non-profit organization, with the help of its local volunteers, held a very successful multicultural concert-fundraiser Jan. 26 for cyclone victims in Bangladesh at the Natomas High School Theatre in Sacramento, Calif. Cyclone Sidr, a Category 4 (plus) storm with winds close to 150 miles per hour made landfall in Bangladesh Nov. 15, causing widespread damage and around 4,000 deaths, making it one of the worst natural disasters to hit the country since 1991. Agami's modest aim at this gathering was to raise funds to assist in rebuilding schools, especially the education infrastructure damaged by this cyclone.

The event started off with the American and Bangladesh National Anthems to a packed auditorium with around 500 people in attendance. Multiculturalism ruled the evening as a rainbow community of races and national origins banded together to help the Bangladeshi people. Local Americans along with Indians, Iranians, Nepalese, Pakistanis and Thai people all participated, representing Sacramento's rich cultural diversity, underscored by the fact that the organizers played "We are The World" song and a clip from A Concert For Bangladesh (1971), specifically Beatle George Harrison's famous "Bangladesh" number. Both items really added to the internationalism of the evening. A news report on Cyclone Sidr that devastated Bangladesh followed, setting the theme for the fundraiser.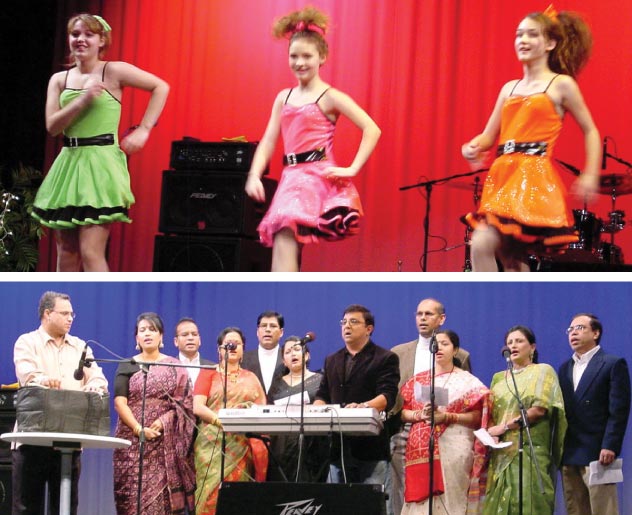 (Above, from top): American kids perform a Wild West dance; Bangladeshi performers present a group song. [Ras H. Siddiqui photos]
---
Sindia performed the inaugural dance "My Country" (Bangladesh) in a befitting manner followed by a group song by the local community addressing their closeness to their motherland. The Bhaskar Dance Company and the Linda Parker School of Dance both had an impressive dance lineup but it was the kids that warmed our hearts with "Lets Rock." And let us not forget "Bengal Melodies" a true reflection of Golden Bengal.

And last but not least, interspersed within the colorful song-dance routines and cyclone reports was the fine Rap performance of Zaki Syed, a Roseville Pakistani-American (ABCD in his own words) who not only represented his community but emerging local Desi Rap performers as well. The local Pakistani-American Association of Sacramento was one of the largest single donors at this Bangladesh cyclone effort.


(Above): A poster proudly highlights the diverse communities that came together to host a fundraiser for Bangladeshi cyclone victims. [Ras H. Siddiqui photo]
---
The evening performance continued with a very dazzling and professional dance called "Cosmic Creation" by the TransFusion Dance Company, expressing the balance of Earth, Water, Wind and Fire and making the difficult look easy. This was followed by a cute performance by the Nepalese and Friends Cultural Association and the Taal dance (Indian Community) and an excellent melodious representation by the Iranian trio of Kaveh Madani, Mehrdad Tajkarimi and Alborz Khosraviani. Also appearing during the second half of the program were more performances by Bangladeshis, TransFusion, Nepalese and a Thai performer (Sansanee Hanveerawong). The Mother Mayhem Band performed more than once, bringing the show to its rocking finale.

Agami along with the emcee for the evening Saquib and local Bangladeshis including Shafiq, Sirajul, Badal, Rana, Iftikhar, Sabir and Joy deserve a big hand for arranging and delivering on this wonderful evening of a united humanity. More than $10,000 (ten thousand dollars) was raised for a good cause and everyone had a great time.

(For my friends from the ill-fated Class of 1971 St. Joseph High School Dhaka)

---

Ras Hafiz Siddiqui is a South Asian American writer who lives in Sacramento, Calif.

---