SUBCONTINENT:
Not Green Enough?
Nano's Critics


Barely had the Tata Group had time to rest in its lauresl over its recently launched Nano, priced at $2,500, touted as the world's cheapest car, before environmentalists were crying foul, writes Siddharth Srivastava.
---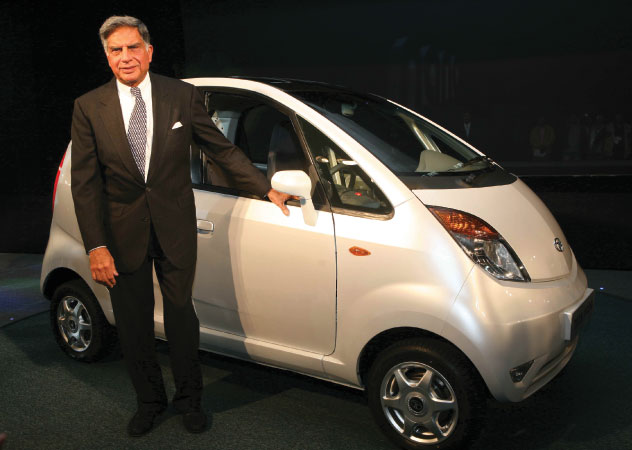 (Above): Tata Group chairman Ratan Tata launched the one lakh rupee Tata Nano 'peoples car,' Jan. 10, at the Auto Expo in New Delhi. [Tata Motors photo]

---
India's private sector giant Tata Group recently launched the Nano, priced at $2,500, touted as the world's cheapest car.

While the car has been hailed as a pioneering engineering feat as it has the potential to provide a safe means of transport to millions of middle-class Indians, the vehicle has raised environmental and emission concerns.

Emission Issues. Prominent environment organizations like Greenpeace and Friends of the Earth have said that while the car will offer mobility and substitute unsafe two-wheelers, it will be at the cost of increased pollution, traffic nightmares and inefficient energy consumption.

The environmentalists fear that Indian metros will turn into smog-laden hellholes like many Chinese cities. They say that the Nano is a setback to the fight against global warming, climate change and sustainable development.

India has refused to sign the Kyoto Protocol or accept any time-bound commitment to reduce greenhouse emissions that continues to grow three times faster than the world average.

Indeed, going by the trends in India's auto industry, there is cause for worry. According to PricewaterhouseCoopers, India will become the single-largest test ground for all versions of low-cost vehicles.

By 2010, more than 100 million households will be able to afford a $2,000-3,000 car, which means India will also become the largest global consumer of small cars.

To take on the Tata competition, partners Renault/Nissan and Mahindra are thus also mulling the $3,000 model, while Toyota, Honda, Fiat, and Volkswagen are looking to launch low-cost cars in quick-growth emerging markets such as India, China and Russia.

Transportation expert and professor of bio-medical engineering, Indian Institute of Technology Delhi, Dinesh Mohan, said in a column in a business daily that the introductory price cannot sustain if the emission guidelines have to be met. He has accused Tata of trying to take advantage of the existing inferior emission standards in India, as the laws are slated to change only two years from now.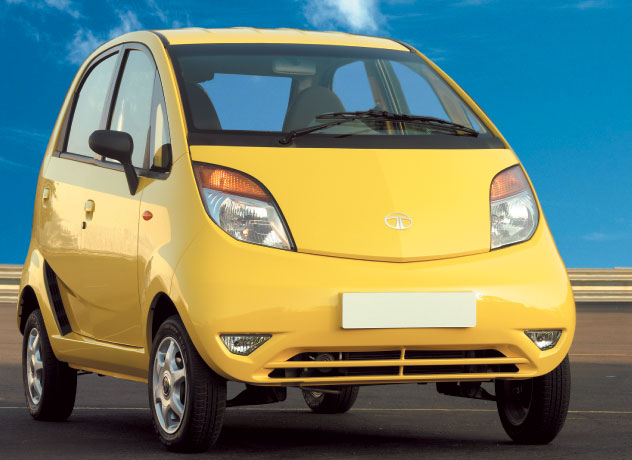 (Above): The luxury version of the TATA Nano [Tata Motors photo]
---
In Defense of the Nano. In defense of the Nano, media commentators and Tata executives say that greater pollution levels is not too big a price to pay for the over 100,000 people, majority of whom are two-wheeler riders and pedestrians, who die in the country due to road accidents.

It is estimated that a quarter of Indian buyers of the cheap car will be from the over 7 million people who buy two-wheelers every year.

Some also see double standards in Western arguments against the Nano, given the high vehicle ownership ratios in those countries.

"Indian families deserve to travel in comfort and the Nano will be the vehicle that will make that possible. It is competition and free enterprise that is driving down the price and the consumer deserves to benefit," a Tata spokesperson said. "Further, the emission rise would not be as much as feared as the Nano is expected to cannibalize the two-wheeler market fitted with engines that are inferior to the small car."

Some auto experts have said that the Nano will herald new global breakthroughs in manufacturing technology based on intelligent cost cutting.

They argue that the solution of reduced usage of vehicles is a good public transport system that is currently lacking in Indian cities. This is likely to change in the near future with the metro being set up major cities.

Speaking at the unveiling of the Nano at the 9th Auto Expo in New Delhi, Tata chairman Ratan N. Tata, whose brainchild the car is, said: "I observed families riding on two-wheelers. Today, we indeed have a People's Car, which is affordable and yet built to meet safety requirements and emission norms, to be fuel efficient and low on emissions."

Nano and Emission Norms. According to some observers, due to the frugality and minimalism with which the Nano has been manufactured, the car falls woefully short of adequate safety measures and Western emission standards.

They suggest that the Tatas should have instead focused on building a cheap hybrid or electric car that would have saved on imported fuel cost, even as the price of crude hovers at $100 barrel. India imports bulk of its fuel requirements that is a big drain on foreign exchange reserves.

Chief UN climate scientist Rajendra Pachauri, whose organization shared last year's Nobel Peace Prize, said of the Nano: "I am having nightmares about the prospect of the low-cost car."

The Center for Science and Environment, a prominent green lobby in New Delhi, has said that India should have adopted the Euro-IV emission norms long back, but has failed to do so due pressure from the increasingly powerful auto lobby.

The Nano fails the stringent Euro-IV emission norms, applicable in EU countries. Tata's claim is that the Nano meets the easier Indian national emission standards called Bharat II and Bharat III, but reports have suggested that the same were not verified by an independent and competent agency.
Euro-IV emission norms are to be applied in India only in 2010 and are considerably stricter than Bharat II and III, which are 5-10 years behind Europe. Sulfur emissions needs to be reduced over 35 times under Euro-IV when compared to Bharat-II.

Michael Walsh, a pollution consultant and former U.S. Environmental Protection Agency regulator, has been quoted to say that a car as cheap as the Nano is likely to lack the complex technology needed control emissions, and could soon produce four to five times its initial pollution levels.

Public Transport. "Dr Pachauri need not have nightmares. For us it's a milestone," Ratan Tata said during the launch of Nano.

Indeed, for many Indians it is. There is a strong opinion that a middle path should be found that satisfies emission, safety and traveling comfort.

The key area is public transport services that continue to be abysmal. Unlike major commercial hubs such as London and Singapore that offer its citizens universal means of travel, Indian cities such as Mumbai, Delhi, Bangalore, lack the basic commuting infrastructure.

Major investments and political initiatives are needed to make India's runaway growth and rising incomes sustainable. The Tatas could contribute, perhaps, by making a low-cost bus.