TAMIL CINEMA:
Promise Unfulfilled: Vazhthukal


Director: Seeman
Cast: Madhavan, Bhavana, Gayatri, Marudhu, Muthusami, Mallika Sukumaran, Krishnamurthy

---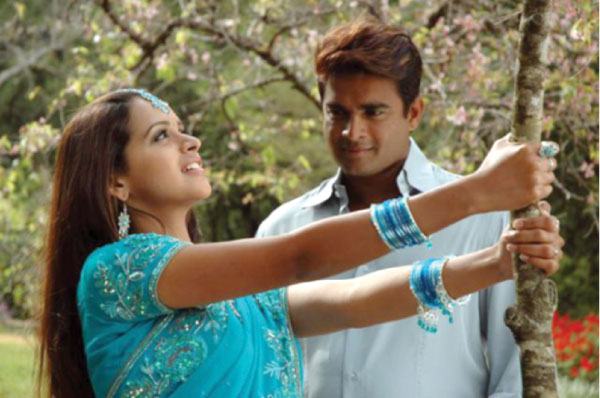 (Above): Bhavana and Madhavan in "Vazhthukal."

---
Vazhthukal begins promisingly enough, the earlier scenes focusing on the responsibility of children towards their aging parents, and the trauma the latter undergo when they are discarded by their progeny. But as the narration proceeds, the script loses its focus, the director unable to maintain the same pace, feel and interest.

The opening scenes of Kathiravan's apprehension that marriage may prove a block to his fulfilling his duties towards his parents, are well brought out. Kathir's best friend caught in a mental torment between his responsibility towards his aging parents and a demanding wife, had packed off his parents to an old age home. Kathir didn't want this scenario repeated in his life. But a chance viewing of an interview of Kayalvizhi on a TV channel, her noble thoughts, simplicity and her expressing her happiness at being part of a joint family, kindles in Kathir the thought that she would make an ideal bride for him. Kathir makes a trip to Coimbatore and devises a plan to worm his way into her household and her heart. It's from here that the script diverges, and it becomes more about love marriage versus arranged marriage, with Kayal's grandpa a staunch opponent of love marriages.

Some of the scenes here are far fetched, like the way Kathir maneuvers his way into Kayal's mansion. Again, the joint family has about a dozen characters, some of the actors being fresh faces. The lack of co-ordination in their performances, and there being no depth in the episodes, Kayal's joint family seems more like a group of unrelated, assorted characters brought under one roof!

There are a couple of fights thrust in, as if the director suddenly became conscious of the lack of heroism in his hero. The characters and the episodes turn clichéd and stereotyped here. And in this scenario, if Madhavan seems disinterested and lackluster, and Bhavana despite her chirpiness fails to connect to the audience, it's not surprising.

One can appreciate the director's love of the language in the way he has named his characters, and in his determination not to include non-Tamil words in his dialogues (with a couple of exceptions). But it becomes a bit too verbal at times. Vazhthukal may be a well intentioned film. But it fails to entertain or touch a chord.


— Malini Mannath/Chennai Online.