BOLLYWOOD | Guftugu:

Breaking Up is Hard to Do? | Politics is Not Like a Bollywood Potboiler, Actors Find | Deepika Now Eyeing Role Opposite Rajnikant | It's Official Now: Shilpa Dating NRI Millionaire | To Be, or Not to Be (Sexy) | Seeking Relief | Splitsville? | Thick and Thin | Statue at Tussauds | Fond Memories | Feigned Innocence? | Back in Action | Israelis Charmed | Lifetime Award

Breaking Up is Hard to Do?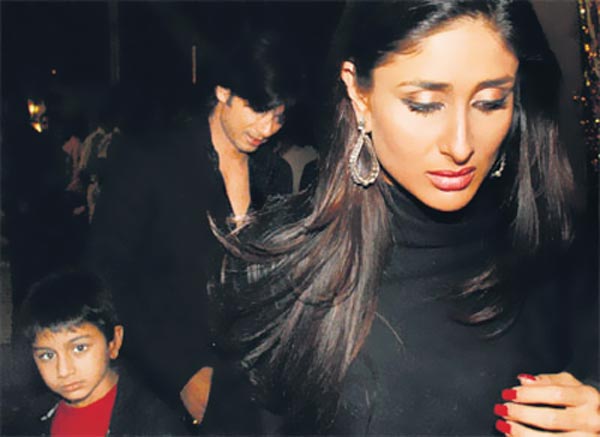 Saif Ali Khan's son Ibrahim, Shahid Kapur and Kareena Kapoor

What's up with Kareena Kapoor? I mean, has she broken up with Shahid Kapur or not?

She has clearly moved on to a new man and the nawabzada has been linked with a series of women ranging from Vidya Balan, Amrita Rao to Sania Mirza (so what's new?), but if their behavior at a recent film function is anything to go by, Kareena Kapoor and Shahid Kapur haven't had what pop psychologists here call closure.

The two ex-lovers sat two seats away from each other and a little bird tells us that Kareena, who was sitting with new love Saif Ali Khan's son Ibrahim, couldn't keep her eyes from straying at Shahid's direction every few minutes. Shahid did the same.

When Shahid walked into the venue just as Kareena was about to start her on-stage performance and later both met backstage, then, this being Bollywood, tongues started wagging. First, Kareena left and immediately after Shahid followed her; the two then spent several minutes chatting pleasantly.

However, an insider said too much is being made of this. Shahid and Kareena are just being civilized, "After they shook hands, they spoke for some minutes. Both seemed very normal with each other. There were no awkward moments or any clumsiness when they spoke," the insider said. "It was sweet to see both of them talking so comfortably with each other."
|TOP|

---
Politics is Not Like a Bollywood Potboiler, Actors Find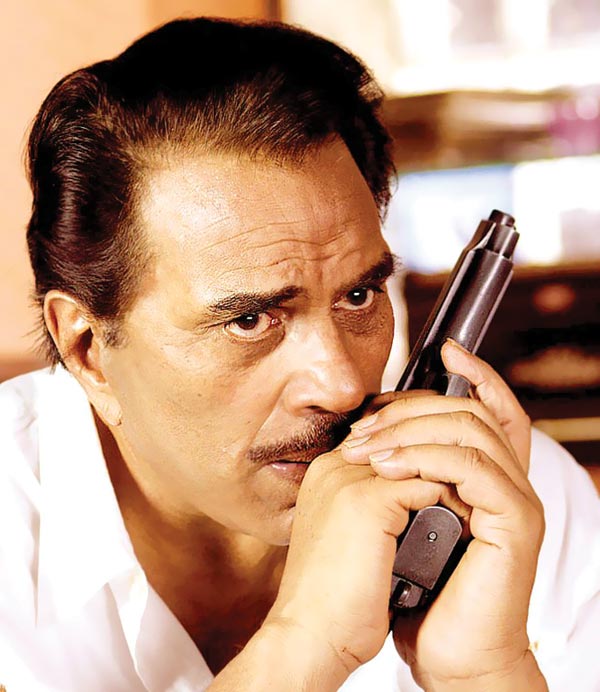 Dharmendra in "Johnny Gaddaar."

Life isn't so simple in politics, many actors-turned-lawmakers are finding out the hard way.

Just ask Dharmendra. The guy might have been elected to the Indian Parliament on the strength of his phenomenal fan following, but the guy is, to put it bluntly, clueless about politics.

The re-drawing of Parliamentary constituencies which will come into force from the next elections scheduled in 2009 have turned the seats of Dharmendra and Raj Babbar into that of reserved category, so now they have to find a new constituency.

Dharmendra joined politics on the eve of the last elections, sometime after his wife Hema Malini was made a nominated member of the Rajya Sabha during the BJP-led National Democratic Alliance government.

Bollywood's macho hero of yesteryears has spent little time in the debate and discussions in Parliament, so it's hard to say he will be terribly missed.

Congress MP Govinda is another case altogether. There has been growing disenchantment about Bollywood's "Hero No. 1," who represents North Mumbai constituency, in the local unit as well as among a section of the electorate, which feels there is a vast difference between his reel role and real role as a public servant.

The North Mumbai seat has undergone some changes now which could give added problems to the "Virar ka chokra" (Boy from Virar), as the star-politician is known in his area.

Govinda has been under fire for not visiting his Lok Sabha constituency for a long time, and people living in the suburb which comes under his constituency held a demonstration recently because he was not reachable while they were in distress.

One person even declared a reward of Rs.10 million to anyone who could locate the "elusive" MP. Touché.
|TOP|

---
Deepika Now Eyeing Role Opposite Rajnikant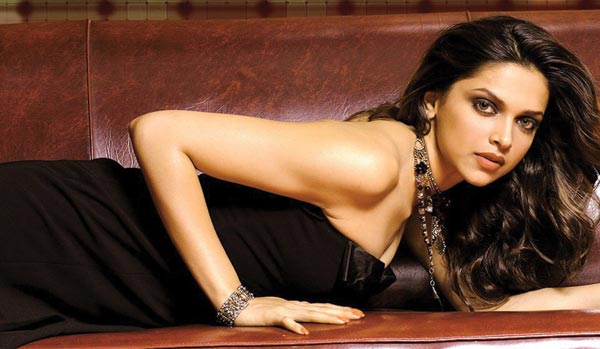 Deepika Padukone

Talk about a dream run. After a debut to die for, newcomer Deepika Padukone is now eyeing another coup.

After a dream debut with Bollywood superstar Shah Rukh Khan in the smash hit Om Shanti Om, Deepika appears set to storm the south with a possible role opposite Tamil superstar Rajnikant in the big-budget film Robot.

Her name is "on the top of the list of contenders for heroine" in the Rs.1 billion venture by director Shankar, sources in the film production unit here said.

Shankar, who directed last year's runaway hit Sivaji - The Boss also starring Rajnikant, has already teamed up with music composer A.R. Rahman.

The 22-year-old model-turned-actress has received the Star Screen award for "most promising newcomer" and Stardust "Superstar of Tomorrow" award.

Going by the mantra that actresses make a dent in Kollywood after starring opposite Rajnikant or Kamal Hassan, the media began the buzz about Deepika acting in "Robot."

The speculation earlier was that Shah Rukh Khan would play the lead in the film, to be made in Tamil, Telugu and Hindi, before Shankar succeeded in getting the Tamil matinee idol to agree.

Deepika Padukone, daughter of international badminton star Prakash Padukone was born in Copenhagen, Denmark. Her family moved to Bangalore when she was only eleven months old.

At the 5th annual Kingfisher Fashion Awards, she was awarded the title of Model of the Year and Playboy Magazine cover Winner. Padukone was also chosen as the brand ambassador of Kingfisher Airlines and most recently Levi Strauss.
|TOP|

---
It's Official Now: Shilpa Dating NRI Millionaire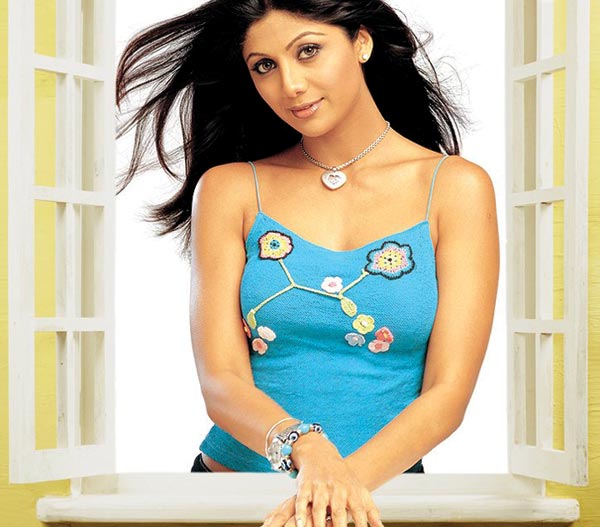 Shilpa in "Shaadi Karke Phas Gaya Yaar."

Bollywood actress Shilpa Shetty has finally admitted her relationship with 32-year-old London-born Indian millionaire Raj Kundra.

For the first time, in an interview to the Daily Mail newspaper, Shetty has revealed that the new relationship brought a long period of loneliness to an end and transformed her life. "I am dating somebody. I have known him for some time but I have only just started to know him better. I hope he will be the one but I don't want to say too much because it is still very early on in our relationship," she said.

Though she has not named her new love, the daily claimed that it's a London-born entrepreneur of Indian origin whose former wife had blamed Shetty for wrecking their marriage.

"I'm not going to deny that it's him but please don't say it is because I don't want to frighten him off," she said. "It has been an incredible year for me but I have also been very lonely. I have been away from home, in a foreign country and I haven't had a boyfriend for a very long time. I need someone to woo me. Magazines are always saying I am beautiful and millions of men want to woo me, but none has come forward because they are all so scared.

"I can go to a party and sense that men really like me but they are in awe of me and won't come and ask me for a date. Being an Indian actress is bad enough but now I'm a celebrity in the U.K. it's too much. It would take a really secure man to handle the media attention.

"I'm eulogized by a lot of men, but they wouldn't take me home to meet their mothers," she said.

Really, it's so sad it could break your heart. The only fly in the ointment is that this is the same Shilpa who once said she liked a man who could buy her diamonds all the time. Is it any surprise men won't touch her with a ten-foot barge pole?
|TOP|

---
To Be, or Not to Be (Sexy)

Amrita Rao in "My Name is Anthony Gonsalves."

Shrugging off all speculation regarding her recent metamorphosis into a sex kitten in her latest film My Name is Anthony Gonsalves, Bollywood starlet Amrita Rao says she is still the same girl-next door and it was just one song where she presented a sexy image.

"The sexy image was limited only to that song of the film. In the rest of the film I am the same girl that you all know. I play a working woman in the film and I am happy with the role," she says.

Huh? Who is she kidding? She has to make up her mind. There are many ways a female actor can get attention — talent, beauty, acting skill.

But there is a short cut — sex, and we don't necessarily mean the casting couch here. . Bollywood has no shortage of nubile actresses who can't resist the short cut — and before you can spell d-e-b-u-t, you have starlets shaking their booty and jiggling their you-know-what to make viewers sit up and take notice.

And sit up they do (the male viewers, I mean). But there's a trade-off here too. There is a tendency to get typed, because once you have the viewers' testosterone flowing, don't expect him to treat you like Mother Teresa.

The bottom line is this: Amrita dear, if you want to establish yourself as a serious actor, quit messing with item songs.
|TOP|

---
Seeking Relief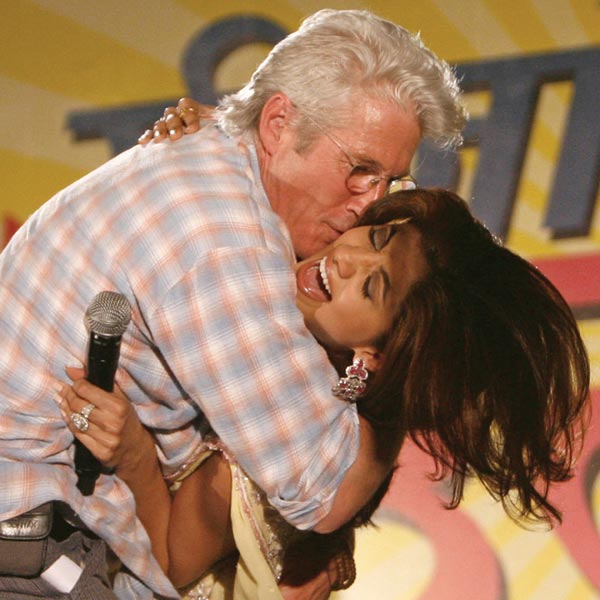 Richard Gere kissing Shilpa Shetty onstage at an event in New Delhi.

Sometimes, you feel embarrassed to be a South Asian. I mean, here we are, with India producing rockets and its IT prowess sending a chill down the spine of the West, but when it comes to temperament, it seems some folks are still in the middle ages.

Take the case of poor Hollywood star Richard Gere. What the guy had done was actually quite innocuous. During a stage show in Delhi, the guy had, in a moment of exuberance, embraced Shilpa Shetty and given her a peck in the cheek.

From the brouhaha that resulted from it, you would have thought the world was coming to an end. Busybodies have been coming out of the woodwork and filing lawsuits left, right and center, claiming Gere had offended the sensitivities of Indian janta.

Can you believe these guys? I mean, where the heck have they been. You take one look at the salacious ads and raunchiness oozing out of Bollywood (remember the deliciously aptly named Jism?), and you have to come to the conclusion that the Indian janta would be hard-pressed to find anything like the Gere's innocent peck in the cheek the slightest bit titillating.

We fully sympathize with Gere, who has Jan. 24 approached the Supreme Court, seeking a stay on an arrest warrant issued against him by a Jaipur court in a complaint over his and Bollywood actress Shilpa Shetty's cheek-kiss during a charity show.

The Hollywood actor in his application said that he was being harassed and victimized by way of several private criminal complaints filed against him in Jaipur and Mundawar in Rajasthan, which were nothing but bids to attract media attention.

A Jaipur local court, on April 26, had issued arrest warrants to Gere and Shetty after a citizen filed a complaint accusing the couple of committing an "obscene act."

If the Supreme Court has any sense, it should haul all the plaintiffs over the coals and tell these guys to quit their frivolous attempts to attract attention.

Get a life, you pathetic bunch of losers.
|TOP|

---
Splitsville?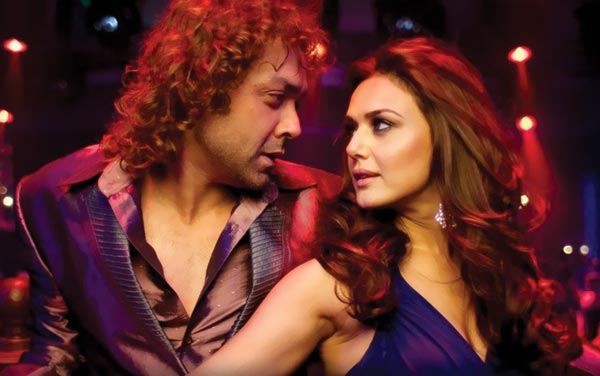 Preity and Bobby in "Jhoom Barabar Jhoom."

For once, Heaven on Earth was anything but. That's the name of the film being directed by Deepa Mehta, but the atmosphere at the sets in Toronto was pretty tense.

The reason? A little bird tells us Preity Zinta was having an angry word with boyfriend Ness Wadia.

Ness, we hear, was maha gussa that Zinta had no time for her boyfriend, despite the fact that he had accompanied her on the shoot. Preity, though, had little choice because director Deepa Mehta was a tough taskmaster. This allegedly led to a furious row and culminated in Ness returning to Mumbai and Preity going to London for a solo holiday.

But when contacted, Preity rubbished the stories. "I don't know where these stories originate from. A few months ago, it was said that Ness and I were getting married and now it's being said that he and I have split."

In fact, she said categorically: "Ness and I are together, thank you very much. We are happy. There are no problems between us."

Go figure.
|TOP|

---
Thick and Thin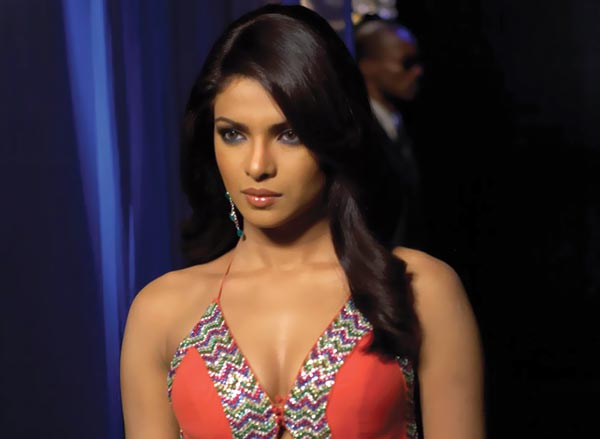 Priyanka in "Don — The Chase Begins Again."

Our curvaceous Priyanka Chopra was asked to lose 16 lbs for Madhur Bhandarkar's Fashion. She has managed to lose 8 lbs but that, it seems, is not good enough!

Poor Priyanka has just started learning that no matter how perfect one looks there is always room for improvement in the fashion industry.

Madhur is determined that Priyanka quickly lose an additional 8 lbs as she is supposed to shoot some very crucial scenes on the ramp, for which she has to look anorexic. Priyanka's co-stars in the film are the waif-thin Kangana Ranaut and Mugdha Godse.

An insider says, "Since Kangana and Mugdha are extremely thin, Priyanka will look quite odd if she is in the same frame with the two slim girls. Madhur is a realistic filmmaker and wouldn't like to compromise on any aspect of the film."

A source close to Bhandarkar says, "One thought that losing weight won't be very difficult as she is known for her professionalism. However, she hasn't lost enough weight. Priyanka has to make a lot of efforts in the next few days. Let's hope that she gets it right."

An irate Rita Dhody, Priyanka's stylist in Fashion, retorts, "Priyanka is working out and dieting and has already lost 4 kg in six weeks. I think she is looking fine. At the rate she is shedding weight, she should lose about 1.5 to 2 kg in the next two weeks. One needs to understand that all models can't be anorexic. Priyanka has a different bone structure and a very well-defined feminine body. Priyanka is not stick thin. And in the fashion industry, no matter how much weight one loses it's never enough."

Despite repeated attempts, Priyanka was unavailable for comment. Poor girl!
|TOP|

---
Statue at Tussauds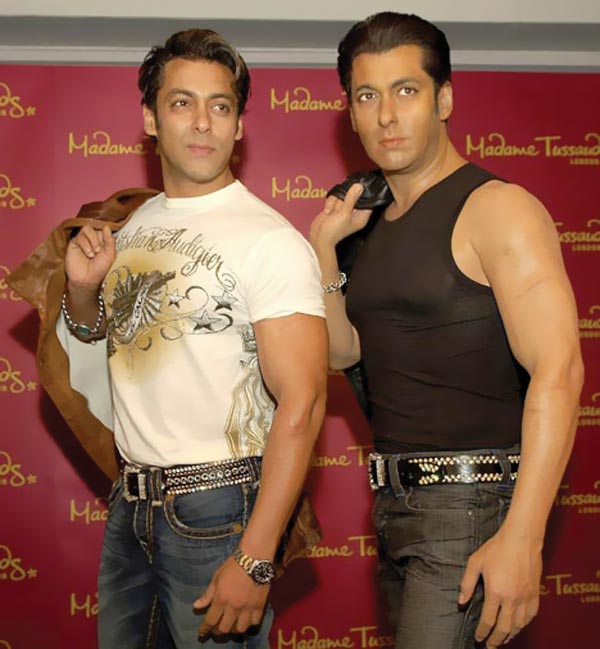 Salman Khan (the real one is on the left) at the unveiling of his wax statue at Madame Tussauds.

How many women would like to get up close and personal with Bollywood beefcake Salman Khan? Well, all they have to do now is buy a ticket to London, where Madam Tussauds has set up a wax likeness of him for display.

Salman unveiled his life-size wax replica at the famous wax works museum Madame Tussauds here Jan. 15 making him the fourth Bollywood celebrity to be featured in the must-visit premier tourist spot.

"It is absolutely fantastic," said a visibly excited Khan, who has starred in over 50 Bollywood movies, while describing his likeness to the statue.

"It has thicker hair and is more muscular than me," said the 43-year-old heartthrob who stood tall inside the prestigious museum and surrounded by fans.

Salman said: "Very few Indians have the privilege and it feels good to be a part of it. We have Mahatma Gandhi, Indira Gandhi, Amitabh Bachchan, Aishwarya, Shah Rukh and I think I am the third most deserving in the museum."

The Bollywood hunk was sized and photographed in Mumbai for the $400,000 wax replica, which took five artists 12 weeks to create. Salman was one of the first Bollywood stars to stress on fitness and a muscular body form.

Salman's wax figure is in a special Bollywood section and joins other Bollywood stars including Amitabh Bachchan, his former girlfriend Aishwarya Rai and Shah Rukh Khan. The wax figure of Salman is just meters away from Aishwarya's. Uh-oh.
|TOP|

---
Fond Memories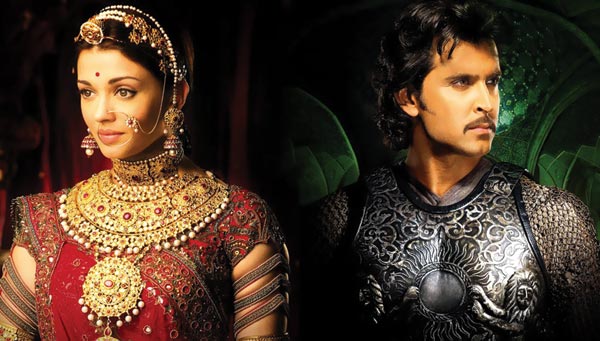 Aishwarya Rai and Hrithik Roshan in "Jodhaa Akbar."

Nobody said she ever had it easy, After her breakup with Salman Khan things turned around only after the success of Dhoom:2 in late 2006. Within three months, she had a major hit in Guru and had become engaged to Abhishek Bachchan. Aishwarya Rai Bachchan is now all set to release Jodhaa Akbar with Dhoom:2 hero Hrithik Roshan.

The actress was all eyes for Hrithik at the music launch of the film Jan. 9, and greeted him in advance as his birthday struck at midnight. Little wonder tongues were wagging all over the place, particularly after her frankly covetous looks at Hrithik that seemed more appropriate on screen than off.

Aish said she had particularly fond memories of Jodhaa Akbar. "This film was shot before my wedding and also after it," she said. "(Filmmaker) Ashutosh (Gowarikar) said that there was no difference between before and after in me. That was a huge compliment, since Jodhaa Akbar was the first shoot I reported for after marriage. It was also wonderful working with him and also with Hrithik Roshan again after a subject like Dhoom:2."

Working with Hrithik was wonderful, huh? How wonderful? Inquiring minds want to know.
|TOP|

---
Feigned Innocence?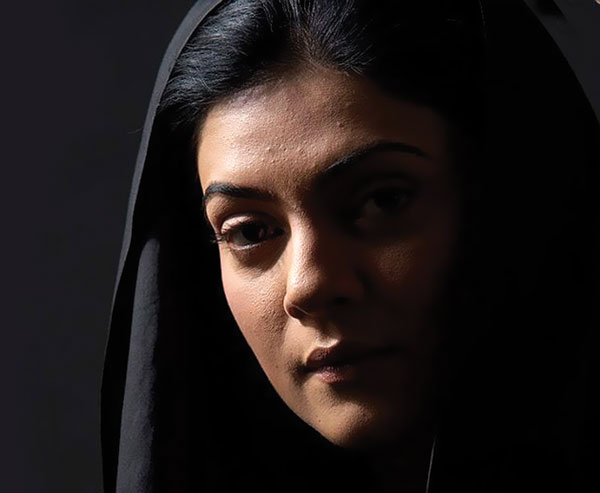 Sushmita in "Ram Gopal Varma Ki Aag."

Bollywood star Sushmita Sen has told the Bombay High Court that she was not involved in the "actual import" of a Toyota Land Cruiser, in response to a show-cause notice issued by it with regard to irregularities in the import.

Municipal Corporation of Greater Mumbai had earlier imposed a penalty of Rs.2.3 million on Sen for evading the duties on the imported car.

Sen challenged the imposition of penalty before the High Court. That order was set aside by High Court on the ground that only a court, not MCGM, can impose a penalty if a person is found guilty of evasion.

But at the same time, High Court had passed strictures against her for various apparent irregularities in the transaction, and sought a reply.

In her reply through an affidavit filed before a Division Bench of Chief Justice Swatanter Kumar and Justice J.P. Deodhar, Sen has said that she was not involved in the actual import of the car, and she had paid the basic duty when demanded by the MCGM.

Sen contended that it was a person named Haren Choksey who did the paperwork for the car, and she was not involved in the same.

She was shown registration papers of the Land Cruiser before it was handed over to her, the actor has said.

However, MCGM alleged that Vasu Thamala, who purportedly brought the car from Dubai on the ground that he was shifting to Mumbai from Dubai, was a non-existent person.

Hang on, now. How can you but an automobile from a "non existent person," as the MCGM delicately put it, and claim innocence, Sush? It just doesn't add up.
|TOP|

---
Back in Action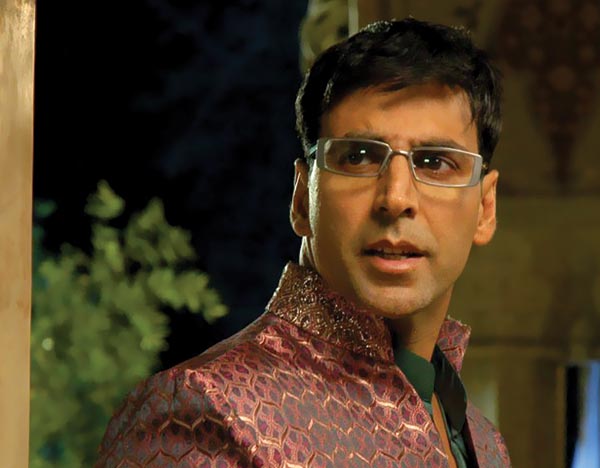 Akshay Kumar in "Bhool Bhulaiyaa."

The year 2007 clearly belonged to Akshay Kumar and 2008 promises to be no different.

But while last year witnessed Akki at his funniest best in comical avatars, this year will see the superstar reclaim his action king status. It's a homecoming of sorts for the Khiladi who's back to his forte of beating up bad guys and performing his signature death-defying stunts after a hiatus of almost four years.

The actor's fans have reasons to rejoice as Akki has four action films under his belt, including Kambaqth Ishq, Rohan Sippy's Chandni Chowk to China, Vipul Shah's Singh is Kingg and Yash Chopra's Tashan.

Talking about the break from his action image, Akshay says, "I just wanted to explore all aspects of the spectrum, right from comedy to emotions and not be slotted in a particular image. What I want to do is entertain. But action is always closer to heart. After all, action does speak louder than words, doesn't it?"

So, did he miss doing action in all the years? "No, my son made sure I get enough of it," laughs Akki referring to son Aarav who keeps his 'daadaa' on toes. On a serious note, he adds, "I keep myself fit as action needs a very high standard of concentration and strength, so I have not really been away from it. But, of course, sometimes you miss being the tough guy who can dishum dishum the world."

Didn't we all.
|TOP|

---
Israelis Charmed

Thousands of Indians thronged Red Sea resort city of Eilat in Israel to see live performances by the contestants in a popular reality TV show, who kept the audience spellbound with melodious Bollywood numbers. The annual event dubbed "Hoduyada" (gathering of Indians), drew an unprecedented response from Indian Jews, nearly 4,000 of whom turned up to see their favorite stars from SaReGaMaPa, a popular program aired on Zee TV.

"You are a very important link between India and Israel. This event clearly shows the strong sentimental attachment you have for India even after getting completely integrated into the Israeli society," India's Ambassador to Israel Arun Kumar Singh, said.

Singh also informed the community about a series of academic programs the Indian government has introduced for diaspora youth.

A sharp increase in the price for participation in the two-day event did not deter enthusiastic Indians of all ages from attending the program.

The beach on the Red Sea coast was transformed into a "mini-chaupati" as Indian music reverberated through the air and stalls of bhelpuri, papri chaat and other snacks common on the Juhu beach were seen all around.

"The overwhelming crowd is not so surprising given the popularity of SaReGaMaPa here. People know all these participants and followed the 2007 Challenge very closely," Yona Maliker, a 47-year old resident of Be'ersheva, told PTI.

"We were very disappointed when Mauli Dave was eliminated from the contest, but are very glad to see her perform in front of us," Maliker added.

Other "SaReGaMaPa Challenge 2007" finalists Aneek Dhar, Raja Hasan, Sumedha, Harpreet and Sancheeta captivated the crowd with old and new Bollywood hit numbers with people seen dancing all around the beach.
|TOP|

---
Lifetime Award

Bollywood's evergreen hero Dev Anand was conferred a lifetime achievement award for his contribution to Indian cinema.

The 83-year-old veteran was felicitated here at a function organized by the Ramya Cultural Academy in association with the Vinmusic Club.

The award function showcased his contributions to Indian cinema in a career spanning six decades with select songs and clippings from some of his best films including Guide, produced in 1960s, organizers said.

Several film stars, including those from Bollywood and the Kannada film industry, attended the felicitation being organized for the actor for the first time in Karnataka.

Born in 1923, Dharam Pishorimal Anand, as he was known earlier, graduated with a bachelor's degree in English literature from Government College in Lahore, now in Pakistan.

His love for films brought him to Mumbai, where he began his career at a military censor office. He made his debut as an actor in Hum Ek Hain in 1946, followed by Ziddi in 1948, which became a big hit.

The actor's rapid-fire style of dialogue delivery, use of hats and penchant for nodding his head while speaking became his signature style in films like Munimji, CID and Paying Guest and was imitated widely by his fans.

The following year, he graduated from the role of an actor to that of a producer, launching his own production company Navketan.

Dev Anand has been conferred with Padma Bhushan in 2001 for his contribution to Indian cinema.
|TOP|