COVER STORY:
Teaching Indian Kids: Pratham's Annual Survey


Pratham tested over 700,000 Indian kids in 16,000 villages all over India and presented its findings in its 2007 Annual Survey of Education Report, writes Arvind Amin.
---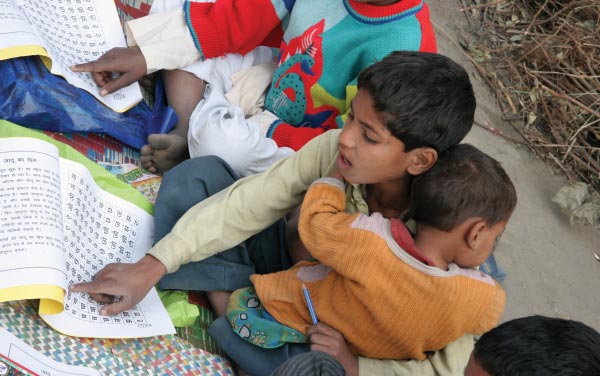 (Above):
A kid studies while taking care of his younger sibling. [Pratham photo]
---
Can you read this for me?" the young surveyor asked. Eight-year old Rani shyly emerged from behind her mother's back and took the page with four lines of text that the surveyor held out to her. She frowned in concentration and started reading, haltingly at first. "Na…di…me…ek." She then paused and looked first at the surveyor and then at her mother. The surveyor smiled encouragingly. Reassured, Rani turned to the text once again. This time, she read more confidently. Finishing with a flourish, she looked up. Her mother was smiling proudly. "Bahut achhe …very good," the surveyor said. "Now let's see if you can read this for me." Rani eagerly reached out for the next page."

---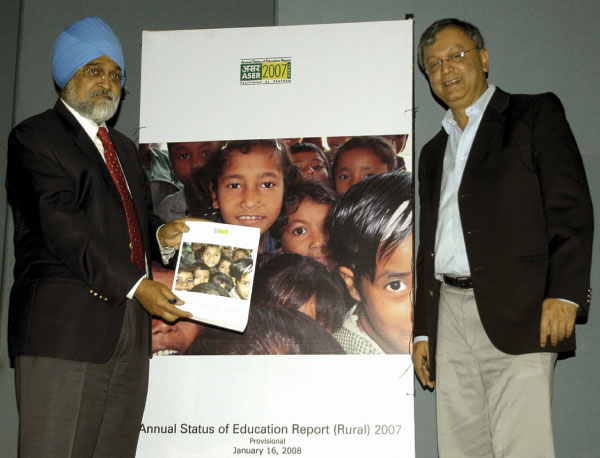 (Above): Montek Singh Ahluwalia (l), deputy chair of India's Planning Commission with Pratham founder Dr. Madhav Chavan at the release of ASER 2007. [Pratham photo]
---
ASER 2007 Finds Learning Levels Have Improved

ASER 2007 — The Annual Survey of Education Report 2007 — was released Jan. 16, 2008. This Pratham-facilitated survey has emerged as a powerful tool for advocacy and educational reform in India. This year, the survey was conducted in over 16,000 villages all across rural India. Surveyors tested over 700,000 children and visited over 13,000 schools. Dr. Wilima Wadhwa of the University of California at Irvine designed the statistical survey using the Probability Proportional to Size Sampling technique.

Key results include:

Overall proportions of out-of-school children have dropped further to 4.1 percent. Clearly, government programs like Sarva Shiksha Abhiyan have had a positive impact on school enrolments, with 98 percent of the rural population now having access to a primary school within 1 km.

Overall reading levels have improved. For instance, the proportion of children in first and second grades who can recognize letters, read words or more has gone up nationally from 73.3 percent in 2006 to 78.3 percent in 2007. Also, 58.3 percent of children in the fifth grade can read a second grade text as compared to 53 percent in 2006.

Math ability shows no improvement except in Himachal Pradesh

English reading and comprehension were tested for the first time.

Key results include:

60.9 percent of children in the first grade cannot read capital letters in English.

72.1 percent of children in the fifth grade cannot read easy sentences

Of the children who can read words, more than half knew the meaning. Of those who can read easy sentences, over 70 percent could translate it into their language.



Pre-school attendance has increased substantially among 3-4 year olds.
Visited schools show clear improvements in pupil-teacher ratios.
There is also better availability of functioning toilets and drinking water facilities and in the availability of midday meals.

The details of the ASER 2007 may be found at: http://www.pratham.org/aser07/aser2007.php


Rani's quiz is part of the Annual Survey of Education Report, India's largest independent survey of learning levels. This survey is facilitated by Pratham, India's largest non-profit organization in the area of education, and conducted on the ground with the help of more than 500 local NGOs, colleges and universities. Each year, ASER tests the reading and arithmetic skills of hundreds of thousands of children like Rani all across India, generating a picture of the status of children's learning in the country. Since the basic questions of the survey remain the same, ASER also measures the change in the learning levels of children from year-to-year. ASER is a household survey in which children are interviewed and assessed at home during weekends.

The first ASER was conducted in 2005. Since then, it has become an annual exercise carried out across villages all across India. In 2007, the survey covered more than 720,000 children, 16,000 villages and 13,200 schools across 567 of India's 602 districts.

ASER in Hindi means "impact" and essentially, this large nationwide survey is about creating impact. A central tenet of management states that what gets measured gets done. Traditionally, policy makers and the public have measured only "outlays" or the government expenditure in the area of primary education and "outputs" or measures such as the number of schools built or the number of teachers recruited. However, "outcomes" or the results of the expenditure on the learning levels of children have not been measured, and hence, not been focused on.

In this context, ASER has created impact at two levels: First, by revealing that over 94 percent of children in the age group 6-14 years are enrolled in school, it has shown that the task of ensuring access to public schools is nearly complete. Indeed, 98 percent of villages in India have a primary school within the radius of a kilometer. Second, by revealing that learning levels are low despite such high levels of enrolment, ASER is alerting policy makers and the public to address the larger issue of education quality. Essentially, ASER is changing the paradigm of primary education from a focus on mere enrollment to a focus on learning levels.

ASER is also creating larger lessons for the social sector. Before the first ASER in 2005, there were several doubts on whether an annual independent nationwide survey measuring the quality of public services could actually be conducted. The release of the ASER 2005, 2006 and 2007 has shown that not only are such surveys possible, but that they have the ability to emerge as powerful tools of advocacy and change not just at the national and state levels, but also at the district and panchayat levels. The success of ASER has in turn led to initiatives like the People's Audit of Health, Education and Livelihoods which assesses the status of human development in a district along 4 dimensions: life and livelihoods, water and sanitation, mother and child health, and education and literacy.

Several factors contribute to ASER's success: First, ASER focuses primarily on reading and basic math skills. These skills were relevant and relatively quantifiable. Second, Pratham created a simple testing method that quantified learning levels. For instance, the reading level of each child is rated based on whether he or she can read letters, words, a simple paragraph or a complex paragraph in his or her native tongue.

---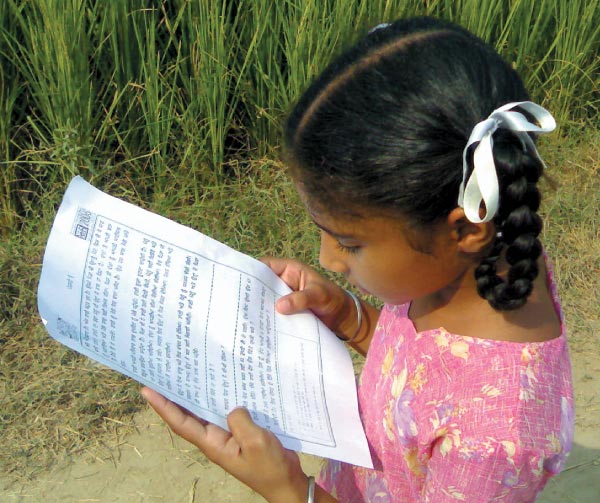 (Above): A young child reads instruction on how to take the test for ASER. [Pratham photo]
---
Read India: History in the Making

The Read India campaign was launched in May 2007. This campaign aims to teach every child in India to read and write by 2010. The campaign will cover 60 million children across all 603 districts in India.

One fundamental insight underlies Read India: Over 93 percent of children are enrolled in schools, yet almost half cannot read or write even in the fifth grade. Over the next couple of years, Pratham will address this problem through a two-pronged strategy:

Work with state and local governments to improve teaching and learning within public schools

Mobilize parents and communities so that they hold schools accountable and create an environment conducive to learning at home.

Central to Read India are Pratham's accelerated learning techniques, which are proven to teach a child how to read, write, and do basic math in two months. Pilot projects in the states of Maharashtra and Madhya Pradesh have confirmed that these results are replicable on a large scale.

In the first six months of the campaign, Read India has already impacted more than 12.5 million children in over 300 out of India's 602 districts.

The Read India campaign is being partly funded by a $9.1 million grant jointly awarded by the Bill and Melinda Gates Foundation and the William and Flora Hewlett Foundation. This grant will support Read India in 100 districts across India.



These testing methods could be applied across the country, a highly relevant feature given the number of languages in India. At the same time, the surveying and testing methods were rigorous. Third, Pratham was able to mobilize hundreds of groups and train them in the surveying and testing methods. High school students in the mountains of Arunachal Pradesh, teacher trainees in coastal Andhra, the animal husbandry department in Ladakh, milk cooperatives in Gujarat, self help groups in Karnataka, rural women's organizations in Rajasthan…these were just some of the groups that came together this year to make ASER happen. Finally, Pratham also developed a system to disseminate the information not just at the national level, but also at the local level through district level report cards that present the results of the survey in a simple and easy-to-understand manner.

ASER 2007 was released in New Delhi Jan. 16 by Dr. Montek Singh Ahluwalia, the Deputy Chairperson of the Planning Commission. This year's survey found that the percentage of out-of-school children had further reduced to 4.1 percent from 6.6 percent in 2006 (See Box 1 for a summary of the key findings of ASER 2007). The decline was especially significant in Bihar, where the percentage declined from 12.8 percent to 6.3 percent. ASER 2007 also found that learning levels had improved across grade levels. However, despite the improvement almost half the students in Grade 5 cannot read a Grade 2 text. Pratham's Read India campaign aims to change this reality, by ensuring that every child in India can read and write by 2010. (See Box 2 for more information about Read India.

In January 2008, Google.org, the philanthropic arm of Google, awarded Pratham a $2 million grant. This grant will support an independent institute to conduct ASER as well as other large-scale assessments in the education sector. The ultimate goal is to expand these types of assessments to other sectors.

---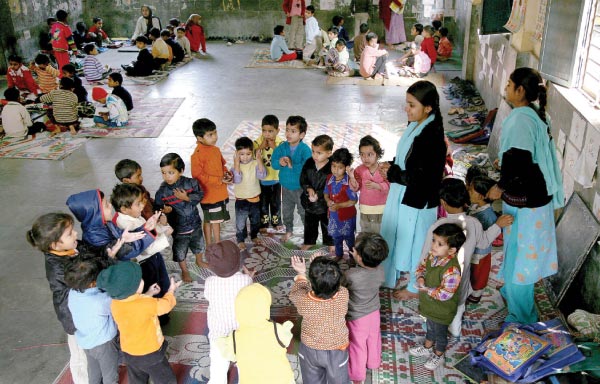 (Above): Pratham's Balwadis offer pre-school education to underprivileged children [Pratham photo]
---
The grant to Pratham is part of Google's focus area "Inform and Empower to Improve Public Services." Google believes that meaningful, easily accessible information can help governments spend scarce resources wisely and empower citizens to demand better services or develop new solutions to meet their own needs. By increasing the debate around the quality of education in India, ASER is an example of this principle at work.

---

Cover photo: A boy taking the English reading test in Nagaland. [Pratham photo]
---
Responding to the grant, Dr. Madhav Chavan, Pratham's founder and director of programs, said, "With Google's help we are planning to strengthen ASER in many ways while retaining its voluntary spirit and movement-like character. This partnership will help in creating a new network of people and institutions that will learn better skills of surveying, assessing, and analyzing data."

(The author gratefully acknowledges the substantial and valuable contributions made by Pratham staff members to this article.)