AUTO REVIEW:
Family Fun Car: 2008 Nissan Rogue SL


The Nissan Rogue fits comfortably in the garage, and the needs of an active and growing family, writes Sally Miller Wyatt.
---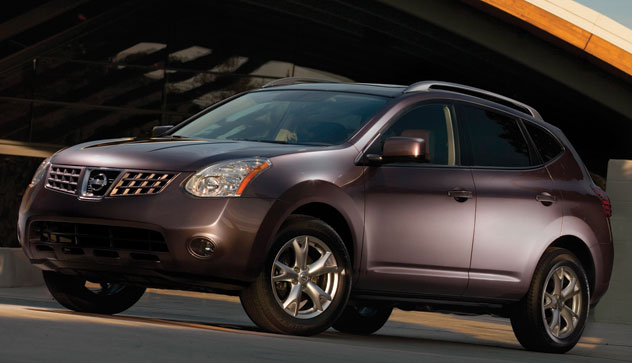 (Above): Exterior view of the 2008 Nissan Rogue SL.

---
There's a subclass to the sport utility vehicle segment, and it has been dubbed "crossover." These vehicles are a split personality between passenger cars and sport utility vehicles, and they've mostly been designed to appeal to those seeking the functionality of a sport utility and the fun of a performance-like sedan.

Nissan has a brand-new offering in this category, and it is the 2008 Rogue. It's available in two models – the S and the SL – and each has a 2.5-liter, four-cylinder engine. They're built with a four-wheel independent suspension and an all-wheel drive system. They're also boldly styled and – all things considered – affordably priced, starting at just around $20,000. With their spry road performance and good gas mileage, these vehicles should be very appealing to a wide array of buyers.

All 2008 Rouges are also equipped with the advanced Xtronic Continuously Variable Transmission, Vehicle Dynamic Control and four-wheel disc brakes with Anti-lock Brakes. The CVT helps smooth out acceleration which is even further enhanced by Advanced Shift Control. With ASC, the driver is offered optimal shift patterns, depending on the driving situation and driver demands. The system uses an array of data – the force of driver acceleration, vehicle speed, road gradient and turning conditions – to adjust shifting patterns. Rogues are also available with front-wheel drive or an advanced intuitive all-wheel drive system that has yaw moment control. This yaw system provides smooth starts on wet or slippery roads and excellent traction.

---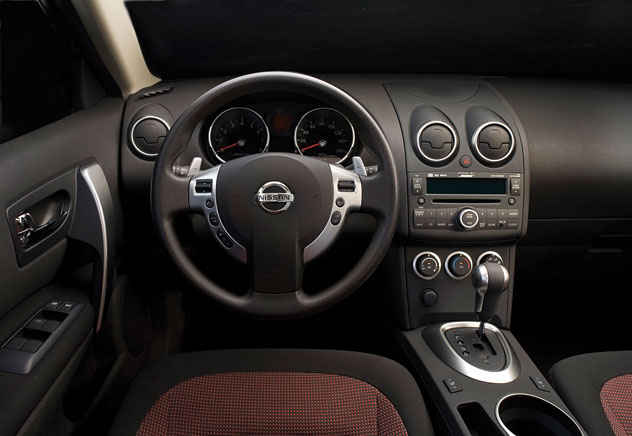 (Above): Interior view of the 2008 Nissan Rogue SL.

---
All that translates into what can best be described as a very intuitive driving experience. It almost seems as if the Rogue knows where you're turning before you do, and smoothly executes the maneuver, whether in a tightly-packed parking lot or while making lane changes at freeway speed.

Behind the wheel, you'll find the driver's seat offers a cockpit-like experience. The dashboard is well-laid-out, functional, and yet stylish. With the lights on, an orange illumination is nicely paired with silver gauge accents.

Safety features include front seat-mounted side-impact supplemental air bags and roof-mounted curtain air bags, front seat active head restraints, energy-absorbing steering wheel, Traction Control and a Vehicle Security System.

The Rogue seats five, and while there is plenty of leg and head room for your front seat passengers, there is also a good amount of leg room for the rear seat set. The cargo area is large for a small SUV/crossover.

As for enhancements, Rogues can be equipped with XM Satellite Radio, a Bose audio system with seven speakers and steering wheel-mounted controls.

Overall, we found the 2008 Nissan Rogue to be a fun car to drive. It is right-sized and is definitely one SUV that will fit comfortably within the confines of the garage. It also fits well with the needs of an active and growing family.

---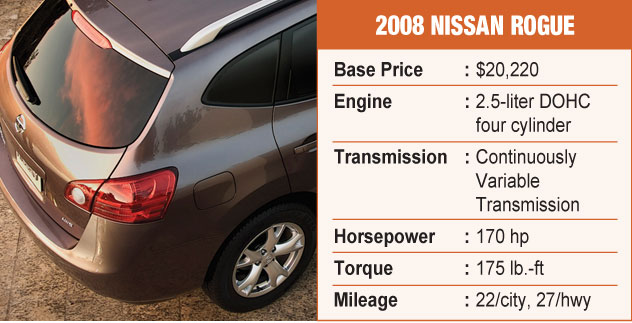 (Above): Exterior view of the 2008 Nissan Rogue SL.