COVER STORY
Hollywood Desi: Ashok Amritraj


Ashok Amritraj, a major film producer in Hollywood, is ready to break new ground with his latest film, a rare mainstream Hollywood film set in the U.S. to have significant Indian characters. Ras H. Siddiqui recently talked with him.
---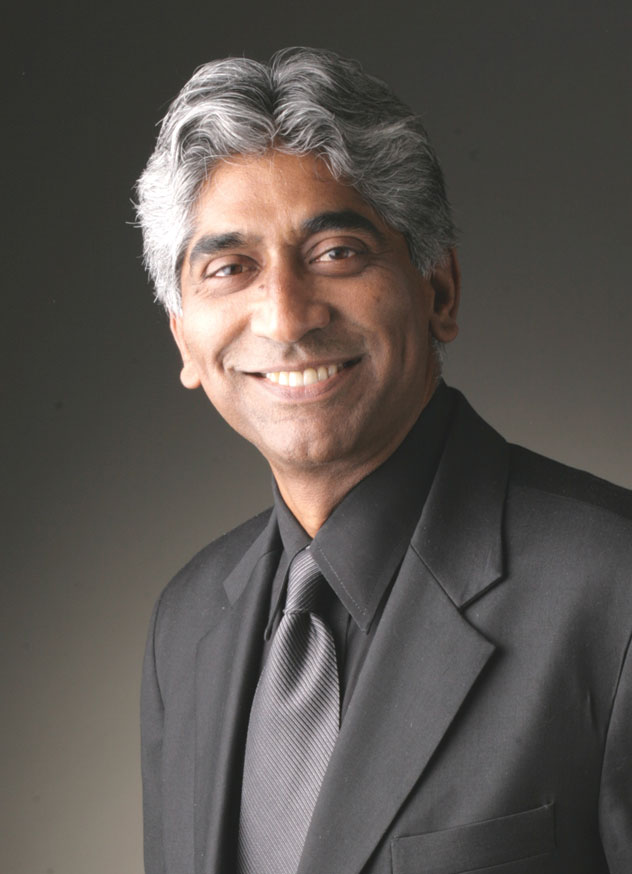 (Above): Hollywood producer Ashok Amritraj
---
Ashok Amritraj, CEO of Hyde Park Entertainment Inc., is not an easy man to reach. But when you do get him on the telephone, he can be quite disarming. At ease with himself, one of the most successful film producers in Hollywood took this opportunity to talk to Siliconeer to answer a few questions and to tell us a little bit about the background of his new film The Other End of the Line, being released by MGM Oct. 31, in which both Americans and Indians are featured prominently. Some of us can still recall Ashok and his brother Vijay from their professional tennis playing days way back in the 1970s. And today we see that the winning ways of the family still continuing. So here is Ashok from the other end of the line.

Q: Interest is bound to be high in your latest movie effort The Other End of the Line, which you have co-produced and is which set for release Oct. 31. Is this your first attempt at looking back at Indian cinema for production ideas instead of looking at the Hollywood and European model?

A: The Other End of the Line is a cross-cultural movie made in English in the United States and is not really Indian cinema. It was developed right here in America by Hyde Park and MGM, who hired Tracy Jackson to write it. It was acquired by Hyde Park and MGM and that's how the movie came to be. I wanted to make it because it's a lovely story. The movie also has a rich and classic musical mix of songs (but no dances) from both Indian and American sources which the audience will appreciate.

Q: In this movie we have Jesse Metcalfe, Sara Foster, Anupam Kher, Tara Sharma and relative newcomer (for us here), Shriya Saran, playing leading roles. We know that casting is usually the domain of the director, which in this case is James Dodson. Did you by any chance use your Indian-origin experience to assist?

A: Shriya and Jesse Metcalfe (from Desperate Housewives) play the leading roles in this film. Shriya has already starred in the very successful movie Sivaji: The Boss in India. Anupam Kher plays her father and Tara Sharma her best friend. Sara Foster incidentally is the daughter of David Foster, one of the world's finest musicians, one who has won numerous awards. We have gathered a talented group here. Hyde Park operates like a studio. We decide the talent that we are going to use. In all of my movies, we do the casting.

---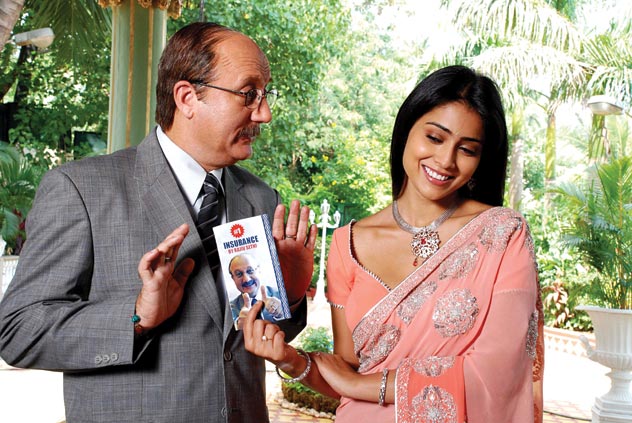 (Above): Anupam Kher and Shriya in "The Other End of the Line."
---
Q: Indian and Western movie collaborations have generated critical acclaim in American movie theatres. With the exception of the movie Gandhi which was a resounding success (and a category in itself), other movies have done well that have attempted to narrow the gap of viewership in many countries. Bend It like Beckham, Monsoon Wedding, Mississippi Masala and Deepa Mehta's efforts like Earth have done well commercially. How far away are we from a joint blockbuster?

A: On Gandhi, I have to agree. But the market for cross-cultural films is still a niche. The audience is growing, the world is getting smaller and the global viewership is getting larger. Let me give you an example of our upcoming movie Street Fighter, based on the extremely popular video game, which has a number of Asians (non Indian) and Americans in leading roles. It is to be released by 20th Century Fox in February 2009, and we expect it to be seen by a wide audience everywhere. In the future, I can foresee that a movie with an Indian and American cast plus the right story will be very successful. We are heading towards such a joint effort.

---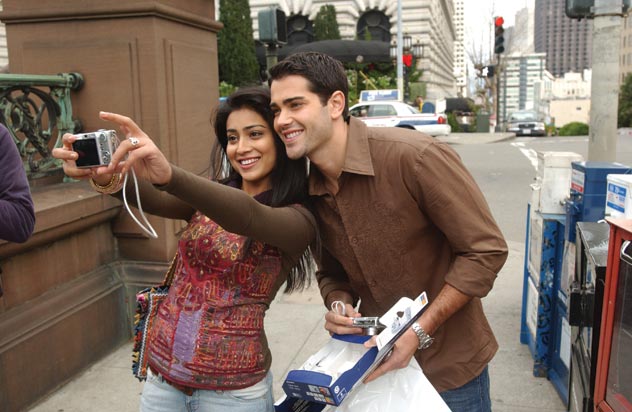 (Above): Shriya and Jesse Metcalfe in "The Other End of the Line."
---
Q: Your most recent co-production Traitor has raised a few eyebrows. Did you feel that America was ready to deal with this particular topic? In other words, as a producer, how do you pick your projects and evaluate their commercial viability?

A: Traitor got extremely good reviews. It has already grossed over $20 million in three weeks and is an extremely profitable film. I am very happy with how it has performed here. Next, it will go to the world market. On your other question, how we make a decision to do a project, it is a very grueling process. We get about 100 project ideas a month. We end up developing about 8 (out of over a thousand) per year, out of which we produce only 4 films per year. We think primarily about our audience and what they would like to see. We also get input from our domestic and international distributors on a particular project idea.

Q: You have been producing movies in Hollywood for almost a quarter of a century. You are well known for action adventure movies like Double Impact and Walking Tall or comedies like Raising Helen or National Lampoon's Last Resort. Was backing The Other End of the Line a real change for you?

A: Yes, it's been over 25 years. Incidentally, in your list here you forgot Bringing Down the House with Steve Martin which was phenomenally successful.

We have also made films that have won critical acclaim like Moonlight Mile with Dustin Hoffman. The Other End of the Line was a real change. It was actually fun to make a movie with both American and Indian actors in it. Jesse, Shriya and the rest of the cast were all great. It was almost like taking a holiday. Making this movie has been a wonderful experience for me.

Q: Last question. Do you still get a chance to play tennis?

A: (Laughs) Only for fun! On Saturday mornings playing tennis at my house is part of an established tradition during which stars and studio executives join in. And the game is always followed by a serving of Indian food.