FILM REVIEW:
Classy Thriller: A Wednesday!
Rating: **** (Superior)

A Wednesday!
Directed by: Neeraj Pandey
Music: Sanjoy Chowdhary
Starring: Naseeruddin Shah, Anupam Kher, Jimmy Sheirgill, Aamir Bashir and Deepal Shaw

---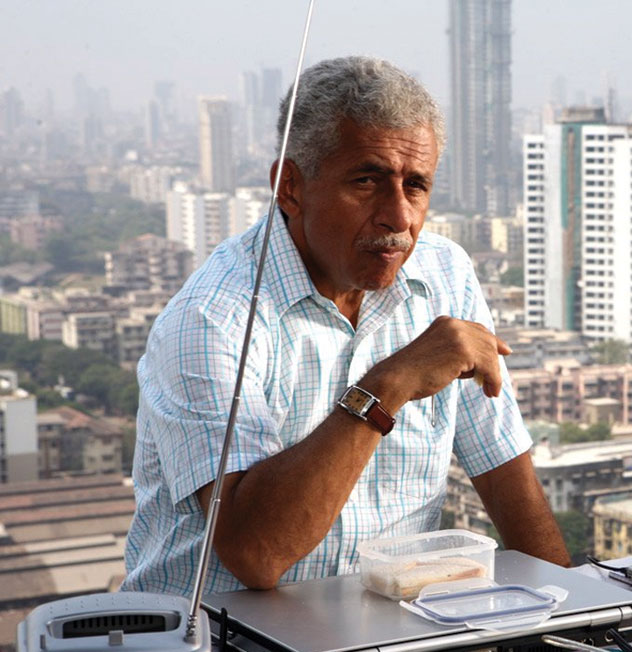 (Above): Naseeruddin Shah in "A Wednesday!"

---
This film is the antithesis of a Bollywood masala movie. In fact, you would be hard pressed to call it a Bollywood film at all, because it has none of the many accoutrements that Bollywood films sport as blatantly as red lipstick on a tart.

No boffo hero or voluptuous heroine. No singing around trees (in fact, no singing, period). No gaudy villain with weird names who sport bizarre headpieces unlike anything known to man or beast. No cheesy fighting scenes where the hero takes on 20 goons and comes out on top (This is usually achieved by the hero taking on one goon at a time while the others watch politely). No maudlin mother crying bucketful of tears.

Can you believe it?

Instead, what you have is a gritty, edgy thriller, which, while far from flawless, turns the proverbial Bollywood masala on its head with refreshing gumption.

So there are no heroes and heroines living in implausible lavish homes (it's an old tradition — remember that old Bollywood staple, the wide winding staircase plumb in the middle of the cavernous downstairs living room that goes up to nowhere? Or the imperious pitaji, who is always in a dressing gown day in and out, smoking a pipe?)

In fact there is no hero or heroine, period.

Mumbai here is no heavily made up artificial beauty, but it's like a girl next door — what it lacks in glamour is more than made up in vitality and verisimilitude.

Mumbai is what Mumbai is really like — streets teeming with people, busy train stations, police stations with a weary, woebegone décor, streets crammed with traffic.

If you see the film, you will have an experience extremely rare for a Bollywood movie buff — Virtually during any moment in the film, you will feel almost as you have stepped into the city.

The film revolves around a bomb threat. Prakash Rathod (Anupam Kher), the Mumbai police chief, receives a threat by an all-knowing tech whiz shadowy person (Naseeruddin Shah): Free four hardcore extremist Muslim terrorists or else he is going to blow up five heavily populated locations.

He means business, too. He tells them that he has planted a bomb right next to police headquarters. After a frantic search, sure enough, a bomb is found.

---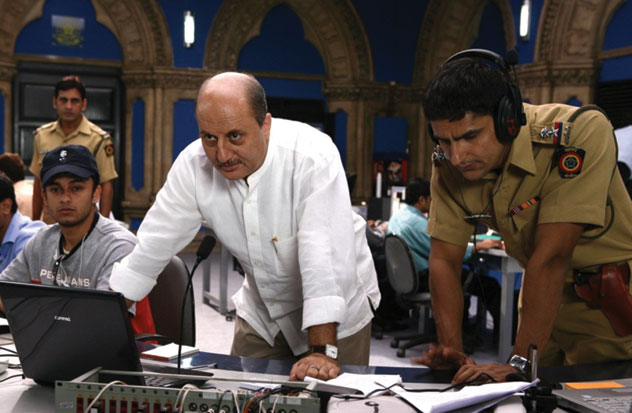 (Above): Anupam Kher (c) in "A Wednesday!"

---
What is to be done?

Rathod calls up the chief minister. The decision is made: The police cannot simply risk the bloodshed, so they are going to meet the terrorist mastermind's demand.

In the meantime, they frantically try to track him down. The police chase down a person who had some connection with him and try to get a police artist to draw a sketch. They get a young techie whiz, who proudly declares that he is a college dropout by choice, to trace the mastermind's location.

But the mastermind appears to be one step ahead. He seamlessly switches from SIM card to SIM card, which are traced to dead people. And time, you see, is running really short, because the entire cat-and-mouse game is taking place within a few hours, with a deadline of 6:30 p.m. fast approaching.

The climax is in a desolate airstrip where Rathod sends two of his trusted lieutenants, Arif Khan (Jimmy Sheirgill) and Jai Pratap Singh (Aamir Bashir) to escort the four terrorists and complete the handover.

The film's gritty realism (hat tip to Fuwad Khan for excellent cinematography and Sanjay Chowdhary for a superb background score that builds up the tension) and crisp editing put it on par with many a Hollywood film, and the final shocker of a twist is simply great.

---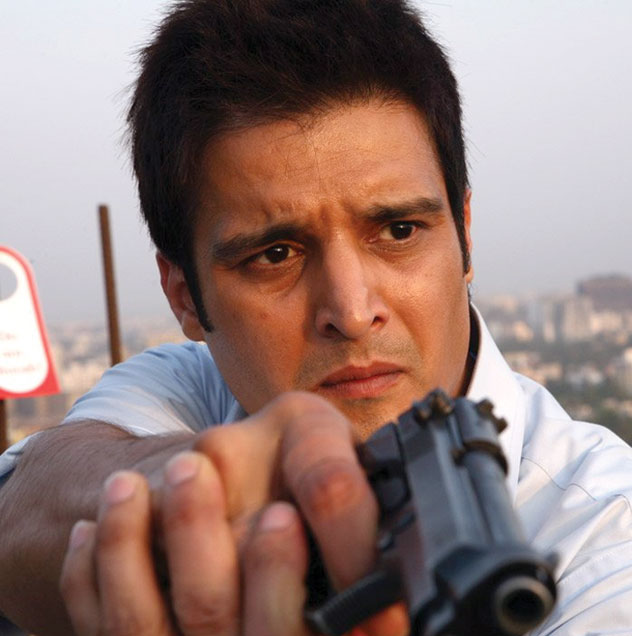 (Above): Jimmy Sheirgill in "A Wednesday!"

---
It's backed by some superb performances by Naseeruddin Shah and Anupam Kher, and has some great, sardonic touches that have a bracing dose of reality — like the Bollywood hero who is actually in reality scared witless because of extortion calls by cell phone, or the corrupt cop who makes the patently false claim that the bribe he is receiving is being given "out of love." He is forced to return it and give something back out of pocket with the tart observation by a police officer that sometimes he needed to love back.

One of the film's flaws is that for a thriller, there is relatively little back and forth. The mastermind is almost always on top, and for all its verisimilitude, police sketches and the attempt to trace him seem implausible. But these are minor problems.

Notwithstanding a modest budget, the film has excellent production values and director Neeraj Pandey has proven that with the right kind of savvy, intelligence and skill, a small-budget good film can take on any of those bloated, mega million-rupee paeans to silliness, your typical star-studded Bollywood mega-budget films, on any given day.

It's actually happening. The fact that the film has won critical acclaim is no surprise. What is most heartening is it's doing solid business in the box office — nothing huge, just doing well in proportion to its budget — while lavishly financed but shoddy big-budget films like Drona are falling like ninepins. Bollywood, take note.