THEATER:
Understanding Conflict: Final Solutions


Harish Sunderam Agastya is directing Naatak's upcoming play Final Solutions on the Hindu-Muslim conflict, writes Aditi Kothiyal.

---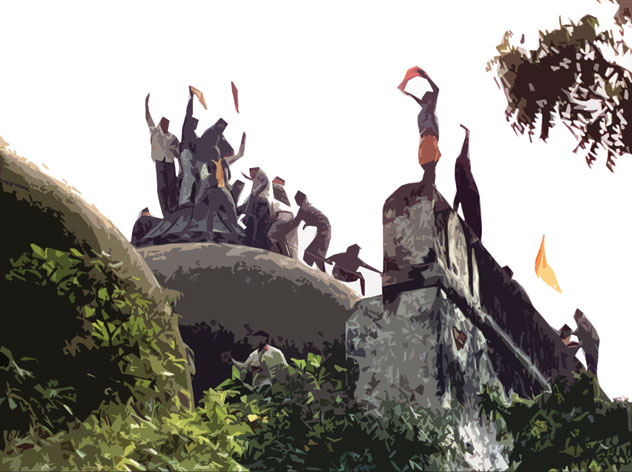 ---
On Naatak is the foremost community theater group in the San Francisco Bay Area dedicated to the growth of Indian theater as an artistic medium and a forum for conversation on socially-relevant issues. On Oct. 11, when Naatak opens the doors to its 28th production Final Solutions, it will for the first time delve into one of India's oldest social issues, the hostility between Hindus and Muslims. Harish Sunderam Agastya will direct his adaptation of Mahesh Dattani's award-winning play of the same name.

Final Solutions was first performed in India to much critical acclaim in 1993, as India was recovering from widespread Hindu-Muslim riots after the demolition of Babri Masjid. This kind of violence has been a recurring feature of life on the subcontinent from the time Islam first arrived in India over a millennium ago. The play explores this conflict through three generations of a middle-class Gujarati Hindu family and the two young Muslim boys they harbor during a riot. Dattani examines this issue from various angles and shows that it is not one-dimensional, as the extremists would like us to believe. The strength of Dattani's writing lies in his ability to define the problem in all its complexity as one that is not merely political, social, economic or psychological; nor is it the result of a single historic or cultural event; it is at once personal and communal, intellectually challenging and emotionally draining. Final Solutions works not because it presents us a solution, but because it demonstrates that if we are willing to initiate honest debate, we might be able to find one.

In Naatak's version of the play, Agastya has adapted the script to make it more current by incorporating recent events like the 2002 Gujarat riots. While Dattani chose to concentrate on the emotions of the characters, Agastya goes further to expose some tough ground realities. He feels that Dattani's style was non-committal on sensitive issues (perhaps because it was staged in India) and that the play needed to be more hard-hitting. "I've always felt that there are conflicting truths on either side," he discloses. "Now, more than ever before, with the rise of the right-wing Hindutva movement and the spread of Islamic terrorism, our proverbial dirty laundry needed airing in a play like this. So I modified the script to do just that."

An interesting aspect of Dattani's original was his innovative use of a mob/chorus; it represents the collective voice of each community and frequently exhibits the "herd mentality" as mobs might do in real riots. Interestingly, the same group of actors play both the Hindu and Muslim mob, and their identities are specified by Hindu or Muslim masks which they hold in front of their faces. In one masterstroke, Dattani shows us that the actions of both communities are alike, both have grievances and while both have superficially differing "masks," their deeper identities are similar.

Agastya has choreographed the mob/chorus with elegant movements and rewritten their lines. He uses them as more than the consciousness of each group; Agastya's mob tells the truth as he sees it. In Agastya's adaptation, the mob laments on issues such as the Amarnath land row and the singing of Vande Mataram in schools. Choreographed sequences depict the growth of "institutionalized riot systems" in India. "Research has shown that the number of riots that happen in cities in India with similar Hindu-Muslim populations varies widely," Agastya explains. "Take the case of Ahmedabad and Surat, which are only 140 miles apart. They have similar Hindu-Muslim populations, yet Ahmedabad erupts into riots almost every year while Surat has largely been peaceful. One reason is that civic networks and economic partnerships exist between Hindus and Muslims in Surat and both sides have a vested interest in preventing riots." Agastya's adaptation sheds light on how these riots are pre-meditated, supported by the police, orchestrated by organized gangs and fueled by a herd mentality that the common man gets sucked into.

Another fascinating aspect of Final Solutions is that it seamlessly moves between 1948 and the present, between the 16-year-old Daksha and the 75-year-old woman that she has become, Dattani's story switches between the two eras allowing us to see how an innocent girl free from societal biases slowly transforms into an embittered, prejudiced old woman. Agastya tells me that this is the one of the things that enamored him of Final Solutions.

For Agastya, this play has been a labor of love. He has been thinking about this production since 2001 but he initially felt that it would be difficult to produce. "This play requires a large cast. I was worried I may have trouble casting a 16-year old girl who could speak English without an American accent and a 75-year old grandmother who could speak English," he jokes. "But the response to our audition notice was great. It's a subject that a lot of people relate to. Having grown up in Mumbai which has seen its share of communal violence recently, with close Muslim friends, this issue has always been important to me. And Dattani handles the subject very elegantly with a narrative that slickly transitions between the present, the past and the mob/chorus."

So why should we watch the play? Agastya has this to say, "Naatak's charter is to create thought provoking works — always. In this case, my objective is to make people rethink their preconceived notions. One of the lead characters in the play, Ramnik, is seen initially as a liberal person. But as the play advances, we discover shades of parochialism in him. I think our audiences may see similar shades of grey around themselves too. Final Solutions is about bias, bigotry and bloodshed. While audiences in the Bay Area may not have first-hand experience with bloodshed, the issues of bias and bigotry have relevance to both our community and mainstream Americans. The play should hopefully strike a chord in everyone from that perspective."

Final Solutions will be on stage on October 11, 12 and 17 at the Cubberley Theater in Palo Alto. Visit www.naatak.com for play details and tickets.