COMMUNITY:
A Doctor's Passage: Life and Career


Jacob Eapen, MD, is a pediatrician in the San Francisco Bay Area who has received many honors for his public service, including the coveted Ellis Island Medal of Honor. In the first a multi-part series, he writes about his life and career and how it shaped his values.

---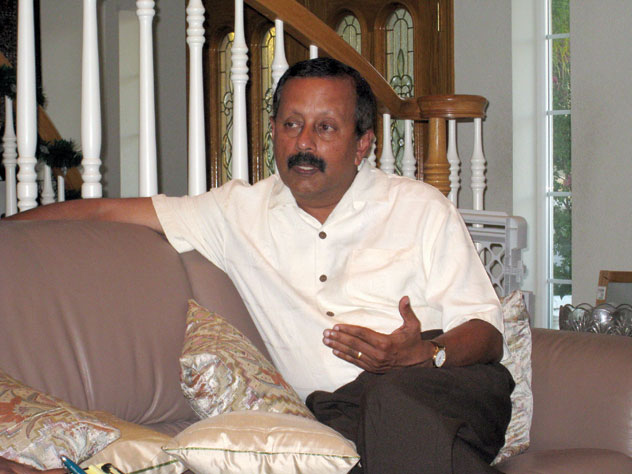 (Above): Dr. Jacob Eapen [Siliconeer photo]

---
I have embraced public health services in an explicit attempt to foster more appropriate and effective policies and practice that benefit the poor and underserved patients.

My values have been shaped over the years as I have grown up and came to choose medicine, and ultimately pediatrics, as my calling.

Right from the time when I was training to be a doctor, I recognized a moral challenge in the conventional practice of medicine through the system of a fee-based private system: It was not adequate to address the need of too many who needed — and deserved — medical assistance.

This recognition became a conviction by the time I had graduated from medical school. Consequently, despite the promise of quite substantially greater financial reward, I have never worked except within a public system of healthcare delivery.

I graduated from Trivandrum Medical College in India in 1976 and received my pediatric training at Christian Medical College. I left the security and familiarity of the country of my birth and reached the shores of Africa, where I worked as the director of the pediatric unit in Agha Khan Hospital in Dar-Es-Salaam, Tanzania in 1980.

In Nigeria, I reached out in my practice which served undernourished children and their parents. In pursuit of my passion for spreading awareness I accepted an offer to teach in Sub-Sahara, Nigeria, and Africa. While I was working at the Nigerian hospital, I saw hundreds of children die from diseases brought on by malnutrition. Since then, I have dedicated my career to pediatric services for the underprivileged. I have also learned two African languages — Swahili and Hausa.

My values as a doctor and a human being were shaped as I entered medical practice.

At 15, when I started my pre-medicine education, it wasn't because of any passion for medicine but more due to the influences by my parents. My father was an engineer with the Kerala government services. We had many doctors in the family even going back two generations. Once I obtained my medical training, I practiced pediatrics in both Tanzania and Nigeria and that gave me a different perspective in health care.

In 1984, I got my master's degree in public health from the University of California at Berkeley. I completed a second residency in 1992 from Stanford University.

I was selected as one of 40 outstanding Stanford Medical Alumni from among 7,000 graduates of the last 60 years to be profiled in a book commemorating 40 years of the Stanford Medical School in Palo Alto.

In 1988 I was appointed health advisor by the United Nations High Commissioner for Refugees to the Republic of the Philippines. I accepted this new challenge to cater to the needs of nearly 30,000 Indo-Chinese refugees at the Philippines Refugee Processing Center, Bataan. It was quite a challenge. I had to reinvent myself in this new world meeting new challenges and coping with the stress of work. I was successful in creating meaningful relationships with the staff and addressed myself to learning more. With my expertise and long standing experience, I crafted a health proposal for the underserved Filipino indigent population that lived around camp at Morong, Battan.

I really treasure the recognition I received at that time.

Herman T. Laurel, administrator at the Refugee Processing Center wrote: "No other medical advisor before him has figured as positively in Health Services group affairs, nor shown as much commitment to its mission, for which he has earned our respect and high esteem." Sylvia Bitler, the nursing coordinator of World Relief Council said of me as I was leaving the Philippines, "This brilliant and compassionate man literally hides a world of expertise behind his unassuming manner. Our loss is certainly the gain of his next associates."

In 1990 I was appointed director for research and public health programs at International Health Services, Mountain View, Calif. The objective of this not-for- profit organization was the development of appropriate but low-cost diagnostic kits for use in developing countries. I also conducted a USAID-supported clinical trial in India on a simple device to test for tuberculosis. While serving as the director of international affairs for Stop Aids Worldwide, I met Mother Teresa in Kolkata to promote the work of this organization in India.

I have also brought my expertise in the health problems of children in developing countries to the doorsteps of many centers of learning. I have lectured on primary health care and health issues in a refugee camp to students at Stanford and UCSF Medical schools as well as at the School of Public Health at Berkeley.

Good medical practice comes in myriad forms, but good doctors share one trait: they are truly present in their clinics, deeply engaged with their patients and their area of specialization.

I have been the commissioner of public health in Alameda County, Calif. for some years now. Currently, I serve as pediatrician for Alameda County Health Services where I reach out to poor children in Oakland and Newark, and the juveniles in their detention center in San Leandro. I have served as an adviser to "Every Child Counts" Commission, Alameda County. I have spoken against the potential closure of clinics in Alameda County, because of costs.

I currently serve as a board member of Washington Hospital in Fremont, Calif. I was one of the first Indo Americans ever to win a general election in Northern California. I am also a member of several California state boards: The Association of California Health Care Districts, The California Hospital Association (representing more than 500 hospitals in California) and the advisory board of California Medical Association Foundation.

I am dedicated to improving access, removing both logistic and insurance barriers, expanding outreach services and reducing emergency room waiting time.

I would like to acknowledge my gratitude to the various organizations and the communities at large for their recognition over the years which include the following:

Ellis Island Medal of Honor, National Ethnic Coalition of Organizations, 2007; Physician Recognition Award, California Medical Board, 2004; and Spectacular Care Giver, Alameda County Health Services, 1999.

This recognition is a constant source of inspiration to me to give back more through my expertise, hard work and commitment.