EDITORIAL:
An Indian in Hollywood


Happy Diwali | Eid Mubarak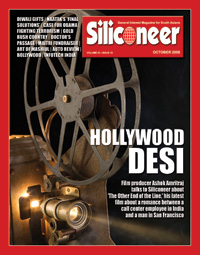 We extend our warmest greetings and best wishes to our readers, advertisers and well wishers at this festive moment.

Art film buffs may not be particularly enamored of Hollywood, but there's no gainsaying the fact that Hollywood is the Mecca of global entertainment. So it should be no surprise that it also happens to be the most competitive, difficult place to gain entry.

You'll find Indians teaching in any top university in the U.S., you will find big shot CEOs in the Silicon Valley and elsewhere, but when it comes to Hollywood, it has to be said that Indians have had a harder time breaking in. Acting roles have been few and far between, and direction and producing has been even more difficult.

Sure, the late Ismail Merchant had an enviable track record in Hollywood, but the Merchant-Ivory partnership was a niche operation.

Imagine the perseverance, talent and sheer chutzpah of an Indian tennis player who successfully chases his dream to make films in Hollywood. That's exactly what Ashok Amritraj has done. Over the years, thanks to an enviable track record of box office successes ranging from Double Impact starring Jean-Claude Van Damme to the more recent Bringing Down the House starring Steve Martin and Queen Latifah, his place is now secure.

His latest film, Traitor stars Don Cheadle, and has won considerable critical acclaim while also doing well in the box office. What's more significant, it takes on an issue very sensitive in the U.S.— patriotism and terrorism and gray areas where the two overlap — and deals with it with a rare, refreshing candor.

Amritraj is releasing a new film in October — The Other End of the Line — where he again breaks new ground. In a rare instance in a major Hollywood film, the movie deals with Indian characters and has Indian actors including Anupam Kher playing major roles.

Our correspondent Ras H. Siddiqui talked to Amritraj about his film, his career and asks if he still plays tennis.

Regardless of whether one supports Sen. Barack Obama's bid for the White House, there is unanimity among political observers that his campaign for U.S. president is one of the most remarkable in recent history.

Not only is he the first African American to win the nomination of a major party in the U.S., but he has also been able to generate a degree of grassroots enthusiasm that has turned campaign financing of a presidential campaign on its head.

After managing to take on one of the most well-organized, financially formidable campaigns in the Democratic primary where Obama's David managed to slay Sen. Hillary Clinton's Goliath, Obama is now taking on Arizona Sen. John McCain.

After a close battle and some rollercoaster rides, Obama seems to have built a comprehensive if relatively thin lead as October begins.

It's too early to say whether this lead will ultimately guarantee victory, but win or lose, the Obama campaign remains a historic event in American politics, particularly in the grassroots enthusiasm it has managed to generate, especially among the youth.

We decided to ask a South Asian youth who is himself busy campaigning for Obama the simple question: What is it about Obama that you support? Why does he excite you so much?

Niki Shah, the national coordinator of South Asians for Obama, has written an essay in this month's issue specifically addressing those questions.

For desi theater aficionados, Naatak has been a continuous source of joy and wonder. San Francisco Bay Area desis are fortunate. Theatre is such a challenging medium that few South Asian groups have tried their hand at it on a sustained basis — the logistics, the demands the medium makes on a diverse array of talents simply makes it too daunting a pursuit. Consequently, one is hard pressed to find a good South Asian theatre group anywhere in the U.S.

Started by a bunch of Berkeley and Stanford graduate students, Naatak has grown into a San Francisco Bay Area cultural resource. For over a decade, the group has delighted Bay Area audiences with serious, meaningful theater.

This October, Harish Sunderam Agastya directs Mahesh Dattani's play Final Solutions. The play focuses on India's Hindu-Muslim conflict immediately in the wake of the destruction of the Babri Masjid and the ensuing riots in the 1990s, and examines the prejudice and misgivings that both communities harbor against each other.

Agastya takes the play one step further, updating it with references to the more recent and appalling Gujarat riots, and gives the play a sharper, more incisive edge as he probes into the mental psyche that sustains the Hindu-Muslim schism that continues to plague the nation to this day.

We carry an interview in this month's issue with Agastya where he talks about the play.