NEWS DIARY | NOVEMBER

Babri Masjid Report Demolishes Sangh Parivar | Quarter of India is Turning to Desert | Suspects Charged | Mutiny Trial | Animal Slaughter | Opening Camps | Agni II Launched | May Contest

---
Babri Masjid Report Demolishes Sangh Parivar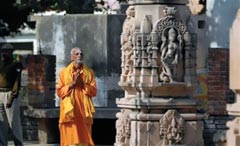 (Right): A policeman (l) stands guard as a Hindu devotee offers prayers at a construction workshop of a a new temple to Ram in Ayodhya Nov.25. An Indian government investigation into the 1992 demolition of a mosque by a raging mob accused top Hindu nationalist politicians of complicity.

In a scorching indictment of the entire Sangh Parivar, the Liberhan Commission that probed the demolition of the Babri Masjid, has said that the Bharatiya Janata Party, Shiv Sena, Bajrang Dal and Vishwa Hindu Parishad hatched an elaborate conspiracy to not just demolish the Babri Masjid but bring the country "to the brink of communal discord," reports the Times of India

In a voluminous report running into almost 1,000 pages, Justice M.S. Liberhan has spared no saffron leader, not even Atal Behari Vajpayee, who is termed a "pseudo-moderate," pretending to keep a distance from the Ram Janambhoomi campaign when he was actually aware of the conspiracy.

The report has dismissed all the arguments of the BJP leadership and its allies to deny any pre-planned plot behind the destruction of the Mughal era mosque in Ayodhya Dec. 6, 1992. The report, which took 17 years and 48 extensions to write, says the demolition was a result of the RSS-led conspiracy, rather than the spontaneous expression of the sentiments of Hindus favouring the construction of a Ram Temple.

As the report was tabled in Parliament along with the government's action-taken report, there was hardly any excitement, barring the excitement generated by Samajwadi leader Amar Singh who lunged at BJP's S.S. Ahluwalia for raising "Jai Sri Ram" slogans. This was despite the fact that the report lists not just L.K. Advani and Murli Manohar Joshi as being culpable, but also mentions Vajpayee as one of the persons responsible for misleading the people with his pretense of detachment from the movement.

The report is a meticulous exercise to undercut BJP's chief defense that the demolition was a result of an upsurge of Hindu sentiments. It says that although the disputed structure was demolished by "the hands of the common man," what prompted him to do so was "the cacophony of religious righteousness and the zealot's rhetoric" orchestrated by the Sangh Parivar.

|TOP|

---
Quarter of India is Turning to Desert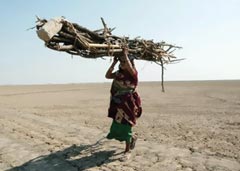 (Right): An Indian woman carries a load of firewood on her head as she crosses the desert of in the Kharaghoda region in 2008. Nearly a quarter of India's land mass is desert or is turning into desert, according to a study.

Nearly a quarter of India's land mass is desert or is turning into desert, according to a study, with deforestation and overgrazing among the main factors spurring the process.

Northern and western India are the worst parts of India affected by the phenomenon, according to the study, which used satellite mapping and was the first national-level government-commissioned research published on the issue.

"There has been a long-pending need for desertification/land degradation status mapping of the entire country based on scientific methods," said the study by the Space Applications Center and the Current Science journal.

It said the total area under desertification — areas already considered desert and those under threat — was over 80 million hectares (200 million acres) or almost a quarter of India's 328-million hectare land area.

The study noted that India accounted for 2.4 percent of the global land mass, but supported about 16.7 percent of the world's population and 18 percent of its cattle.

"There is tremendous pressure on our land-based natural resources," it said.

Changes in the frequency and amount of rainfall, water and wind erosion, as well as harmful agricultural practices, were other causes for desertification cited in the research.

In total, just over 32 percent of the country was described as undergoing "land degradation," with the process most pronounced in the states of Rajasthan, Kashmir, Gujarat and Maharashtra.

The Space Applications Center study comes after research led by consulting firm McKinsey and Co. revealed that India's water needs were set to double by 2030, which could dry up its river basins.

|TOP|

---
Suspects Charged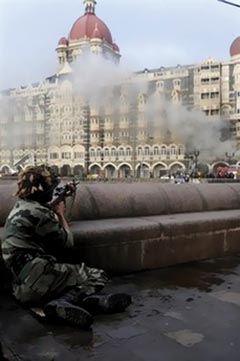 (Right): An Indian soldier aims his weapon towards the Taj Mahal hotel during last year's terror attacks in Mumbai. A Pakistani anti-terror court has charged seven suspects in connection with the Mumbai attacks.

Pakistan charged seven men in last year's Mumbai terror attacks, its first indictment in a case being watched closely by India and the United States to see if Islamabad makes good on promises to bring those responsible to justice.

The indictments in an anti-terrorism court came on the eve of the first anniversary of the attacks on hotels, a train station and other targets in the Indian financial center that terrorized the city for three days and killed 166 people.

The seven suspects pleaded not guilty, defense lawyer Shahbaz Rajput and prosecutor Malik Rab Nawaz said.

The men, allegedly belonging to the Lashkar-e-Taiba militant group, could face the death penalty if convicted.

The trial is a key test of Pakistan's vow to punish those responsible for the Nov. 26-28 attacks. They are the first suspects in the Mumbai attacks to be charged in Pakistan. One suspect is already on trial in India.

The indictments come as Pakistan's army wages a major offensive against Islamic militants on its northwestern frontier with Afghanistan — an action welcomed by the United States and other Western nations.

The court proceedings are taking place behind closed doors at a maximum-security prison not far from the capital, Islamabad.

Lawyers for the suspects have said they are unable to disclose any details of the charges against the men, who have appeared in court for pre-indictment hearings in recent months.

"All the accused categorically told the court they were innocent and the charges leveled against them are not supported by the evidence," Rajput said after the court adjourned until Dec. 5.

|TOP|

---
Mutiny Trial
(Right):
A Bangladeshi lays flowers in front of the Bangladesh Rifles headquarters in remembrance for those killed during the mutiny in Dhaka in March 2009.

Nine troopers of Bangladesh Rifles were produced before a special court for their role in a bloody mutiny in February.

The nine are among those who took the cue from thousands of their colleagues who rebeled at the BDR headquarters in capital Dhaka, drew weapons without permission and misbehaved with senior officers, the court was told.

The 74 killed included 67 Bangladesh Army officers on deputation to BDR, the country's border force. Also killed was BDR director general Major General Shakil Ahmed.

The mutineers accused the army officers of lording over them and drawing better pay and more perks.

The trial resumed on the second day at a makeshift courtroom at Rangamati in the Chittagong Hill Tracts, Star Online reported.

The BDR chief, Major General Mohamed Mainul Islam, is presiding over the trial, which will by rotation move to six courts set up across the country to try over 3,500 troopers.

This is Bangladesh's first trial of its border guards that is being revamped in the wake of the mutiny and also given a new name, logo as well as uniform.

Four BDR battalions have been dissolved to enforce discipline.

|TOP|

---
Animal Slaughter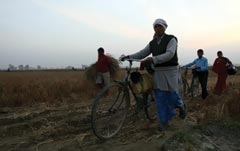 (Right): A Hindu devotee brings a goat tied on his bicycle for sacrifice at the Nepalese village Nov. 23. Up to a million Hindu devotees gathered at a village in Nepal to witness the slaughter of hundreds of thousands of animals in a mass sacrifice.

At least 15,000 buffalo and "countless" goats and birds were sacrificed in a temple in southern Nepal, organisers said, a ritual billed as the single biggest animal slaughter on earth.

Hindus in Nepal routinely offer animals for sacrifice to appease deities for good luck and prosperity.

But the festival held every five years at the Gadhimai temple in southern Nepal was condemned this year by animal rights activists, including French actress Brigitte Bardot, who called for an end to the centuries-old ritual of slaughtering animals.

The temple in Bariyapur is located about 95 miles from Kathmandu, in Nepal's southern plains bordering India.

"We had more than 15,000 buffalo sacrificed. But the number of goats and birds, including roosters and pigeons, sacrificed is countless," Shiva Chandra Prasad Kushawaha, chief of the festival's organising committee, said.

"This reflects the faith of the devotees on Gadhimai, the goddess for power," he told Reuters by telephone.

Scores of butchers carrying big curved knives killed the animals in an open field as thousands of devotees stood by, witnesses reached by phone said. More than 80 percent of Nepal's 27 million people are Hindus.

"It is a tradition and people's faith. How can any protests stop that?" asked Mangal Chaudhary, chief priest of the temple, adding there were no protests.

Some devotees said they were offering animals for sacrifice in the hope of being blessed with a son, preferred by many parents in Nepal and India. Thousands of devotees also travelled from neighbouring India for the festival

|TOP|

---
Opening Camps

Sri Lanka says people held in special camps since the end of the conflict with Tamil Tiger rebels will be allowed out for short periods from next month.

An aide to the president also confirmed a pledge to close the facilities, which house more than 130,000 people.

They were set up in the country's north for Tamils fleeing the final stages of the civil war, which ended in May.

Sri Lanka has drawn strong international criticism for holding people in the camps against their will.

The latest government announcement was made by the special adviser to President Mahinda Rajapaksa, his brother Basil, on a visit to the largest camp, Menik Farm.

Earlier, UN humanitarian chief John Holmes urged Sri Lanka to allow them to leave, following a visit to the camp.

Addressing a group of displaced people, Rajapaksa said that from Dec. 1 the camps would no longer be closed sites. People will now be free to leave them for a day or two at a time, to visit friends and relatives, for example.

Those displaced — many of whom had been held as human shields by the rebels — were forced into hastily built camps.

Criticized for keeping them there against their will, the government insisted that incarceration was necessary while the refugees were being screened for possible links with the rebels.

|TOP|

---
Agni II Launched

India has test-fired its intermediate-range nuclear-capable ballistic missile, Agni-II.

The surface-to-surface missile was test-fired off an island in Orissa state in eastern India, officials say.

With a range of more than 2,000 km (1,250 miles), the missile can carry a nuclear payload of 1,000 kg.

The Agni series are among India's most sophisticated missiles. A long range version was successfully test-fired last year.

The Agni-III missile, tested last year, has a range of more than 3,000km (1,865 miles) and could hit targets as far off as Beijing and Shanghai, analysts say.

The Agni-I has a range of 750 km (470 miles).

The Agni (literally "fire" in Hindi and Sanskrit) missile family is believed to be the mainstay of the Indian missile-based strategic nuclear deterrence.

|TOP|

---
May Contest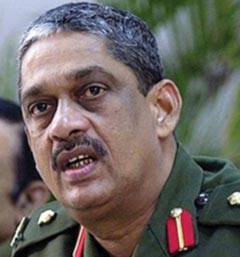 (Right): Gen Sarath Fonseka

An influential Sri Lankan opposition party says it has invited former military chief Gen Sarath Fonseka to be its presidential candidate.

The People's Liberation Front said it had come to an agreement with the general that he would be a "common opposition candidate."

Gen Fonseka, who led troops to victory over Tamil Tiger rebels earlier this year, has yet to confirm his candidacy.

President Mahinda Rajapaksa has revealed plans to hold elections early.

However no date has been set.

The authorities Nov. 23 announced the vote would be held soon and the governing Sri Lanka Freedom Party has now started campaigning for the election.

Around the country blue posters are being plastered on walls, showing the white-clad President Rajapaksa with his arms aloft, and the slogan "heroism serving the country, leadership to develop the country."

President Rajapaksa says he will hold an early election as his government has completed within four years the bulk of its six-year workload.

Gen Fonseka, former chief of defense staff, resigned from his post earlier this month following differences with the government over who should take credit for defeating the rebels.

A spokesman for the main opposition coalition said that it was still considering whether to endorse the general's candidacy.

|TOP|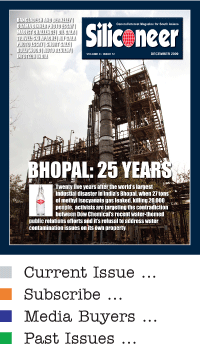 Click here to read the Current Issue in PDF Format
COVER STORY
Toxic Legacy:
Bhopal Disaster
A 1984 industrial disaster has killed over 20,000 people in Bhopal. Activists are determined not to allow the plight of victims to be brushed aside. A report by Anu Mandavilli.
SYMPOSIUM
Bangladesh:
Hopes and Challenges
In a symposium headlined by Bangladesh's UN envoy, Berkeley academics highlighted challenges of contemporary Bangladesh. A Siliconeer report.
COMMUNITY
Trucking to School:
DIL Gala 2009
The SF chapter of DIL, which teaches close to 16,000 students in Pakistan, held a fundraiser, writes Ras H. Siddiqui.
OTHER STORIES

EDITORIAL: Bhopal, 25 Years
NEWS DIARY: November
U.S.-INDIA TIES: Manmohan Singh in U.S.
SUBCONTINENT: The Maoist Challenge
RECIPE: Navratan Korma
REAL ESTATE: Short Sales: Myths, Reality
SUBCONTINENT: Battling Corruption
TRAVEL: Ski Apache, New Mexico
AUTO REVIEW: 2010 Toyota Prius
BOLLYWOOD: Film Review: Tum Mile
BOLLYWOOD: Guftugu
TAMIL FILM: Pazhasiraaja
EVENT: India Rising: AIF Gala
COMMUNITY: News Briefs
INFOTECH INDIA: Briefs
HOROSCOPE: December
---
ENTERTAINMENT

2009 IIFA Awards, Macau
A Siliconeer Exclusive Photo Essay
---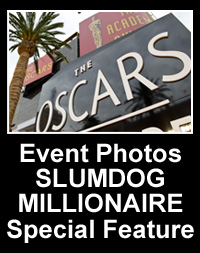 ENTERTAINMENT

81st Annual Academy Awards
A Siliconeer Exclusive Photo Essay
---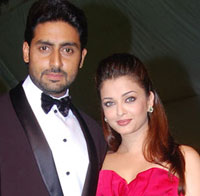 ENTERTAINMENT

IIFA Awards 2008
A Siliconeer Exclusive Photo Essay
---