RECIPE:
Delicious Favorite: Chicken Tikka


From the kitchen of chef Sanjay Patel here's a recipe for a delicious blend of veggies and cheese that is mild and creamy, perfect for kids.
---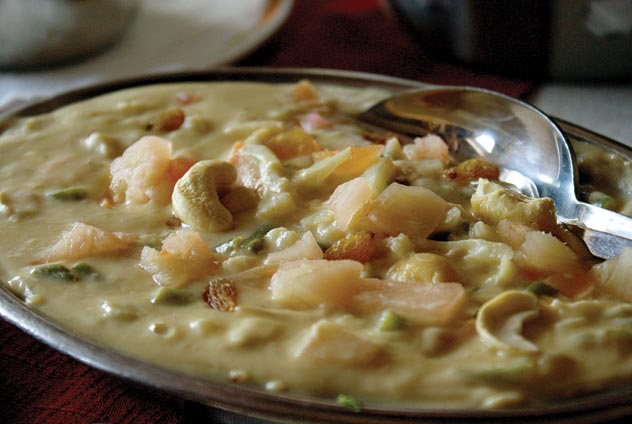 (Above): Navratan Korma

---
Ingredients

3 cups boiled vegetables (nine varieties: potatoes, carrots, green peas, french beans, cauliflower, capsicum, cabbage, bottle gourd, cluster beans)

150 gm grated paneer

3 tomatoes

2 grated onions

1 1/2 tsp ginger paste

1 1/2 tsp garlic paste

salt to taste

1 tsp turmeric powder

1 1/2 tsp red chilli powder

1 tsp coriander powder

2 tsp Garam Masala Powder

2 tbsp cream

6 tbsp vegetable oil

1 tbsp ghee

1 cup milk / water

1/4 cup dry fruits (cashew nuts, raisins)

coriander leaves for decoration

Method:

Boil tomatoes till tender. Allow them to cool. Peel off the tomato skin to make puree. Readymade tomato puree can also be used.

Take 1 tbsp ghee and slightly fry the dry fruits for about 1 min on medium heat.

Heat oil in a pan. Fry onions and ginger-garlic paste till golden brown.

Add salt, turmeric powder, red chilli powder, coriander powder, garam masala and fry for 2-3 minutes.

Next add tomato puree and dry fruits. Stir well and cook the mixture for 4 minutes. Ensure that the mixture doesn't stick to bottom of pan.

Add milk (use water alternatively). Bring it to boil. Reduce the heat and cook until the gravy becomes thick.

Add paneer to the gravy and stir well.

Finally add all the vegetables to the above gravy and cook for 5-7 minutes.

Serve hot. Decorate with cream and chopped coriander leaves.