COVER STORY
Toxic Legacy: Bhopal After 25 Years

Twenty-five years ago, 27 tons of lethal methyl isocyanate gas leaked from a Union Carbide plant. Over 20,000 people have died, and 100,000 more still suffer severe, chronic and disabling illnesses, but Dow Chemical refuses to accept responsibility. Supporters of Bhopal disaster survivors are determined not to allow the plight of victims to be brushed aside. A report by Anu Mandavilli.
---
(Above): These widows live in an area of Bhopal called the Widows Colony which was specially built to house female survivors of the gas disaster.
(Cover photo): The overgrown MIC plant inside the abandoned Union Carbide factory in Bhopal. The factory still lies derelict some 24 years later. (All photos: David Graham)
---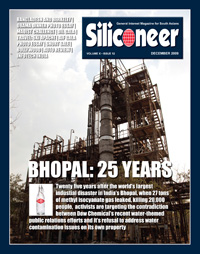 Earlier this year, on a warm day in July, Satinath Sarangi, an activist with the International Coalition for Justice in Bhopal and managing trustee of the Sambhavna Clinic in Bhopal, found himself in London talking about "B'Eau Pal." He was one of several protesters that converged on Midland, Mich.-based Dow Chemical's offices near London, and handed out toxic bottled water from Bhopal to highlight the plight of locals still suffering 25 years after the world's largest industrial disaster.

"B'Eau-Pal: Our Story" — reads the label on the bottle of water from Bhopal —
"the unique qualities of our water come from 25 years of slow-leaching toxins at the site of the world's largest industrial accident. To this day, Dow Chemical (who bought Union Carbide) has refused to clean up, and whole new generations have been poisoned."

The launch of "B'Eau Pal" water comes as activists and supporters worldwide prepare to mark the 25th anniversary of the leak of 27 tons of lethal methyl isocyanate gas, as a result of which 20,000 people have died, and 100,000 more still suffer severe, chronic and disabling illnesses: victims are plagued by breathing difficulties, damaged eyesight, reproductive complications, rising cancer rates and a range of other ailments owing to the effects of ongoing contamination. Dow has refused to accept liability for the clean-up of toxic waste from the plant which continues to contaminate local groundwater.



Dec. 3: International Day of Action

• At exactly 12:05 p.m. Dec. 3, 25 people will "Die-In" in Union Square in San Francisco, holding visuals from Bhopal. The 25 people will each represent 1,000 people who died in Bhopal Dec. 3, 1984 and in the subsequent years. Accounts from the disaster will be read while the 25 people symbolically "die."

• A candlelight vigil will take place on the UC Berkeley campus at 6 p.m. The vigil will be a remembrance of the tragedy of Dec. 3, 1984 and a tribute to the 25 years of courageous and hopeful resistance led by survivors of Bhopal. Speakers from a broad coalition of allies will represent the international movement for justice that will continue on after this important anniversary. The vigil will be held at Sproul Plaza (near the South Gate on Bancroft).

• Amnesty International and Students for Bhopal (www.studentsforbhopal.org) will hold a peaceful rally and vigil with speakers outside of the Indian Consulate from 4:30-6:00 p.m. Dec. 3. The protesters will remember Bhopal and talk about the "Other Bhopals" happening in Ontario and around the world. Later that night, the band Autorickshaw will host a CD release concert. The album, featuring the new song, "City of Lakes," will help support the Sambhavna Clinic in Bhopal.

• The Yes Men (www.theyesmen.org) will be leading an action in NYC with hundreds of students. The students will spell out "DOW" while others will hold signs saying "Clean up Bhopal," creating a massive image no one can ignore.

• Boston 4 Bhopal will host a "Fast for Bhopal" rally in Copley Square at 12:00 p.m. Dec. 3. Participants will fast, sign petitions, exhibit photos and stage a "die-in" to show solidarity and support for Bhopal gas tragedy survivors.


The bottled water action was inspired by the contradiction between Dow's recent water-themed public relations efforts and it's refusal to address the water contamination issues at its own property. In March 2009, in an extraordinary and brazen attempt at Greenwashing, Dow declared that it was partnering with non-profit organizations and businesses to address drinking water problems in developing countries. Even as it continued to ignore water contamination in Bhopal, Dow's publicity materials touted its commitment to the "most basic human need — safe drinking water."

The protest involving "B'Eau Pal" appealed to some in Michigan's Saginaw River watershed, where dioxin contamination from Dow's plant has contaminated homes, wells, parks, and caused health concerns for thousands of people. Indeed, Dow is the 11th top corporate air polluter in the U.S., according to PERI, the Political Economy Research Institute, an independent unit of the University of Massachusetts, Amherst.

The launch of "B'Eau Pal" also coincides with the release of an official report by the Sambhavna Trust showing that local groundwater is contaminated by toxic quantities of nickel, chromium, mercury, lead, and volatile organic compounds.


The report, which will be released just two days before the 25th anniversary of the disaster, demonstrates that there are still high levels of toxic chemicals in the drinking water supply in 15 communities near the old Union Carbide pesticide plant. The report, "Analysis of Chemical Contaminants in Groundwater of Communities Surrounding UCIL Plant Site in Bhopal," can be accessed on www.bhopal.org and on www.studentsforbhopal.org. The study was undertaken by the Bhopal Medical Appeal (a U.K.-based registered charity) and the Sambhavna Trust Clinic, Bhopal, which is the only place that offers free treatment to sufferers of both the 1984 chemical gas disaster and the present day water poisoning. This report analyzes test results from as recently as June 2009, and demonstrates that the water in and around the Union Carbide factory site in Bhopal still contains extremely unsafe levels of carbon tetrachloride and other persistent organic pollutants, solvents, nickel and other heavy metals. Not surprisingly, the populations in the areas surveyed have high rates of birth defects, rapidly rising cancer rates, neurological damage, mental illnesses and reproductive abnormalities.

The data in this new report proves that the groundwater aquifer, still used as a source of drinking water by many people, is contaminated with highly toxic chemicals. The report shows that these chemicals were used in the production processes of sevin, carried out at the UCIL plant, and that there is no other possible source for the contaminants. The report demonstrates this fact using a combination of new and previously unpublished test data from accredited laboratories in Switzerland and the United Kingdom, alongside the collated results of previous tests carried out by Greenpeace, NEERI (National Environmental Engineering and Research Institute), and Shristi (a Delhi-based environmental organization).

---
(Right): A child stands in the doorway of her home with her grandmother's caring hand upon her shoulder. She lives in an area of Bhopal where the water is heavily contaminated form the Union Carbide factory. (Photo: David Graham)
---
One of the most disturbing conclusions in the report is that the concentrations of some of the toxins found in the contaminated water are still rising as the chemicals continue to leach through the soil, and into the aquifer. The most recent test sample, from June 2009, shows that levels of carbon tetrachloride have increased by a factor of approximately 2.7 when compared to a previous sample taken from the same source in May 2008. This exceeds the World Health Organization's guidelines and is over 2,400 times the safe level.

There are at least 15 other highly toxic chemicals, present in the drinking water samples tested in this report, at levels that greatly exceed the WHO safety guidelines. There are other chemicals present for which there are no safe guideline values. Many of the chemicals found in the water supply are known, or suspected, carcinogens. For example, carbon tetrachloride is a known carcinogen and was banned from consumer products in the U.S. in 1970.

This report also calls into question the reliability of tests carried out by an Indian laboratory contracted to test the samples. Three duplicate samples were taken at the same time and were sent to an accredited laboratory in Switzerland. The samples sent to the lab in Switzerland showed various chemicals including some in extremely dangerous concentrations. The results also corroborate the findings of previous tests by Greenpeace and others, including the 2002 report by Shristi which concluded: "Groundwater, vegetables and even breast milk is contaminated to various degrees by heavy metals like nickel, chromium, mercury and lead, volatile organic compounds (VOCs) like dichlorobenzene and halo organics like dichloromethane and chloroform."

---
(Above): Piles of forms of compensation claim forms. An estimated 500,000 people received compensation for the disaster. (Photo: David Graham)
---
Human rights, legal, environmental health and other experts are demanding that Dow Chemical, the current owner of Union Carbide, and the Indian government be all held accountable. Specifically, the International Campaign for Justice in Bhopal is demanding that:

The Indian government clean up Bhopal now to prevent further spread of the toxins, and use the courts to get reimbursed by Dow.

Dow's subsidiary, Union Carbide, show up in court to face trial in the ongoing criminal proceedings against them in India.

The Indian government establish the "empowered commission" that they promised in August 2008 to address the health, environmental, social, and economic issues in Bhopal.

The Indian government finish building pipelines to bring clean water to the people in and around Bhopal immediately.

In addition to this report being released, Dec. 1, hundreds of supporters around the world will be participating in an International Day of Action Dec. 3 (See details of events in box). The Day of Action will include mass rallies, symbolic "die-ins", candle-lit vigils, concerts, protests and more. Over 100 actions are being planned around the globe, from Bhopal to London, and San Francisco to Tel Aviv.