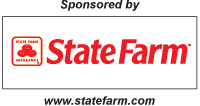 AUTO REVIEW:
The 50 mpg Whiz: 2010 Toyota Prius


The folks who design the Toyota Prius continue to push the envelope in innovation, and their latest model, with an 50 mpg EPA estimate and innovative technology worth 1,000 patent applications, is no exception, writes Sally Miller Wyatt.
---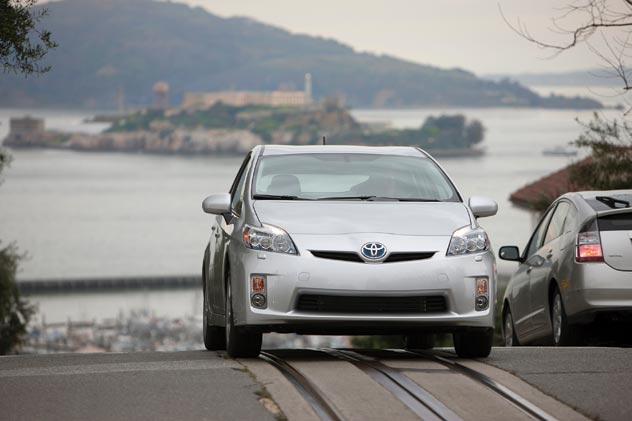 (Above): Exterior view of the 2010 Toyota Prius

---
Three and 50 are important numbers for the 2010 Toyota Prius. The Prius is now on its third generation — already! — and 50 is the number of combined miles per gallon you're going to get in this innovative hybrid vehicle, according to the EPA. Fifty miles per gallon! After putting on all the miles we parents are prone to drive in the course of a day – from navigating our way to school, sports practice and music lessons, doctor's appointments and grocery stores – making one less stop at the gas station is priceless. And don't be surprised if, after logging all those daily miles, you find yourself tapping the fuel gauge. Can it really still be stuck on full?

Here's one more interesting statistic: In developing the Prius, designers filed more than 1,000 patent applications worldwide.

In addition to the better mileage ratings, the all-new 2010 Prius offers other features, such as a quieter, roomier passenger cabin; a newly developed Hybrid Synergy Drive system that offers significant improvements over previous versions; increased horsepower; several new technological advances and some nice features.

---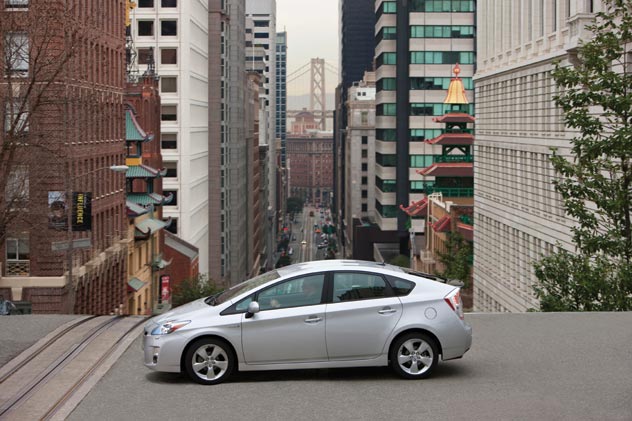 (Above): Exterior view of the 2010 Toyota Prius

---
Forward-thinking people will appreciate the fact that Prius' are built using processes that reduce emissions not only while on the road, but all along the road of the car's life cycle, from development, design and production, to even disposal at the end of the car's days.

A bit of history here: The first generation Prius earned a 41 EPA combined rating. By using new technologies, Toyota was able to increase fuel efficiency so that the 2010 versions should get 51 mpg in city driving, and 48 mpg for highway driving, for that combined rating of 50. This is accomplished in part because of the 2010 Prius' new, larger engine and a new exhaust gas recirculation system and electric water pump, which combined help to increase efficiency. A larger 1.8-liter, four-cylinder engine, together with the electric motor, now produce 134 horsepower, an increase of 24 horsepower over previous versions.

The 2010 Prius offers four driving modes. There is Normal; the available EV Mode which allows driving on battery power alone at low speeds for about a mile; Power Mode for a sportier feel; and Eco Mode, which helps drivers achieve their best fuel mileage.

---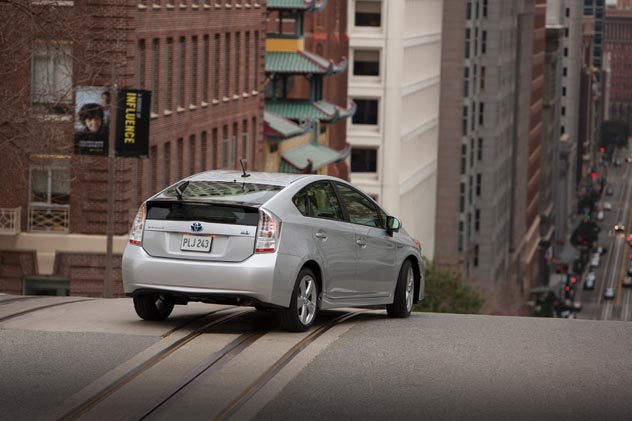 (Above): Exterior view of the 2010 Toyota Prius

---
The exterior design of the 2010 Prius retains its familiar triangular look, although the rear roof has been altered a bit. The change adds almost four inches of rear head room, which is appreciated by those passengers. The rear cargo area — which is pretty good-sized to begin with — is now .04 inches longer and 2.2 inches wider.

If you opt for the sliding glass moon roof, it comes with solar panels that will power a new ventilation system that helps keep the car cooler when the car is parked in the sun. That means a need for less air conditioning. There is also a remote air conditioning feature available. It runs on battery power and lets you cool the interior of the car before even getting into it. What blistering hot summer day wouldn't be made more pleasant with that feature?

---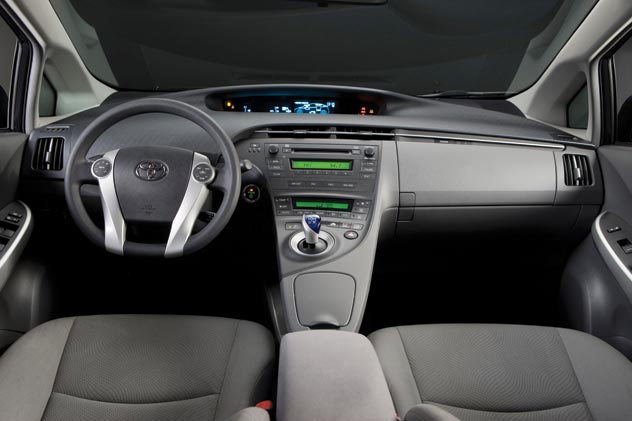 (Above): Interior view of the 2010 Toyota Prius

---
There's an impressive collection of safety features on board: Advanced Airbags, front and rear side curtain air bags, driver and passenger seat-mounted side air bags and a driver's knee air bag are standard. Active head rests in the front reduce the risk of whiplash injury. Included in Toyota's Star Safety System are Anti-lock Brakes, Electronic Brake Distribution, Brake Assist, Traction Control and enhanced Vehicle Stability Control. A feature to help you stay in your lane — called Dynamic Radar Cruise Control — is an option and it also includes a Pre-Collision System which retracts seatbelts and applies the brakes when a crash is unavoidable.

On the road, you'll find visibility to the front and sides is good, but the rear window is partially obstructed. The Prius handles well, and has good acceleration without a lot of hesitation, whether you're on city streets or reaching freeway speed. The seats are very comfortable, and the rear bench seat is not restrictive, even for that feared rear middle position. I was impressed with the Prius' trunk size. A week's worth of groceries or all the kids sports equipment should fit in here without any problem.

---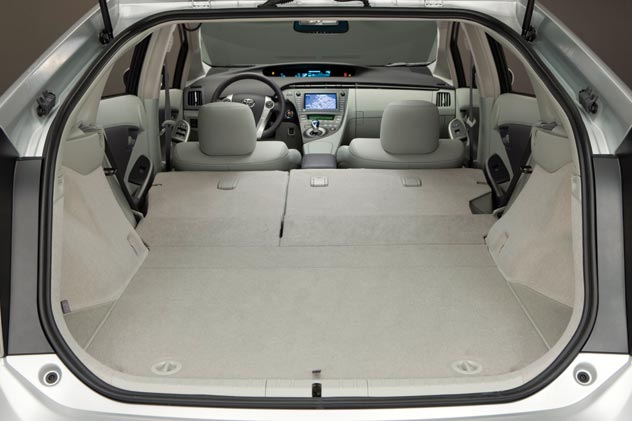 (Above): Interior view of the 2010 Toyota Prius

---
The 2010 Toyota Prius has a lot going for it. You've got the peace of mind that comes with a full array of state-of-the-art safety features; plenty of room for you and the kids; very thrifty gas mileage and the knowledge that this car was created to leave a very small footprint on the environment, all the way from its initial design to the scrap yard, and every mile in between.

Today's Test Drive – 2010 Toyota Prius

Base Price: $23,000
Price as Tested: $24,309
Engine: 1.8-liter DOHC 16 valve four-cylinder
Horsepower: 134 hp
Mileage: 51/city, 48/highway

Sally Miller Wyatt is a freelance writer who writes family-oriented auto reviews for newspapers, magazines and the Web.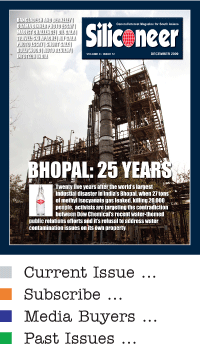 Click here to read the Current Issue in PDF Format
COVER STORY
Toxic Legacy:
Bhopal Disaster
A 1984 industrial disaster has killed over 20,000 people in Bhopal. Activists are determined not to allow the plight of victims to be brushed aside. A report by Anu Mandavilli.
SYMPOSIUM
Bangladesh:
Hopes and Challenges
In a symposium headlined by Bangladesh's UN envoy, Berkeley academics highlighted challenges of contemporary Bangladesh. A Siliconeer report.
COMMUNITY
Trucking to School:
DIL Gala 2009
The SF chapter of DIL, which teaches close to 16,000 students in Pakistan, held a fundraiser, writes Ras H. Siddiqui.
OTHER STORIES

EDITORIAL: Bhopal, 25 Years
NEWS DIARY: November
U.S.-INDIA TIES: Manmohan Singh in U.S.
SUBCONTINENT: The Maoist Challenge
RECIPE: Navratan Korma
REAL ESTATE: Short Sales: Myths, Reality
SUBCONTINENT: Battling Corruption
TRAVEL: Ski Apache, New Mexico
AUTO REVIEW: 2010 Toyota Prius
BOLLYWOOD: Film Review: Tum Mile
BOLLYWOOD: Guftugu
TAMIL FILM: Pazhasiraaja
EVENT: India Rising: AIF Gala
COMMUNITY: News Briefs
INFOTECH INDIA: Briefs
HOROSCOPE: December
---
ENTERTAINMENT

2009 IIFA Awards, Macau
A Siliconeer Exclusive Photo Essay
---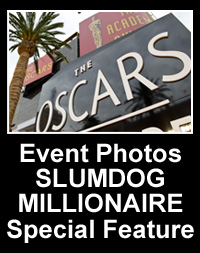 ENTERTAINMENT

81st Annual Academy Awards
A Siliconeer Exclusive Photo Essay
---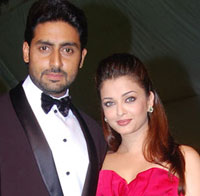 ENTERTAINMENT

IIFA Awards 2008
A Siliconeer Exclusive Photo Essay
---