MONTHLY HOROSCOPE:
DECEMBER 2009 - By Pandit Parashar
Sponsored by: Ashok K. Gupta, CDPE | HappyLiving4u | www.happyliving4u.com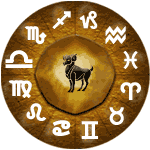 ARIES (March 21 to April 20): You will cut corners and start saving money from now on. Planets are favorable to make a career move. Some of you may accept assignments away from home. Value of assets and stocks will appreciate. Chances of receiving money through legal matters is very likely.

TAURUS (April 21 to May 20): Stay focused on real issues. You will overcome all hurdles. Financially, you will meet commitments on time. Some of you will put in extra hours to please your boss. You may receive valuable gifts from in-laws. You will be called for a second interview very quickly.

GEMINI (May 21 to June 20): Let the opponents make the first move. Strong Venus will provide divine protection from the bad. You may experience burning sensation in stomach. You may dispose-off profit making stocks. Venus may take you too close to an attractive personality. Bank balance will grow.

CANCER (June 21 to July 22): Concentration of planets will bring positive changes in career. Assignment will be challenging but rewarding. You will make good use of time and enjoy. Some money may be spent towards a future trip. New relationship will be exciting but do not open up too soon. You will spend money on yourself.

LEO (July 23 to August 22): You will feel motivated and highly energetic. Things will take shape the way you want them. You will resolve unnecessary issues. You may also start light exercises to improve health. You may also complete important paper work and file them with proper authorities.

VIRGO (August 23 to September 22): A change of diet will bring health-related issues under control. You will be looking into a business proposal. You will spend money on a project and quickly recover your cost. Spouse will be nervous at your fast decisions. You will plan for travel.

LIBRA (September 23 to October 22): A slight miscalculation can lead to debt and increase liability permanently. Be careful in all financial matters. You will have the chance to relax with friends and relatives. Do not hesitate to grab any opportunity. You may be working on replacing an old vehicle.

SCORPIO (October 23 to November 22): Weak Mars will increase stress levels and could have side effects. Try to stay calm. You will travel to a beautiful place for business or an interview. There will be improvements in overseas projects and you might plan for a trip. Money wise you will be comfortable.

SAGITTARIUS (November 23 to December 22): Letters you write will get quick and favorable response. Property deal will go well. You will recover old dues. You will travel for business. Someone close will be jealous of your success. You will participate in charity or religious activity with family.

CAPRICORN (December 22 to January 19): This is the right time to launch a project. Expect progress on all fronts. A reliable group will make a very lucrative offer. Any relationship started now may become permanent later. Read all papers twice before mailing them. You will pay more attention to the needs of a child.

AQUARIUS (January 20 to February 18): A female could be the root cause of problems. Boss will be on your side and you will get justice in court of law. You will meet all commitments and will still have a lot left for future. Your past good deeds will make you popular in social circles. Do not go out of your way to help others.

PISCES (February 19 to March 20): Change will be better so grab the opportunity. You may lose money on purchasing unnecessary items. You will spend time with hardworking people and learn useful tricks. Strong Venus will let you enjoy life and food you relish. Businessowners will look for new vendors to reduce their costs.

Bay Area-based astrologer Pandit Parashar can be reached at: pandit.parashar@gmail.com.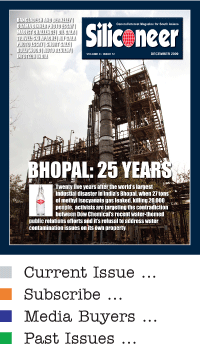 Click here to read the Current Issue in PDF Format
COVER STORY
Toxic Legacy:
Bhopal Disaster
A 1984 industrial disaster has killed over 20,000 people in Bhopal. Activists are determined not to allow the plight of victims to be brushed aside. A report by Anu Mandavilli.
SYMPOSIUM
Bangladesh:
Hopes and Challenges
In a symposium headlined by Bangladesh's UN envoy, Berkeley academics highlighted challenges of contemporary Bangladesh. A Siliconeer report.
COMMUNITY
Trucking to School:
DIL Gala 2009
The SF chapter of DIL, which teaches close to 16,000 students in Pakistan, held a fundraiser, writes Ras H. Siddiqui.
OTHER STORIES

EDITORIAL: Bhopal, 25 Years
NEWS DIARY: November
U.S.-INDIA TIES: Manmohan Singh in U.S.
SUBCONTINENT: The Maoist Challenge
RECIPE: Navratan Korma
REAL ESTATE: Short Sales: Myths, Reality
SUBCONTINENT: Battling Corruption
TRAVEL: Ski Apache, New Mexico
AUTO REVIEW: 2010 Toyota Prius
BOLLYWOOD: Film Review: Tum Mile
BOLLYWOOD: Guftugu
TAMIL FILM: Pazhasiraaja
EVENT: India Rising: AIF Gala
COMMUNITY: News Briefs
INFOTECH INDIA: Briefs
HOROSCOPE: December
---
ENTERTAINMENT

2009 IIFA Awards, Macau
A Siliconeer Exclusive Photo Essay
---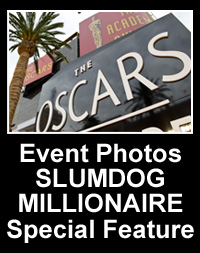 ENTERTAINMENT

81st Annual Academy Awards
A Siliconeer Exclusive Photo Essay
---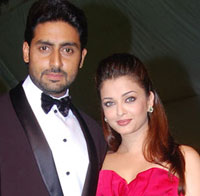 ENTERTAINMENT

IIFA Awards 2008
A Siliconeer Exclusive Photo Essay
---