TRAVEL:
Romantic Ski Country: Ski Apache, New Mexico


Say New Mexico, and any dedicated skier thinks of Taos, but Ski Apache is the most romantic and legendary ski country in all of New Mexico, and all of ski country, writes a clearly smitten Al Auger.

---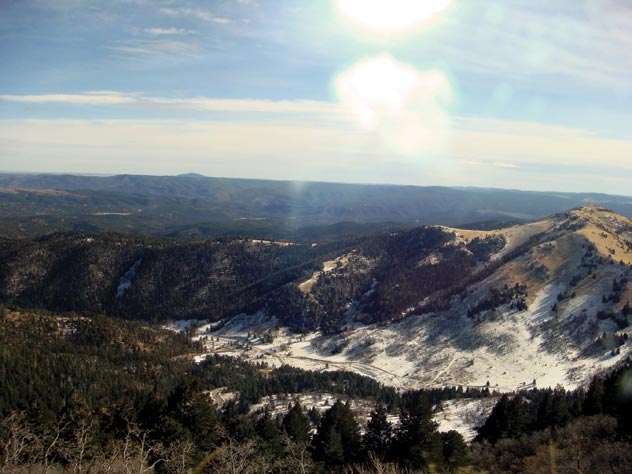 (Above): Ski Apache, New Mexico.

---
There is one God looking down on us all. We are all the children of one God. The sun, the darkness, the winds are all listening to what we have to say. — Geronimo

Say "New Mexico" to any dedicated skier (is there any other kind?) and a glaze will quickly cover their eyes and a sleepy smile develops. "Yeah, Taos, man. The martini tree, moguls, deep steep. Oh, yeah, Taos." All true; Taos has become a legendary ski resort and the memory of another legend, Taos' founder, Ernie Blake.

But, I'm going to tell you a tale of one of the most romantic and legendary ski country in all of New Mexico, in all of ski country. If you want legends, think Geronimo, Cochise, Chief Victorio and the list goes on.

---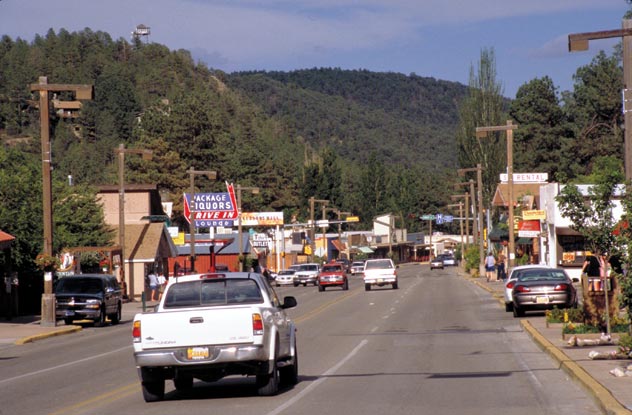 (Above): The funky town of Ruidoso, New Mexico, is more reminiscent of Truckee, Calif., than Aspen, Colo.

---
According to their own sense of history, no name was so feared and respected than that of the Mescalero Apache. Hundreds of years before the white man began its attempt of genocide, the Mescalero Apache roamed over a wide swatch of the Southwestern country from what is now Texas to Arizona to Chihuahua and Sonora, Mexico. Today, the town of Ruidoso (pronounced ree-a-dough-so) sits at the bottom of one of the most intriguing ski resorts in the U.S., Ski Apache.

It all began thousands of years ago, according to the legend of the Mescalero Apache tribe.

A group of Indian hunters were lost on the peak of Sierra Blanca Mountain when they came upon an ice cave. The hunters climbed in to die when a mountain god appeared and showed them the way to safety. Since that time the Sierra Blanca has been considered a mountain sacred to the Mescalero Apache tribes.

Ski Apache is situated on Lincoln National Forest land and Mescalero reservation land just east of the Sierra Blanca peak. Owned by the tribe, the base lodge sits at 9,600 feet peaking at 11,500 feet. You like Taos steep and deep? Ski Apache has pitches so steep, at 32 and 38 degrees, that grooming is done by winch-cats. There are 10 lifts, mostly triples and quads plus a top-to-bottom gondola. The lifts serve 55 runs plus the Boneyard terrain park over 750 skiable acres.

As you might expect for a ski resort just 13 miles from El Paso, the slopes are populated by a plethora of 10-gallon hats and bourbon. This experience brought back an earlier moment in time on our tour of New Mexico ski resorts. We became educated about Texas skiers at another mostly unknown ski area outside of New Mexico, Angel Fire. Angel Fire is one of those "comfortable" ski resorts with mostly long and quite negotiable run covered by some the sweetest ego sugar powder to be found.

---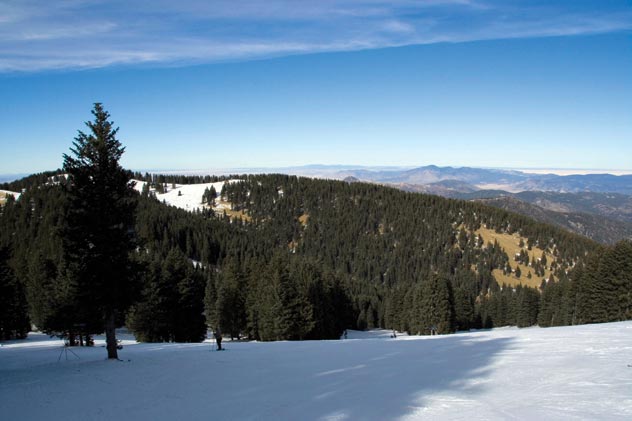 (Above): Ski Apache. View from the top.

---
Texans are a breed apart when it comes to skiing — anywhere. According to our guide at Angel Fire, "They all come looking for black diamond runs (most difficult) and proceed to jam the bumps with wedge skids all the way down. This bit of demographic illumination gave vent to our group of ski journalists to forever tag Texan skiers as "Billy Bobs" doing the "Texas Steer Slide."

Another memorable Texas moment in an almost violent meeting of the bodies occurred as I prepared to brake at the lift entrance when I lost it on some ice and came with inches of plowing (literally) into a skier in line. I apologized profusely and the face under the 10-gallon hat smiled and said "No problem, my friend. Y'all relax and take a nibble from my bota bag." Thinking it was the usual bag of wine I took a healthy swig and immediately went into a paroxysm of coughs. Wine? - No, it was pure Jack Daniels.

With helpful pats on the back, my new Billy Bob friend said, "Boy, y'all ever catch me on the slopes you always got a tug at my bota bag." With that he turned and continued into the lift line. After a few more moments of panic I followed.

Standing on the peak at Ski Apache you can see Sierra Blanca, the sacred tribal mountain of the Mescalero Apaches. Below is a lace of long blue and green runs. On your left is the cliff lined with some the most awesome drops a skier will find. Apache Bowl is one of the largest natural bowls I've skied. You dig moguls? Try the well-named "Terrible" with its long, snaky bumps.

Skiing means appetite, and Ski Apache offers a host of different dining levels in its lodge from the Eagle Cafe cafeteria (You have to try the green chili hamburger) to the Arrowhead Pasta Express, Daily Grind and the Dawg House. An après ski beverage at the full service bar is great to lay back and stretch the truth — just a little — on that last run down "Terrible."

---
(Above): The funky side of Ruidoso, New Mexico.
(Below, right): Road to Ski Apache, with Sierra Blanca in the background

---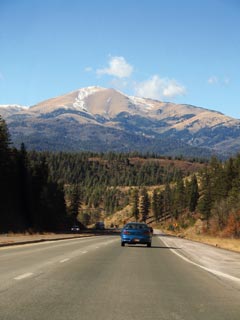 The town of Ruidoso is not your Aspen or Crested Butte ski town. Think Truckee and the word funky. But that doesn't detract from its seductive qualities or fine lodgings and restaurants. The finest meal I had while touring New Mexico was at the Apache-owned and operated Inn of the Mountain Gods and Casino. There are four unique and diverse restaurants at the inn with a singular theme of their own to suit just about everyone's taste. Dance away the night (and those tight thighs) at Club 49.

The inn also features well appointed lodgings at affordable prices.

In Ruidoso there are twenty lodgings with price tags for the ski bum and the immigrant from Aspen. The same can be said about the large choice of restaurants and coffee shops in town. If your focus is looking for art galleries you are going to be pleasantly surprised at the very large number of fine art and indigenous galleries and museums. You could easily be swayed to think you were in Carmel-by-the-Sea.

As we noted in our opening, Ruidoso is a cornucopia of dramatic history wrapped around the legends, myths and tragedies of the Apache tribes. No, I haven't forgotten this is also Pat Garret and Billy the Kid territory. But sitting in the lounge at the Inn of the Mountain Gods each evening we conjured the palpable aura that surrounds this beautiful but blood-scarred country and the honor and respect the Native American is finally getting.

The magnificent courage of Geronimo as he and his tiny battle-scarred tribe of Chiricahua warriors led hundreds of U.S. soldiers and Mexican Federales on a wild goose-chase for months through some of the most unforgiving territory in the Southwest and Northern Mexico will live forever. Geronimo finally surrendered in 1886 with but 16 warriors, 12 women and six children. Cochise, also a Chiricahua Apache, fought the U.S. soldiers for 10 years, never conquered. The list of brave, intelligent and battlefield-tough Apaches is long and of great historical interest. It lives today in Ruidoso with the added benefit of some top-of-the-ladder skiing and 'boarding. For a wonderful history of the people and the celebrated chiefs and legends go to www.skiapache.com.



When You Get There

Ski Apache. Ten lifts mostly triples and quads and a gondola to the peak.

20-percent green trails; 35-percent blue trails; 45-percent black trails; 55 trails and the Boneyard terrain park over 750 skiable acres. Four restaurants and full service bar. Lodgings and restaurants at the Apache-owned Inn of the Mountain Gods at the city base of the road to Ski Apaches.

Lift Prices (2009-2010). Adult: $51; Teen (13-17): $43; Child (under 13): $32; Senior (under 70): $45; Seniors (70-+): Free; Military: $41. Multi-day and group discounts available plus season passes.

Contacts. Ski Apache: www.skiapache.com; Inn of the Mountain Gods: www.innofthemountaingods.com; Ruidoso information: www.ruidoso.net; New Mexico skiing information: www.skinewmexico.com.

---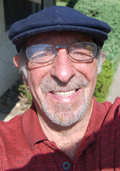 Al Auger is a freelance writer. He lives in Redding, Calif.
---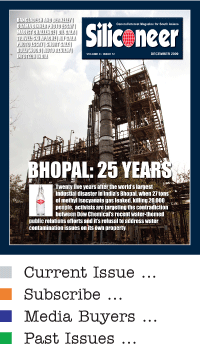 Click here to read the Current Issue in PDF Format
COVER STORY
Toxic Legacy:
Bhopal Disaster
A 1984 industrial disaster has killed over 20,000 people in Bhopal. Activists are determined not to allow the plight of victims to be brushed aside. A report by Anu Mandavilli.
SYMPOSIUM
Bangladesh:
Hopes and Challenges
In a symposium headlined by Bangladesh's UN envoy, Berkeley academics highlighted challenges of contemporary Bangladesh. A Siliconeer report.
COMMUNITY
Trucking to School:
DIL Gala 2009
The SF chapter of DIL, which teaches close to 16,000 students in Pakistan, held a fundraiser, writes Ras H. Siddiqui.
OTHER STORIES

EDITORIAL: Bhopal, 25 Years
NEWS DIARY: November
U.S.-INDIA TIES: Manmohan Singh in U.S.
SUBCONTINENT: The Maoist Challenge
RECIPE: Navratan Korma
REAL ESTATE: Short Sales: Myths, Reality
SUBCONTINENT: Battling Corruption
TRAVEL: Ski Apache, New Mexico
AUTO REVIEW: 2010 Toyota Prius
BOLLYWOOD: Film Review: Tum Mile
BOLLYWOOD: Guftugu
TAMIL FILM: Pazhasiraaja
EVENT: India Rising: AIF Gala
COMMUNITY: News Briefs
INFOTECH INDIA: Briefs
HOROSCOPE: December
---
ENTERTAINMENT

2009 IIFA Awards, Macau
A Siliconeer Exclusive Photo Essay
---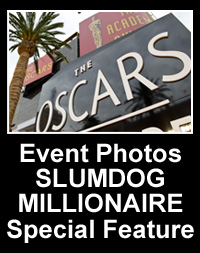 ENTERTAINMENT

81st Annual Academy Awards
A Siliconeer Exclusive Photo Essay
---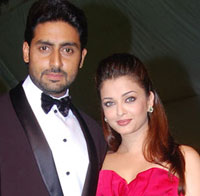 ENTERTAINMENT

IIFA Awards 2008
A Siliconeer Exclusive Photo Essay
---