COMMUNITY:
Remembering Ekushey: Martyrs Honored


The Bay Area Bangladesh Association recreated the ambiance of Martyrs' Day with a replica of Dhaka's Shaheed Minar and offering of flowers in honor of the language martyrs on 1952. A Siliconeer report.
---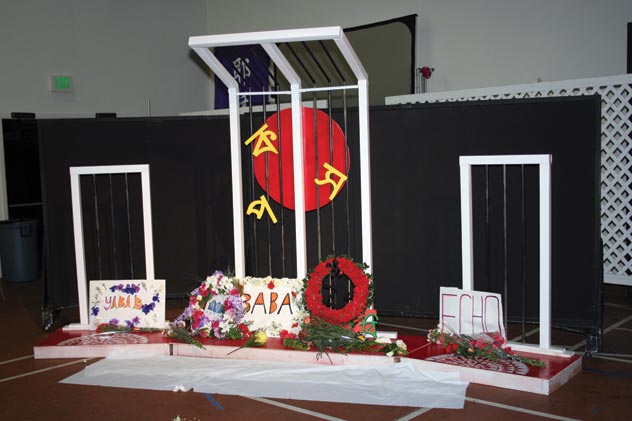 (Above): A replica at BABA's event of the Shaheed Minar in Dhaka that commemorates the martyrs who died defending the right of Bangla to be a state language. [Mahmood Hussain photo]

---
Ekushey February (Bangla for February 21) has a particularly profound cultural resonance for Bangladeshis. On Feb. 21, 1952, students defied an erstwhile government ban on assembly to vociferously demand that their beloved mother tongue, Bangla, be recognized as a state language in the relatively new state of Pakistan. The authorities cracked down, and a few martyrs laid down their lives, galvanizing the Bengalis into a firmer commitment to their language and culture.

In Bangladesh, Ekushey is now a national holiday, a day of paying homage to Bangla. The day is observed by the entire nation, and on midnight sharp the prime minister lays a wreath in memory of the martyrs of 1952.

The Bay Area Bangladesh Association put in considerable effort to recreate the ambiance Feb. 21 in an event in Santa Clara, Calif., with a makeshift model of the Shaheed Minar and offering of flowers, a hallowed tradition in Bangladesh.

In addition, there was a presentation on the history of the Ekushey with valuable information not commonly known. The evening was rounded off with a cultural soiree, with children as well as adults performing songs and reciting poetry.

---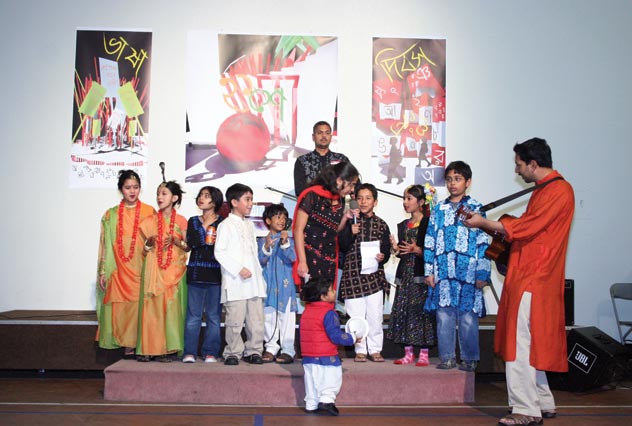 (Above): Children perform a patriotic Bangla song at a BABA event to honor Martyrs' Day. [Mahmood Hussain photo]

---
A host of kiosks sold handicraft and food, and organizers of the North American Bengali Conference, slated to be hosted July 2-4 in San Jose, Calif., held an outreach for Bangladeshi Americans where they registered interested persons.

An ambitious plan to build a center for Bangladeshi Americans in the Bay Area was highlighted in a presentation. A call was made to members of the audience for a monthly donation.

The turnout was considerable, well over a few hundred, which is noteworthy, given the dicey weather.

The organizing could use some streamlining, however. Events not only started later than scheduled, there were signs of lack of coordination elsewhere, too. The prabhat pheri or procession to offer flowers froze into stillness a few times, with participants appearing to be at a loss. The sound system left a lot to be desired, especially during the children's performance.

Of course, attendees must share part of the blame as well. Bangladeshis are impossibly difficult to organize at events like this, and organizers deserve all sympathy as they tried frantically to get people to take their seats and get started.

People who attend these event put a premium on socializing, so organizers would do well to keep that in mind. Presentations in particular, should be kept very, very brief, otherwise organizers will lose the audience quickly. (Not that much keen interest was evident anyway. The loss was the audience's, because especially in the Ekushey presentation, there was much that merited attention.)

It is also incumbent on attendees to be a bit more respectful of the event's agenda. Socializing is well and good, but organizers put in a lot of effort to put together events like this, and they deserve some consideration.