HINDI FILM REVIEW:
Masala with Heart: 'Billu'

Rating: *** (Good)
'Billu'

Directed by: Priyadarshan
Music: Pritam Chakraborty
Cast: Irrfan Khan, Lara Dutta, Om Puri, Asrani with cameo appearances by Shah Rukh Khan, Deepika Padukone, Priyanka Chopra and Kareena Kapoor.
---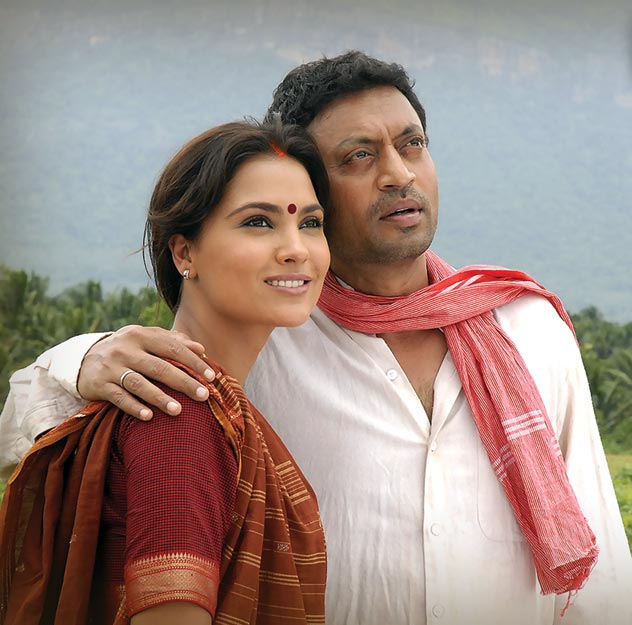 (Above): Lara Dutta and Irrfan Khan in "Billu."

---
Although afflicted by excesses common in your standard Bollywood masala potboiler, there is a kernel of goodness in Shah Rukh Khan's production Billu, but boy, do you have to dig deep for it!
The main plot is your standard fairy tale stuff (and who of us can say we didn't enjoy it when we were kids?)

Many a time in a fairy tale the protagonist is an ordinary person, say a farmer, whom everybody else writes off as a simpleton. But in time, we all realize that he is actually a person of simple but solid moral values, and it is his detractors who are wrong.

Such is the case of Billu aka Bilas Rao Pardesi (Irrfan Khan), a struggling barber whose business is about to be destroyed by a more ostentatious competitor. He has two kids — Duggu (Pratik Dalvi) and Gunja (Mitali Mayakar) — and wife Bindiya (Lara Datta) who is at her wit's end in trying to reform a husband who lacks the drive to make it big.

---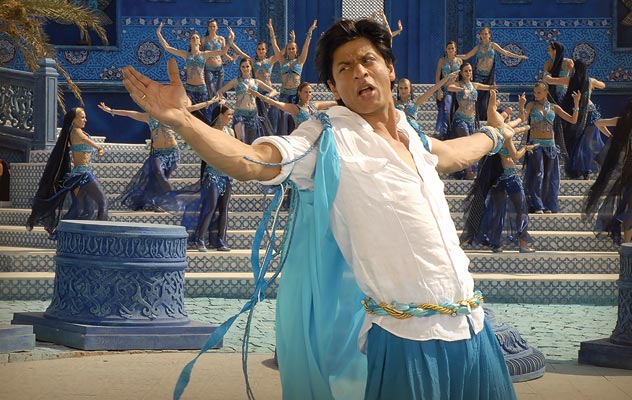 (Above): Shah Rukh Khan in "Billu."

---
Billu, despite the financial challenge from his competitor, is extraordinarily calm. He has a set of values that he lives by — live honestly, and within your means. If that means wife is frustrated, or the kids don't give him too much respect, so be it.

Amidst all this, a film shoot with the appearance of Bollywood super star Sahir Khan (Shah Rukh Khan) turns the village upside down.

Star-crazy villagers flock to watch the shoot, the school board is desperate to have Sahir come and address the school day celebrations, the local goon Damchand (Om Puri) wants to have Sahir over for dinner.

Word gets around that Billu is actually an old chum of Sahir. All hell breaks loose as the unassuming Billu is accosted by all and sundry including wife and kids to be a conduit for meeting the great Sahir Khan.


---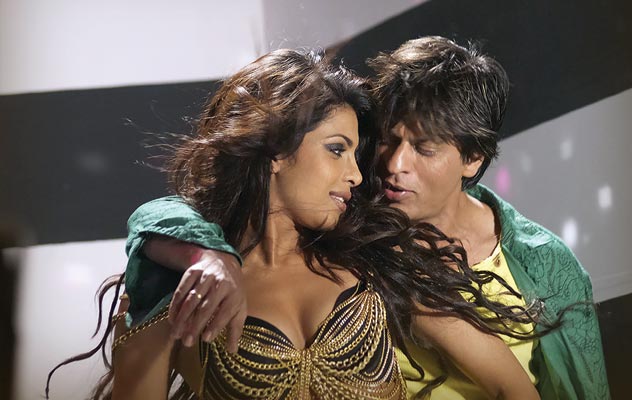 (Above): Priyanka Chopra and Shah Rukh Khan in "Billu."

---
But Billu does not appear to have the slightest intention to indulge either the villagers or his star-struck wife and kids. Now that's easier said than done, because at some point, the pressure gets to be too much. So he does make a few hamhanded overtures, but that does not get him or the avid villagers anywhere.

Things start to turn ugly for Billu as villagers turn on him, their briefly-found awe of him as a friend of the great Sahir Khan now quickly souring into contempt and outright rage.

How Billu deals with it all, with a dramatic twist at the end, completes the rest of the film.

As the reader can tell, there are several elements of truth in the story line, and Priyadarsan, whose forte is comedy, uses them well for comic effect. The complete madness that can seize an individual or a group of people at the arrival of a film star is something that one witnesses right here in the Bay Area at the Bollywood star shows where elderly matrons can swoon at the sight of King Khan.


---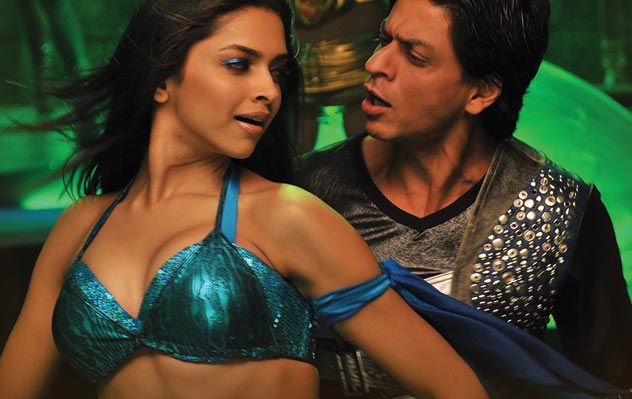 (Above): Deepika Padukone and Shah Rukh Khan in "Billu."

---
The selfish, all consuming craze that leads the village to shower Billu with adulation, just to wrangle a meeting with Shah Rukh, is also quite plausible, as is their mean-spirited animus against Billu when they suspect that nothing is going to happen.

The problem with Priyadarshan's treatment is that he sometimes carries the theme of star-struck villagers to extremes to extract every last drop of comedy, with the effect sometimes a bit cheesy and slapstick at times.

Nonetheless, given the asinine plot lines and implausible, goofy stuff that infects every other Bollywood potboiler, Billu has a plausible, believable premise. The film's critical flaw for Bollywood fans, I would argue, lies elsewhere.


---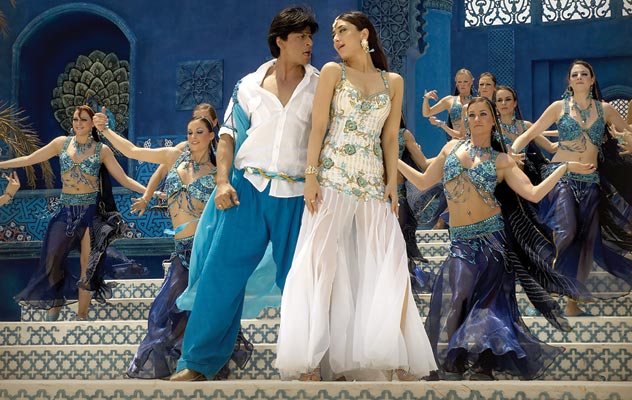 (Above): Kareena Kapoor and Shah Rukh Khan in "Billu."

---
There is a strange feeling of bait and switch in the film. Shah Rukh is in the film, but he is a film star playing a film star who isn't quite the central character. The film has some of the hottest Bollywood heroines — Deepika Padukone, Priyanka Chopra and Kareena Kapoor — but between the three of them there isn't a single word of dialogue.

So what are they doing there? You guessed it — it's our old Bollywood friend the item song.

And there's the rub. Shah Rukh bhai, if you are in a film, either you play the main role, or stay out of it. I don't think the janta can quite handle the idea of Bollywood's biggest superstar playing a cameo. It just distracts from the main characters too much.

Which is a shame, because Irrfan gives one of his finest performances. The janta, I suspect, get to see Shah Rukh all right, but like the villagers in the film, it is nowhere close to as much as they would like to see.


---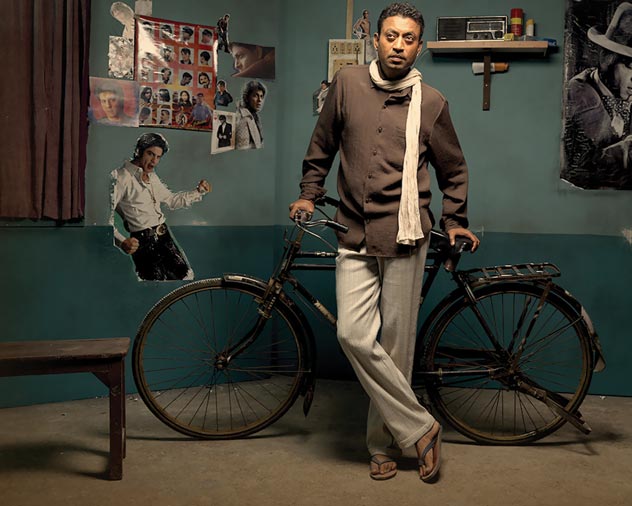 (Above): Irrfan Khan in "Billu."

---
Next time, Shah Rukh would do well to level with the janta. To be blunt, "incidental" (Shah Rukh's word, not mine) appearances are to be strictly avoided.

The film, despite many standard-issue Bollywood flaws, has an inner core of goodness, with a compelling, humane message, and deserves better than the drubbing it's getting in the box office.