EDITORIAL:
Celebrating Bangla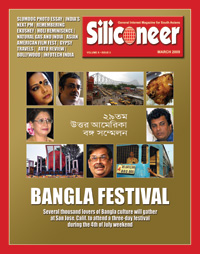 Bengalis are well known for their love of their culture and language, and the North American Bengali Conference is an excellent example of this. This year, the festival will be held, as it has been for decades, on the Fourth of July weekend, at the San Jose Convention Center.

Top artists will be flown in from West Bengal and Bangladesh, a special business segment will bring together entrepreneurs and at least five thousand attendees are expected to attend.

For anyone with an interest in Bangla culture, this is a golden opportunity to get a close look. For Bengali Americans, whether they are from India or Bangladesh, this is a rare opportunity experience an astonishingly diverse array of Bangla cultural performances — classical music, modern music, theater, dance, it's all there.

We lead this month's issue with more details on NABC 2009.

This is the month to celebrate Holi. The festival of Holi is a wonderful, colorful way to celebrate camaraderie and kinship. The festival is not only widely celebrated all over India, but expatriates join in the festival with great enthusiasm.

Poet folklorist Ved Prakash Vatuk looks back many decades into his childhood to offer reminiscences of how Holi used to be celebrated in the villages of western Uttar Pradesh.

It was a great time of not only dousing each other with gulal, he recalls. Holi had a rich cultural context in his village, he says, with teams engaged in a folk song competition, and all kinds of barriers used to come down for a united celebration of the festival. Vatuk writes about this in detail in this month's issue.

Who is going to be the next prime minister of India? With a sitting prime minister still running the country, the question may seem a bit callous — but the recent scare about the Prime Minister Manmohan Singh's health brought up the issue to the fore.

Three personalities appear to be ahead in the Indian prime minister sweepstakes: the Congress Party's Rahul Gandhi, Uttar Pradesh Chief Minister Mayawati and Gujarat Chief Minister Narendra Modi.

Three distinctive colorful and controversial characters. Rahul Gandhi has gained considerable standing by his willingness to reach out to the masses, but critics detect an unpleasant whiff of dynastic politics in his emergence as a political leader, and they have a point.

Mayawati, presenting India with the redemptive prospect of becoming its first Dalit prime minister and a woman to boot, has displayed considerable political savvy in fashioning a winning coalition of upper castes and dalits in a fractious state hopelessly riven by caste politics. However, disquieting signs of megalomania are all too evident as dark accusations of corruption muddy the political atmosphere.

Modi has drawn considerable acclaim, particularly from industrialists, for his administrative savvy, but human rights activists become apoplectic at the thought of a Modi administration — What riles them is not just his complicity in a bloody communal riot, but his absolute refusal to accept any responsibility for it.

This month's issue has an analysis that weighs the pros and cons of each candidate.