SUBCONTINENT:
India's Gas Boost: The KG Basin


Production from their well in the Krishna–Godavari basin by Reliance Industries Limited will go some way towards meeting india's growing demand for gas, writes Siddharth Srivastava.

---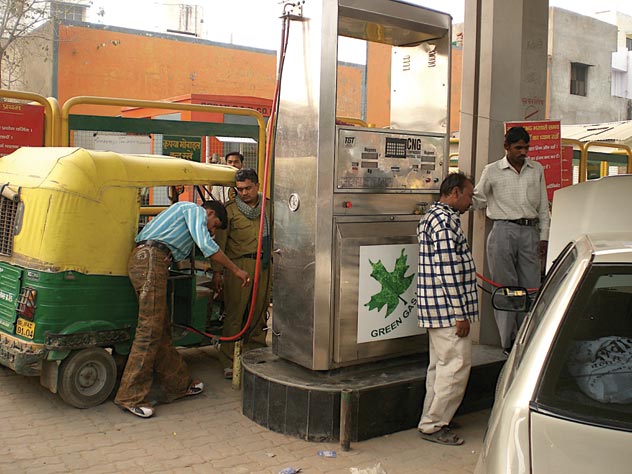 (Above): Vehicles fill up with CNG or Compressed Natural Gas at a pump in India.
---
With India's gas demand predicted to cross 14 billion cubic feet a day by 2020, production by March end from the Dhirubhai well of the Krishna–Godavari basin owned by Mukesh Ambani-owned Reliance Industries Limited will go some way towards meeting demand.

RIL has invested over $11-billion in the main KG D-6 block and tied up $6 billion to develop nine satellite discoveries in the basin.

Ambani has said that his company will supply 40 percent of India's gas and oil needs in the next 18 months.

The KG volumes of gas are expected to rise from 15 million cubic meters a day in March-end to 40 mmscmd by July/August.

Output from the field is expected to reach a peak of 80 mmscmd by 2012 and the decline, starting five years, later will continue until 2020.

The first sale of RIL's KG gas should happen by March-end or early April that will revamp natural gas consumption in the country from liquefied petroleum gas cylinders to piped deliveries.

India faces an acute shortage of natural gas as current availability of 105 mmscmd meets only 55 percent of the demand.

The shortfall is offset by imported liquefied natural gas from countries such as Qatar. India also imports 70 percent of its crude-oil requirements.

With gas from Iran via the Iran-Pakistan India gas pipeline derailed due to security issues after the November Mumbai terror attacks in which nearly 200 people died, the KG source becomes a critical cog in India's energy security system.

Analysts say Iran is unlikely to become a major exporter of gas for more than a decade, given the tough attitude of Western countries, especially the U.S., which has threatened sanctions against any nation dealing with Tehran.

Earlier this month, the Bombay High Court lifted the ban on the sale of natural gas from RIL's biggest gas field off the east coast of India in the Bay of Bengal pending final judgment.

A pricing dispute had arisen when the Reliance group split up between brothers Anil and Mukesh Ambani.

The gas can be sold at $4.20 per million British thermal units in accordance with the government's gas utilization policy, which gives priority to fertilizer units followed by existing power plants.

Later, demands from petrochemical, refinery and steel sectors, including the downstream units of RIL, could be considered.

Given the urgency, RIL is to acquire three deepwater drilling rigs for D6 exploration from Transocean Inc at a rate more than 50 percent higher than earlier.

"During the first six months of the contract, (Reliance will pay) a day rate is $495,000. The day rate for the remaining four and one-half years of the contract is $ 510,000,'' Transocean has said.

Analysts say that clubbed the new gas sales and upcoming RIL export oriented Jamnagar refinery will help the company achieve nearly 70 percent earnings growth in the next two years.

The gas supply is expected to boost power generation by 8 GW and urea production by 10 million metric tons per annum, while ensuring piped gas as a substitute for LPG in the automobile sector, households and industries.

The power firms keen to buy gas from RIL are Ratnagiri Gas and Power (erstwhile Dabhol), GVK Power and Infrastructure, Gautami Power, Konaseema and Torrent Power while the fertilizer firms are Rashtriya Chemicals and Fertilisers, Kribhco, Iffco, Nagarjuna Fertilisers, Chambal Fertilisers and Tata Chemicals.

The government, meanwhile, is keen to push utility firm Gas Authority of India Limited to transport the natural gas, which could earn up to Rs 8 billion for the company in the next financial year.

GAIL India has announced that its revenues by the end of this year will double to Rs 30 billion as gas transmission is expected to multiply to 150-160 mmscmd from the current 85 mmscmd, due to KG gas.

GAIL is expected to buy at least 10 mmscmd of gas this year from RIL.

The RIL gas prospects have also provided a fillip to the supplementary infrastructure to transport oil and gas, despite the recession and economic downturn.

GAIL is building the infrastructure to evacuate the gas from the prolific D-6 Block.

GAIL is laying out the VDBPL/Vijaipur-Dadri-Bawana pipeline project (states of Madhya Pradesh, Uttar Pradesh and Delhi) at Rs 55 billion with a transmission capacity of 78 mmscmd of gas after completion.

RIL has been building the 1, 400 km long East-West pipeline/ Kakinada-Hyderabad-Uran-Ahmedabad (states of Andhra Pradesh, Chhattisgarh, Gujarat) pipeline to carry gas from its KG D-6 fields to GAIL's three points in Andhra Pradesh, Maharashtra and Gujarat.

This pipeline connects both the landfall points of gas coming from KG and Mahanadi basin (Orissa) and RIL at the same time will be using GAIL's existing networks to markets in the east Godavari regions.

It is, however, also true that over the longer term, India will need access new energy resources to sustain its growing and modernizing economy.

The government wants all commercial vehicles in the country to switch over to compressed natural gas the environmentally cheaper alternative to gasoline, in the next three years.

India has also been encouraging power and fertilizer plants to switch to natural gas from naphtha to cut costs.

India has also been looking at gas sources from Myanmar, Central and West Asian countries and Russia.

India is sourcing 1.25 million tons of LNG from Algeria by 2009. India's Petronet will source the gas from Sonatrach, which will add to the supplies from Qatar.

State explorer Oil & Natural gas Corp has been negotiating with the ExxonMobil consortium for importing 8 million tons of LNG from the Sakhalin gas fields.

India is still hopeful of gas from Myanmar despite China stealing a march.

The thinking in New Delhi is that, beyond the business of buying gas, India will have to extend other support, including supply of arms, setting up infrastructure and power projects in Myanmar to stand a chance to overtake China.

---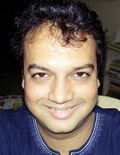 Siddharth Srivastava is India correspondent for Siliconeer. He lives in New Delhi.
---