SUBCONTINENT
Who Wants to Be PM?: Tomorrow's Leader


Congress Party general secretary Rahul Gandhi, feisty Dalit leader Uttar Pradesh Chief Minister Mayawati and controversial but popular Gujarat Chief Minister Narendra Modi are leading contenders to be the next prime minister in India, writes Priyanka Bhardwaj.
---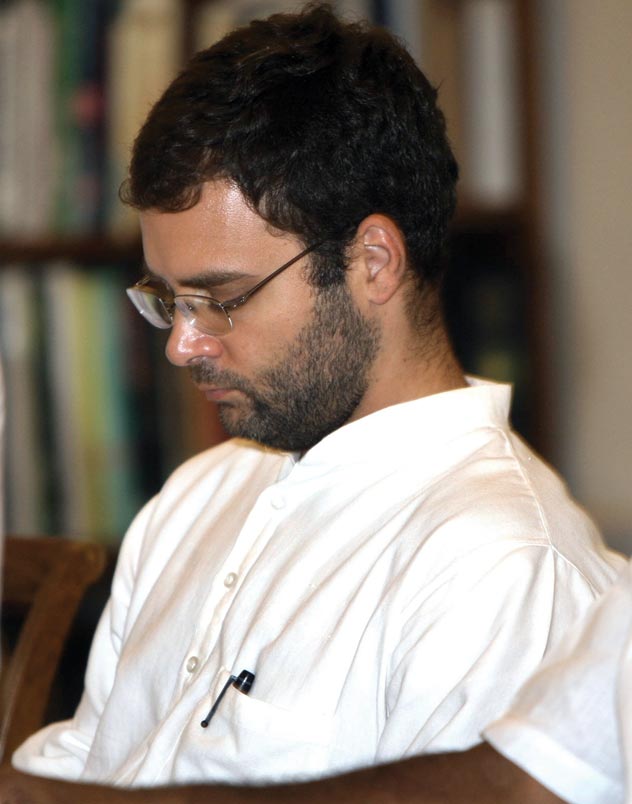 (Above): Congress Party general secretary Rahul Gandhi
---
Who will be India's next prime minister?

With incumbent 78-year old Manmohan Singh's undergoing a complicated bypass surgery the question has been thrown wide open yet again.

The election commission has zeroed in on April-May 2009 as the time for nationwide parliamentary elections. Analysts agree that the pack of three — Congress Party general secretary and MP Rahul Gandhi, feisty Dalit leader Uttar Pradesh Chief Minister Mayawati and controversial yet popular Gujarat Chief Minister Narendra Modi will play crucial roles in the world's biggest democracy India.

There are other pretenders such as Maharashtra's Sharad Pawar, Bihar's Lalu Yadav, Delhi veteran politician Arun Jaitley who could spring a surprise and rise to the top given India's uncertain coalition politics, but most analysts agree it will be Gandhi, Mayawati and Modi who will undoubtedly and be the king makers, if not the king themselves.

Congress Scion

In 2008, 37-year-old Rahul Gandhi became the Congress party general secretary, a pivotal post of one of India's oldest and most storied political parties. Political observers say this is a "grooming program" for the future prime ministerial candidate, an aspect re-iterated by Congress leaders periodically. Last month federal Foreign Minister Pranab Mukherjee said that Rahul is going to be India's prime minister in the near future.

Rahul is in the fourth-generation of India's first political family the Nehru-Gandhi dynasty that has led the Congress Party for 124 years and dominated the political landscape for the first four decades of independent India.

Rahul's great grandfather Pandit Jawaharlal Nehru, grand mother Indira Gandhi and father Rajiv Gandhi were India's prime ministers (two of them, Indira and Rajiv, were slain), and mother Sonia currently heads the governing coalition and ranks among India's most powerful global politicians, according to several Indian polls.

In the 2004 general elections to the Lok Sabha, Rahul picked up the dynastic gauntlet from the Amethi constituency in the northern state of Uttar Pradesh.

The shy, bespectacled, Cambridge-educated Rahul toured the dusty, pot-holed heartland of UP in a state with a population of 170 million — more than the combined population of Russia and Australia, when his mother Sonia was confined from adding support in person due to weak health.

Desperate to carve a niche, Rahul's speeches have a characteristic sprinkling of "change and development," taking on corruption, supporting secularism and employment. His induction has infused the party with a novel, youthful zest. He recently said that he wants at least 30 percent of Congress party tickets be handed to youth.

Displaying nonchalance, despite security fears, in a spotless white kurta-pyjama he has moved around constituencies, nibbling a snack, washing it down with the indigenous drink lassi at wayside snack shacks.

Yet, one could mistake him to be a movie star, if the ecstatic, star-struck crowds that follow him are any guide.

Reportedly, it was when Rahul said "enough is enough" in the aftermath of the Mumbai terrorist strikes in November that the federal Home Minister Shivraj Patil had to quit.

Rahul's active support to another emerging young politician, Omar Abdullah, who now leads the Jammu and Kashmir government following successful elections, last month, could be a prelude to a nationwide leadership role.

---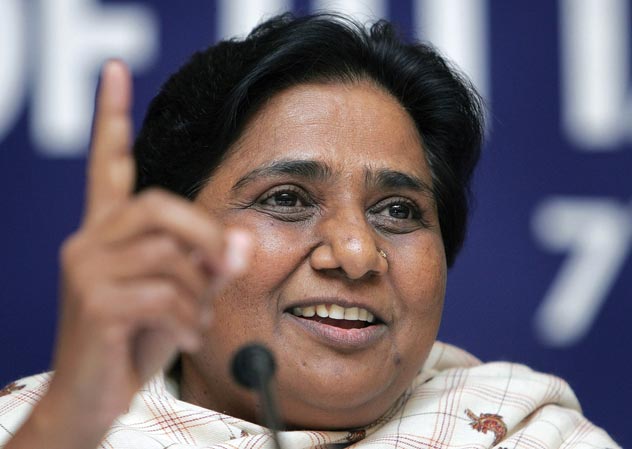 (Above): Uttar Pradesh Chief Minister Mayawati
---
Dalit Queen

Economically underdeveloped but politically vital, U.P. has thrown up many a prime ministerial candidate given the maximum share of Parliament seats allocated in the Lok Sabha (currently 80).

After consolidating in U.P., Bahujan Samaj Party leader Chief Minister Mayawati dubbed the "Dalit Queen," has initiated the process of making her presence felt in other states.

Her unique social engineering has broadened the base of her vote bank to include upper castes as well as millions of lower caste have-nots who face economic, social and religious oppression even in matters as simple as using a common well or praying in temples.

Mayawati's antecedents can be traced to a Dalit family of nine children, living in a state of "absolute nothing."

Many believe her political momentum could win her a good number of seats in the general elections which would usher in a revolution with India's first Dalit prime minister.

Her popularity could gain her enough leverage in a hung parliament, catapulting her to the top job.

Mayawati's public visibility has been quite remarkable as she has gone about appointing technocrats, cracking down against crime, inaugurating India's biggest highway projects, parks and statues celebrating her party and publishing her autobiography. She has been applauded and criticized alike administering the state with a blatant authoritarian stick, while others have been peeved by what they consider to be her megalomaniacal tendencies, but for her besotted supporters, who easily run into the tens of millions, she remains their beloved bahenji.

There are graft allegations against BSP for siphoning off development funds.

In December 2008, national attention was drawn to the brutal killing of a government engineer who refused/failed to pay Rs 5 million to a BSP party leader, in the name of Mayawati's birthday celebrations.

Gaining some notoriety for her whims, personal aggrandizement, expensive homes and total authority, she holds the dubious record as the highest tax payer among politicians (her income supposedly contributions by well wishers) equaling biggest film stars.

Her controversial plans for building a shopping mall next to the Taj Mahal, a $100 million Park in Lucknow in honor of her party's founder could corrode her base, some observers say.

Yet in UP, where regional caste aspirations, sleaze and scandal long have been a part of the political culture, Mayawati's ambition could transcend the misgivings about her and translate into rule from the center.

---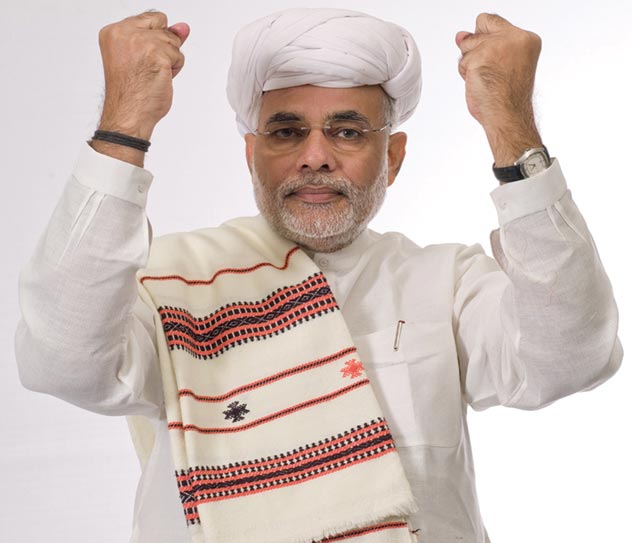 (Above): Gujarat Chief Minister Narendra Modi
---
Saffron Rock Star

Chief Minister of Gujarat for the third time, 57-years-old Narendra Modi's name exudes charisma and controversy.

Absolutely unstoppable on the development front, the man held responsible for the carnage of thousands of Muslims in the 2002 Gujarat riots by his critics is a veteran of the Hindu nationalist Bharatiya Janata Part and labeled by his admirers as the rock star of saffron politics.

The Indian Supreme Court has compared him to Roman Emperor Nero, a king who, according to legend, played his lyre while Rome burned. Washington has denied him a visa for violation of human rights.

Modi started his political career as a pracharak of the Hindu nationalist Rashtriya Swayamsevak Sangh and joined the BJP in 1987.

Skilled in political maneuvers, he was instrumental in the formation of a BJP government in Himachal Pradesh in March 1998.

Modi took over Gujarat when the state was reeling under the 2001 deadly earthquake and stagnant growth. He passionately overhauled the administrative apparatus and adopted cost-saving exercises.

Agricultural production increased; it is not fortuitous that today a substantial part of the milk to Singapore, potatoes to Canada and tomatoes to Afghanistan are sourced from Gujarat.

Modi also persuaded industrialist Ratan Tata to relocate his small Nano car manufacturing plant to Gujarat from West Bengal in 2008.

Connectivity and industry have been his agenda; In the first year of his tenure the state clocked 10 percent GDP growth and sustains its high rank in development and living standards.

Last month, at the Vibrant Gujarat Global Investors Summit, India's top business honchos Anil Ambani, Ratan Tata and Sunil Mittal hailed him as "prime ministerial class."

Analysts such as Ashis Nandy have commented that Modi may be "nursing pan-Indian ambitions by retooling himself as a typical, middle-class politician and in five years he may have a fair chance of making it to the top at the national level."

Aware that he is the BJP trump card after the aging L.K. Advani (older than Prime Minister Manmohan Singh in age), who is the party's prime ministerial candidate, Modi minces no words on security and advocates punitive measures against pan-Islamic militants, such as Afzal Guru, whose death conviction in the Indian Parliament attack in 2002, is yet to be carried out.

"If you (pro-Muslim Congress party) don't have the courage, send him to Gujarat. We will hang him here," he has said.

His oratory skills appeal to Hindu masses who savor his style, humor and temper. They cheer as he slams the Congress for suggesting there was no proof of Lord Ram's existence during a recent court battle, among other issues. But whether outside of Gujarat his shrill, frankly Hindu nationalist voice will be able to sway the diverse and largely secular Indian polity, remains to be seen.

The challenge in contemporary Indian politics for parties like the Congress and the BJP is that the multi-lingual diverse nation has outgrown single parties at the federal level. The two parties are still the biggest players in federal politics, but they are obliged to cobble together fragile coalitions. Modi's prospects are hamstrung in two fronts: It is unlikely his shrill Hindutwa message will gain it much traction in India's politically vital and most populous state, Uttar Pradesh—there the crafty inter-caste accord put together by Mayawati appears to have marginalized the BJP, which remains in the wilderness in states like West Bengal and Assam; in addition, Modi's Hindu nationalist ethos may not sit well as it searches for allies in the south, where regional parties tend to be uncomfortable with a message too heavily daubed in saffron.