TRAVEL:
Gypsy Travels: France, Morocco


A year of wandering in Spain, France and Morocco underscores the realization that people, not edifices, were the perfect seduction for travelers, writes Al Auger.

---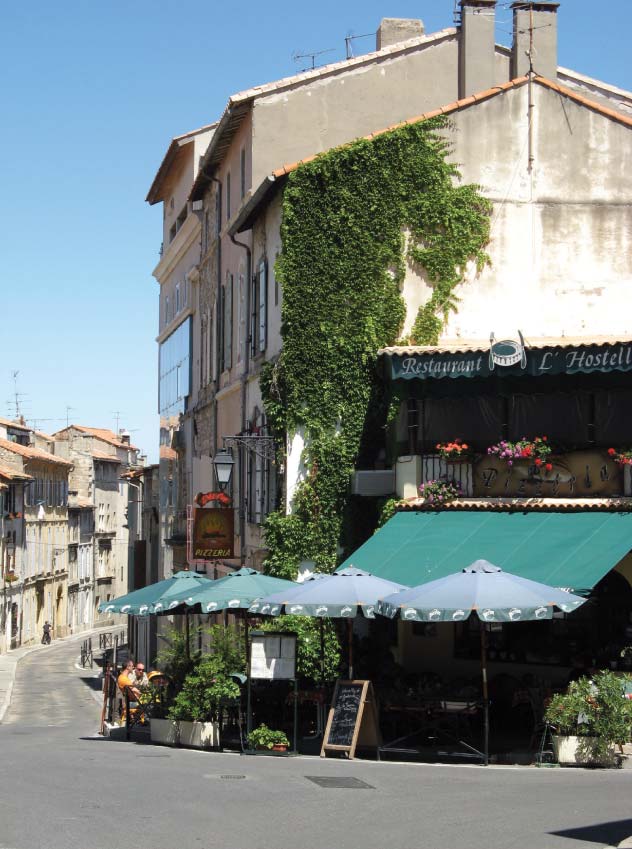 (Above): A street side in Arles, France. The fairy tale streets of Arles are redolent with the memory of the tortured expressionist artist Vincent Van Gogh.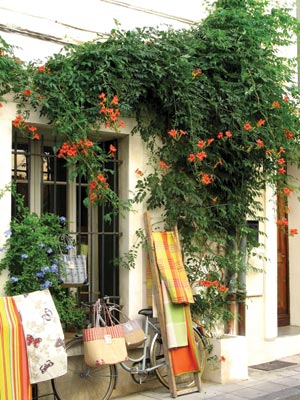 (Right): An idyllic scene in Arles.

---
Serendipity (ser' an dip' a te) n. [< a Persian tale of The Three Princes of Serendip] an apparent aptitude for making accidental fortunate discoveries.

We were crisscrossing Europe in the manner of the gypsies, our transportation a used Volkswagen camper. Our schedule was based on one parameter: When the money ran out, we went home. It lasted a year; a year that added up to some 20,000 miles and 12 countries. Every day heralded an awakening to a new adventure — some new form of serendipity.

We were north of Pamplona, heading through the Basque country of Spain on our way to France. Rounding a bend in the road, we came upon a postcard scene: a rolling stream meandering through a patch of trees, the ground a thick carpet of colorful and aromatic wild flowers of every conceivable kind.

Looking for an open spot to set up camp, we spied a poster announcing an olive festival in the nearby town of Burgetta for the next three days. "Why not," we shrugged. And so we found ourselves fitted in a room of the only hotel in town. We awoke the next morning to the blare of trumpets announcing the beginning of the festival. A band of local musicians was marching through town followed by a large contingent of the citizens of Burgetta. "Come, come," they cried to everyone. "It's festival time!"

As the only outsiders in town, we were immediately chosen as town pets. From Saturday through Monday, no one seemed to work. During the days, there were games, music and food. At night the festivities went on late into the night with dancing in the streets that, as time went on, became more intense and effervescent fueled by the extroverted soldiers from a nearby military installation. Luckily, there were large amounts of snacks throughout the night as supper, in the tradition of Spain, didn't begin until near midnight. Tuesday, as we pulled out, a small band of locals were on hand to bid us farewell. The van was filled with the seductive odors of food pressed upon us for our continuing trek into unknown tomorrows.

---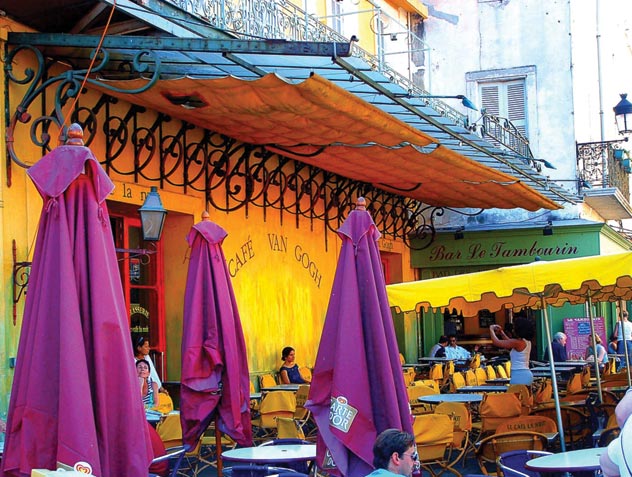 (Above): Café Van Gogh, Arles.

---
In France, we strolled the fairy tale streets of Arles, thinking of the tortured artist Vincent Van Gogh. Yet, he found brilliant skies and bright flowers to put on canvas. Outside Arles, we discovered a 2,000-year-old coliseum still in use as a concert stage, a Portuguese bullfight ring, plays and much more. Heading back to the campground, we passed a tiny restaurant with a sign proclaiming prix fixe dinners. Making a reservation for that night at the eatery was a traveler's delight.

So small it was that the washbasin was in the entry hall and held possibly eight tables. As is the custom in many parts of Europe, we were seated at a table for four alongside a French couple. They seemed a bit uncomfortable sitting next to obviously tourists. While our French was mostly non-existent, we found the wife spoke German and we slowly bonded. The couple was from Lyon and friends of the owner. When he served us the first course, the wife introduced us as their "new American friends." At the end of the meal, we were given complimentary liqueurs along with an invitation from our "new France friends" to visit them in Lyon. This was the perfect demonstration that people, not edifices, were the perfect seduction for travelers.

---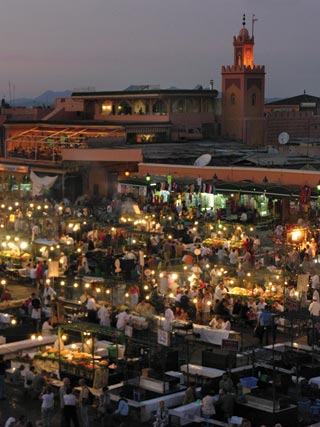 (Right): At night, the Djemaa el-Fna market square in Marrakesh conjures up the magic of the Arabian nights.

---
As we slowly rolled our way across southern Spain, we were invariably asked by fellow campers if we were on our way to Morocco. No, we replied each time, we are heading to Malaga and Granada. We really hadn't given Morocco much thought. Yet, they all were adamant on how close-minded we were being. Besides, they would argue, if you don't like what you find after a couple of days, all you simply have to do is turn the ignition key and come back to Spain.

Thus, it was we found ourselves in Algeciras, the duty-free port where a car ferry left on the two-hour trip across the Mediterranean, skirting the rocky island of Gibraltar. One of our fellow campers had shown us where a nicely appointed campground was located just outside of the city of Fez.

Our second day in Fez, we had the good fortune to meet Danielle, a French woman who had been in Fez for some months. With her as our guide and mentor, we were taught lessons on how to live and enjoy this very strange country that were, over time, invaluable.

It was at Fez where we experienced so many truly unforgettable experiences. One was just a blip in time, a human and funny encounter with two Moroccan soldiers. Danielle took us, one beautiful sunny, blue sky day, on a stroll in the gardens of the Royal Palace. We were walking slowly along, chatting and taking in all the color and splendor, when two soldiers passed us on my wife's side.

---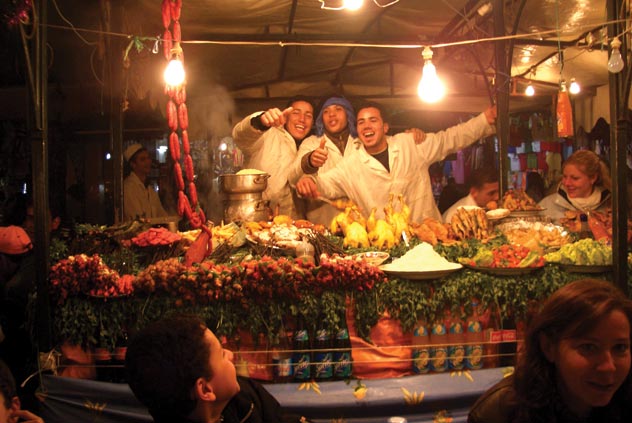 (Above): A food stand at night at the Djemaa el-Fna market square in Marrakesh.

---
All of a sudden, my wife broke into spasms of laughter. Tears rolled down her cheeks. It took minutes before she could stop and tell us what it was that affected her. "You saw those soldiers who passed us," she said. "Well, one of the leaned over and whispered 'You 'ave the fine ass,' and continued on." The only thought I had was he had a good eye.

The original plan of 2-3 days turned into five weeks and a complete circle south across the Atlas mountain range to the edge of the Sahara desert where we frolicked in the menske de blu, a natural spring swimming hole and discovered a deserted Foreign Legion fort on the edge of the Sahara desert. From there we continued east, back over the Atlas to Rabat and Marrakesh and finally returning to Fez.

---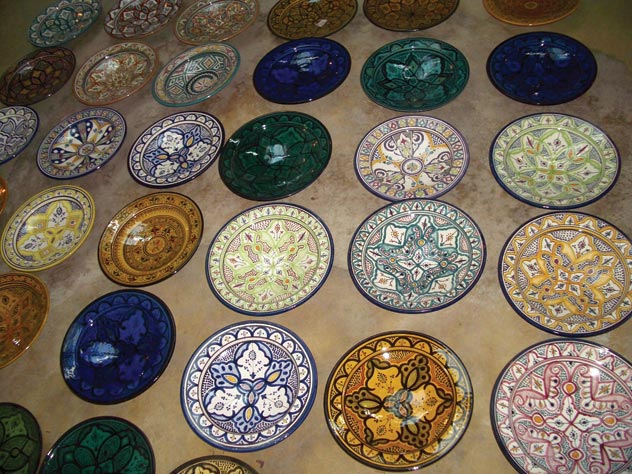 (Above): Hand painted designs on sale at Djemaa el-Fna in Marrakesh.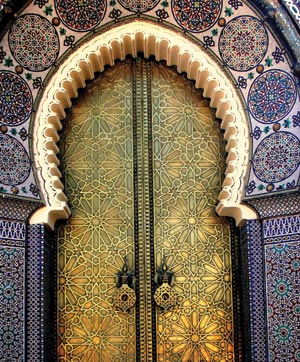 (Right): An intricate door in Fez.

---
Certainly, though, the most intense drama of our time in Morocco was in the famous old Djemaa el-Fna square in Marrakesh. Here, during day all kinds of activities are happening. A giant marketplace of musicians, beggars, wonderful small native restaurants serving delicious food such as couscous, marvelous soups, etc. This famed suuq is at once romantic and funky center of tradition and ribaldry, exotic food and entertainment.

However, at night, the exotica of what Westerners think of as Morocco comes to life. A purple night becomes a square full of points of light as the propane lanterns are lit. The night is full of the perfumes from the dense forests of flowers and plants and the food stands selling what is known in Spain as tapas: Small dishes of olives or eggplant or chicken and many other local favorites.
As the lights burst into life, you are all of a sudden surrounded by storytellers surrounded by their audience. Here, we find a teller of the Koran. Over there is a storyteller of children's tales. Behind me, a narrator is keeping his listeners enthralled with yarns of legendary heroes.

It is now twelve months since we took that giant first step in our adventure and time to go home. The memories of those precious moments that have added so much to the wonder of life will remain as sharp years from now as the day they happened. Someone once told me there are tourists, travelers and wanderers. Each, in his or her own way, discovers the beauty and exhilaration of finding new places and meeting new people. The wanderer is enthralled by the fulfillment of it all. There are no expectations, no rating system. "It" just happens, and when it does, you go with it to its end result. And you bring back memories like these.