TAMIL CINEMA:
Just A Few Laughs: Siva Manasula Sakthi

Direction: Rajesh
Music: Yuvan Shankar Raja
Cast: Jeeva, Anuya, Oorvasi, Santhanam

---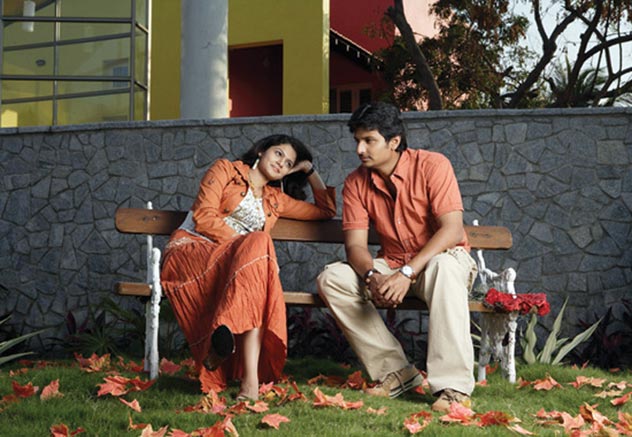 Vikatan Talkies, which had been producing only teleserials till now, has ventured into the big screen with Siva Manasula Sakthi. The romantic film is about love between an educated middle-class girl and an illiterate, economically backward youth. Through a sequence of interesting though disjointed sequences, the film shows repeated skirmishes between the two even as they silently fall in love with each other.

Jeeva plays Siva, a courier who is burdened by a bundle of lies and an inordinate love of liquor. Sakthi (newcomer Anuya), a radio jockey at a local FM channel, is an educated woman. Their first meeting paves the way for an extended relationship as each tries to get the better of the other through pranks.

As they continue to go after each other, an unpleasant situation results.

The film has many comic moments courtesy Santhanam and Java's on-screen encounter, and has a liberal dose of pathos, too. It is however; highly disappointing because most of the film lacks logic or reasoning. It's a futile exercise to analyze sequences which are so weak in content and style. The only aim of the director seems to be entertaining and he does manage to make us laugh, but the narrative lacks finesse.

Many scenes lack credibility. Debutant filmmaker Rajesh's thrust appears to be on making a movie that ensures light entertainment.

Performance wise, Jeeva lives the character of Siva and his Chennai dialect is very convincing. Newcomer Anuya blossoms more in the sequences where she clashes with Jeeva than in the romantic sequences. She has a lot to learn in terms of emoting more naturally.

Santhanam clearly announces to the whole world that he can now perform on his own and no longer needs the shadow of other comedians. This might well turn out to be a landmark film for him, as his comic dialogues keeps the audience in splits.

Oorvasi, the successful heroine of yesteryear, makes a comeback of sorts and shines in her own inimitable style in the role of an innocent mother.

In brief, this much hyped film is worth just a few laughs and nothing else.

— Courtesy Chennai Online.