COVER STORY:
Bangla Festival: NABC 2009


Over 5,000 people are going to attend the 29th North American Bengali Conference, which will bring together some of the top Bangla artists from West Bengal and Bangladesh. A Siliconeer report.
---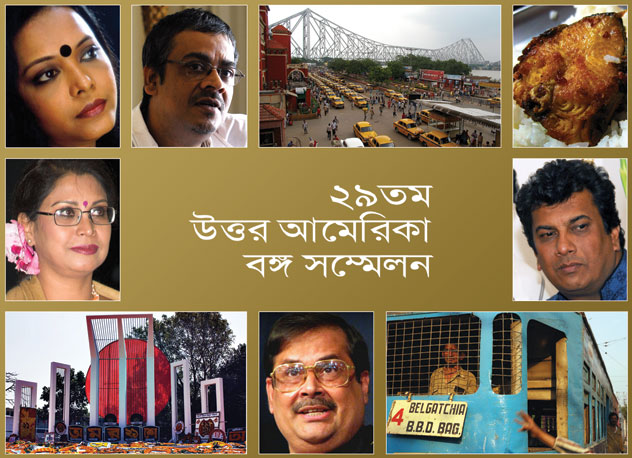 (Above): (Clockwise from top left): Singer Lopamudra Mitra; singer Srikanto Acharya; Howrah Bridge, a Kolkata landmark; Ilish Maachh (Hilsa fish), the mouth-watering delicacy that Bengalis crave no matter where they are in the world; singer Khairul Anam Shakil; the quintessential symbol of Kolkata, a tram lumbers down the streets of the metropolis; classical vocalist Ajoy Chakraborty; the Shaheed Minar in Dhaka; and Rabindra Sangeet exponent Rezwana Bannya Choudhury.

---
Over 5,000 lovers of Bangla culture, language and heritage are expected to attend the 20th North American Bengali Conference, where organizers have planned a massive cultural and social events that will bring top Bangla performers from West Bengal and Bangladesh in addition to a slew of local artists. There will be 45 hours of professional performances alone in three different stages for two and a half days. The conference is slated to be held at the San Jose Convention Center July 2-4. A separate business forum will be hosted July 1-2.

The event was started by New York-based Cultural Association of Bengal and is being hosted this year by Prabasi, the local Bay Area association for Bengalis. The Bangladeshi community has been roped in with the active support of Bay Area Bangladesh Association.

"Prabasi and its volunteers have undertaken this challenging mammoth, million-dollar undertaking for one simple reason — our deep love for Bangla, its culture, language, and the land," said Surajit Sengupta, president, NABC 2009 organizing committee. "We want all Bangla-speakers, regardless of nationality, faith and political divides, to join in one of the most remarkable celebrations of Bangla culture in the world. We are confident that with your support this will be another wonderful annual gathering of all those who love Bangla culture, and we warmly invite you to be a part of the great festivities we have in mind."

If you have in interest in Bangla culture, this is one event you don't want to miss.

Cultural Pride

Bengalis are regarded, sometimes a bit unkindly by occasionally exasperated South Asians, as inordinately fond of their language and culture.

But then, they have a lot to be proud about. The intellectual leaders of yesteryear's India had a substantive Bengali component going way back to Raja Rammohan Roy who battled against obscurant thought, pioneering novelist Bankim Chandra Chatterjee, the eloquent spiritual thinkers Swami Vivekananda and Sri Aurobindo.

Then of course, came the dizzyingly talented Rabindranath Tagore, Asia's first Nobel Prize winner, a poet, philosopher, lyricist, composer and educator. The rebel poet Kazi Nazrul Islam, who essentially lifted himself up by his bootstraps after a childhood of abject poverty, was India's potent voice against British colonial rule, and one of the pioneering poets in the cause of social justice. Most important of all, he is arguably Bengal's most complete poet, equally at ease writing Shyama sangeet and Islamic songs.

And who can forget Netaji Subhas Bose, that wondrous hero of Bengal who stole the hearts of the youth of entire India with his remarkable leadership?

But that's old news, you say?

Well, it's fashionable to lament the decline of Bengal's ascendancy, but there is no dearth of world-class Bengali talent even today.

---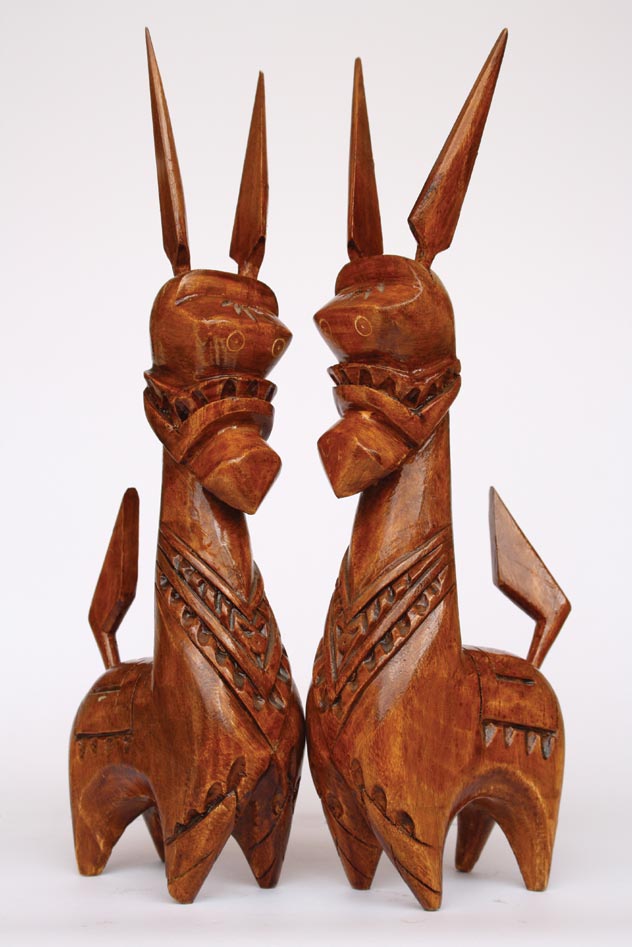 Wooden handicraft from West Bengal.
---
Sitarist Ravi Shankar and sarode maestro Ali Akbar Khan have drawn global spotlight to Indian classical music. Satyajit Ray's films are acknowledged the world over as all-time classics that are a treasured artistic resource for posterity. Or take Fazlur Rahman Khan, the architect of Chicago's Sears Tower, whose designs of structural systems remain fundamental to modern skyscraper construction.

In erstwhile East Pakistan, Bengalis literally laid down their lives in Feb. 21, 1952 to establish Bangla as a state language, an event that was given international recognition by UNESCO in 1999 when it declared February 21 as International Mother Language Day.

In keeping with Tagore's tradition, Amartya Sen became the first Asian economist to win the Nobel Prize. Bangladeshi economist Muhammad Yunus has not only won the Nobel Peace Prize, but his efforts with the Grameen Bank have made microcredit a universally respected tool to ameliorate mass poverty.

Huge Undertaking

The sheer logistics are mind-boggling. For two and a half days, attendees will be able to choose from a whopping 45 hours of professional programs simultaneously being hosted in three huge stages. Scores of artists in the performing arts are being flown in from India and Bangladesh. Local artists will also present performances, including a drama competition.

Caterers will be flown in to prepare authentic Bengali food.

Expatriate Bengalis are keenly interested in the performing arts, and NABC traditionally respects that. This year has been no exception.

"If one were to make a list of the things that lovers of Bangla culture in North America really miss, live performances of artists would be at the very top. Due to financial and logistical challenges, live performances of top-notch Bangla artists are few and far between," said Prasenjit Biswas, chair, cultural subcommittee, NABC 2009. "This is why one of our top priorities is to bring the very best performing artists from India and Bangladesh — and we are proud to bring in arguably the greatest gathering of top Bangla artists. We urge readers to join several thousands of Bangla enthusiasts from the Bay Area and all over North America in our celebration of Bangla culture."

In addition to individual performances of classical music, modern Bangla songs (adhunik gaan), traditional songs like folk, Rabindra Sangeet and Nazrul Geeti, a theater group from Kolkata will also perform.

The names of artists include Ajoy Chakraborty, Lopamudra Mitra, Srikanto Acharya,

Shaan, Rezwana Bannya Choudhury, Khairul Anam Shakil and many others.

In addition, there are special presentations with a thematic content like: The Golden Era of Bangla Gaan; a unique semi-classical fusion program; a unique dance event of classical dance rendition of Tagore songs enhanced with taal and bol from the classical dance forms of Odissi, Kathak and Bharatnatyam; A well-knitted audio-visual presentation of major works of Bengali literature which depicts various aspects of Kolkata starting from founder Job Charnok's time till modern times as experienced by the river Ganga.

Inclusive Ethos

One of the most heartwarming aspects of NABC is how it brings together Bengalis irrespective of religion and nationality. Right from the beginning of the planning stages, the NABC 2009 committee extended a hand of friendship to the Bangladeshi community, which responded in kind.

"As a Bangladeshi immigrant who deeply believes in a Bangla culture that transcends national, political and religious divides, I applaud the efforts of the Banga Sammelan. We have been involved in discussions and organizing for many months with the organizers, and helped in brainstorming on the selection of Bangladeshi artists," said Sabir Majumder, vice president NABC 2009 organizing committee, and member, BABA NABC committee. "While we have had occasional lapses in communication, we appreciate the goodwill extended to us by organizers and are very proud to be part of this event under the auspices of the Bay Area Bangladesh Association.

'This is truly an awe-inspiring undertaking, and we ask all Bangla lovers, whether from Dhaka, Kolkata or elsewhere, to register for the remarkable event."

"Bay Area Bangladesh Association is a dynamic organization of Bangladeshis in the Bay Area keenly interested in promoting our language and culture. We appreciate the opportunity offered by the NABC committee and support this great celebration of Bangla culture," chimed in BABA president Kamal Khan. "We request all lovers of Bangla culture, whether from Dhaka or Kolkata or San Francisco, to join in the celebration.

Mahmudul Hassan, a longtime Bangladeshi cultural activist, has been an active participant. "As a Bangladeshi American long involved in cultural activities to promote Bangla, I am delighted to be part of the BABA team in helping organize this wonderful Bangla cultural conclave. This is an excellent opportunity not only for us to enjoy the performances of some of the top Bangla artists from India and Bangladesh, but to introduce the second generation Bangladeshi Americans to the richness and beauty of the culture of the old country," said Hassan. "To this end I and other members of the BABA NABC committee have been working closely to make NABC a success. Let's all make this one of the most memorable Bango Sammelans ever!"

Business Forum

The NABC Business Forum will consist of several distinct tracks. The various tracks include:

Computing and Communications – Conversations on emerging wireless and networking technologies, personal computing for the masses, electronic commerce and Social networks, sustainable data centers, and the applications of these technologies to developing economies such as India and Bengal.

Healthcare and Biotechnology – Conversations on the application of technology to innovations in medicine and clinical sciences, surgery and sustainable low cost techniques in public health, and applications of these technologies to developing economies such as India and Bengal.

Entrepreneurship and Business – Conversations with successful Bengali businessmen about their experiences in starting their businesses, discussions about how local entrepreneurs can invest in ventures in Bengal.

Financial Services Workshop – Key financial industry leaders will be presenting on a range of topics and current issues of significant interest to the NABC attendees. Considering the current economic climate, the Business Forum will have a Financial Services workshop. Key financial industry leaders will be presenting on a range of topics and current issues that should be of significant interest to the NABC attendees.

Bottom Line

Okay, so times are tough. Every penny counts. We all realize that. Does it make sense to shell out almost a hundred dollars to go to a cultural jamboree?

The answer to that is simple: If you are interested in Bangla culture, think when again you will have an opportunity to see so many noted artists together.

You get to choose from 45 hours of live professional performances for less than a hundred bucks. Do the math. If that isn't a no brainer, we don't know what is.

More information is available at www.nabc2009.com.